Patriots CB Devin McCourty.


The Patriots defense currently falls into two separate categories – the known and the new. There are those Bill Belichickcan comfortably pencil into his starting lineup like Vince Wilforkand Jerod Mayoand then there are starting jobs that are truly up for grabs.
That's one of the more interesting elements of this training camp, which hit Day 5 this morning with an abbreviated workout in full pads that featured little to no contact. In addition to Wilfork and Mayo, Ty Warren, Tully Banta-Cain, Leigh Boddenand Brandon Meriweathercould be considered locks to open the season at their respective spots. But the Patriots entered camp with five other starting positions still waiting to be solidified – right defensive end, inside linebacker, outside linebacker, left corner and safety – and the players seem to enjoy that.
"Everybody knows there's competition. You have to come out here with you're 'A' game and put it on film every day. That's going to push all the guys so we're looking forward to that challenge every day," said second-year corner Darius Butler, one of a boatload of younger players looking to earn a full-time role.
"There are jobs everywhere. Just have to keep working hard," added safety Patrick Chung, another second-year player looking for a more prominent place in the secondary.
Those two, along with rookie corner Devin McCourty, appear to be well on their way to answering some of the pre-camp questions. Chung has been a staple next to Meriweather at safety since the start of the spring. He's had some ups and downs through the opening weekend of camp, but he appears to be much faster and more decisive in his movements and will be counted on for more in Year 2.
"If you know what you're doing you can play fast. If you don't then you're going to play slow," Chung said. "Study, get in the playbook, be professional and then you can help the team. Everybody works with the ones. That's how I feel. We have a deep safety position. You just keep competing."
McCourty and Butler have shared time at left corner opposite Bodden. The rookie seemed to see more action on Monday but there has been a lot of rotating going on between the two, and at times they've been on the field together in sub situations with Butler moving into the slot. Both like to play with a physical style, which would be a welcomed addition to a secondary that has been guilty of playing too far off receivers at times in the recent past.
The open spots are a little less settled up front. Derrick Burgess' refusal to report (Belichick said he "didn't know" how to describe the situation although he mentioned that he has spoken to the veteran) has left the outside linebacker spot opposite Banta-Cain wide open. Rob Ninkovich, Pierre Woods, Jermaine Cunninghamand Marques Murrelljoin Banta-Cain at the position.
"I think all five of those guys have done good things," Belichick said. "Pierre and Rob are definitely ahead of where they were last year. Again, Rob kind of came in late and [there was] a little bit of catch up with him all year, although he did a lot of good things. But I think this year he is starting from much higher ground. Jermaine has picked up things very well. I think each day you can definitely see him getting better, more confident, understanding things that happened the day before and being able to process that, and the same thing with Marques."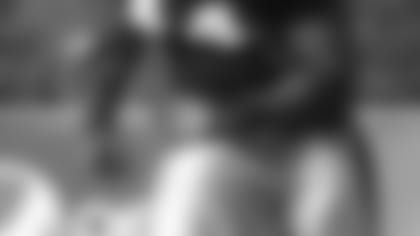 ]()Gary Guyton missed Monday's morning practice after going down with what looked to be a left knee injury on Sunday afternoon. That leftBrandon Spikes inside next to Mayo in some drills Monday morning.Tyrone McKenzie has also gotten some reps and has done some nice things, particularly his big hit on the goal line on Laurence Maroney **last week.
The front three has been an almost constant revolving door, especially after Warren was nicked up and forced to miss the last four days of practice. Mike Wright, Gerard Warrenand Damione Lewishave rotated at various spots with Warren even getting time at nose with Wilfork moved to end. Myron Pryor has gotten a lot of reps in two-man fronts with Wilfork as part of sub packages.
"I think it's really just us being out here and working together that's going to bridge the gap," Banta-Cain said of the new additions. "Guys getting familiar with each other and really learning at the same tempo and pace every day. That's how you build."
There was a lot of talk this offseason about the possibility of the Patriots acquiring Bears tight endGreg Olsen. Evidently that talk was warranted.
According to piece in the Chicago Sun-Times, Belichick called Bears GM Jerry Angeloto inquire about the asking price for the former first-round pick. Citing a league source, the article indicated Chicago wanted the first of the Patriots three second-round picks (No. 44 overall) in return. Instead New England held tight, traded up two spots and grabbed Arizona's Rob Gronkowski. Judging from the rookie's early play, it appears to have been a wise decision.
The Patriots entered the day with a pair of roster spots open with Burgess on the reserve/did not report list and Logan Mankins still not under contract. New England filled those openings by signing wide receiver Rod Owensand tight end Carson Butler.
Owens (6-0, 183) is a rookie free agent out of Florida State who had 61 catches for 729 yards for the Seminoles last season while Butler (6-4, 260) was an undrafted free agent out of Michigan who spent time with Green Bay and Detroit last season as well as stints of the practice squad in San Francisco and Cincinnati.
While the moves restored the roster to the 80-man limit, they weren't likely the transactions most Patriots fans were expecting. An ESPN report indicated the Patriots worked out veteran defensive end and pass rush specialist Adewale Ogunleyeover the weekend but no move was forthcoming. Also, Buffalo defensive end Aaron Schobel, who was pondering his own retirement throughout the offseason, could be a potential target as well.
The rookies received their Patriots initiation Monday morning with an on-field dousing in the back corner of the practice field. Tom Brady appeared to be in charge as he held the fire hose and the players went through one by one with slides across the soaked turf. Even first-year defensive backs coach Corwin Browntook a turn in a coaching tradition that was started by special teams boss Scott O'Brien last year.
There were some second-year players who were injured as rookies and thus spared, but weren't so lucky this time around. McKenzie went through the gauntlet, but Brandon Tate somehow avoided attention.
"I was just trying to hide. Last year I didn't get to do it. I was just trying to lay low," the wideout said with a sheepish grin.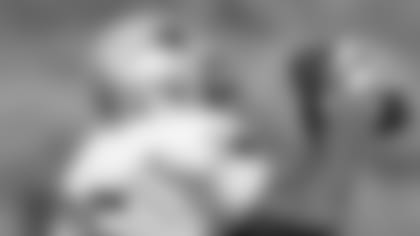 ]()Who's hot: Terrence Wheatley – **He's been the forgotten corner in many ways and in truth hasn't gotten many reps thus far. But the few he's had he's made the most of. Wheatley has shown an aggressive, physical nature and has been around the ball often in drills. He's yet to get the chance to do much in team work, but he has stood out at the end of practice during "opportunity" sessions.
Who's not: Julian Edelman –The second-year slot man hasn't been as active through the early part of camp as he was a year ago, and Monday he dropped a few passes and wasn't on the same page as Brady on another occasion. Edelman still figures to be part of the offense, but Monday wasn't his best day.
Play of the day (AM): During a seven-on-seven drill rookie tight end Aaron Hernandezmade a nice diving catch of a Brady pass down the seam. Shortly after he had a chance to top it but couldn't hang on to a deep pass as Kyle Arrington came over to break up the play.
In addition to Guyton and Ty Warren, the Patriots were without Matthew Slater, Jonathan Wilhite, Bret Lockett, Thomas Clayton, Terrence Johnson, Nick Kaczur, Ron Brace and Mike Wright. Wilhite, Clayton, Johnson, Brace and Wright were all on the field in shorts and T-shirts with Wilhite even taking part in most of the drills with the rest of the defensive backs. … For those interested in this sort of thing, Owens wore No. 15 while Butler sported David Patten's old 86. … The wide receivers and defensive backs worked on their positioning coming off the line and Randy Mossstruggled doing so against Butler. Moss stumbled twice coming out of his stance while Butler was able to effectively press him at the snap. Wes Welkerhad no such trouble and drew huge cheers when he consistently beat his man off the line. … ESPN2's "SportsNation" will celebrate Brady's 33rd birthday tomorrow (4 p.m., 6 p.m. and 12 a.m.). The daily one-hour show hosted by Michelle Beadleand Colin Cowherd– an unabashed fan of Brady – will feature rarely seen Brady videos as well as highlights from his more notable television appearances on "Saturday Night Live," "Entourage"," Family Guy" and other shows. The "SportsNation" studio will be decorated with Brady apparel and magazine covers. Former Brady teammate Troy Brownwill also be an in-studio guest. Speaking of Brady, he enjoyed a long conversation with Chairman and CEO Robert Kraftas the two walked off the field together following practice. … The Patriots will move inside Gillette Stadium for the late practice, which gets underway at 7 p.m. and is for season-ticket holders only.