Last week, Patriots fans got a new movie to add to their summer watch list. "100%: Julian Edelman" premiered on Showtime on June 28, and with a red carpet event at Patriot Place's Showcase Cinema, Julian's teammates came out in full force to support the documentary.
Robert Kraft, David Andrews, Rob Gronkowski, Deatrich Wise, Danny Amendola and more walked showed up for the premiere on June 27, and Patriots fans got to see the movie in full the next day. We learned quite a bit about Julian, his road back to recovery and his relationship with his family.
The documentary serves as a countdown to his return to the football field, from tearing his ACL in a preseason game against the Lions, to his suspension to his return to Gillette Stadium.
And, oh yeah, that whole "Super Bowl MVP" thing. Here are a few things we learned from "100%: Julian Edelman."
Where Julian got his "relentless" mentality.
Throughout the documentary, it is clear how much of an impact Julian's father, Frank, had on his son. While this isn't necessarily new information, seeing their interactions and how Frank talks about his son paints a picture of just how important that relationship, though sometimes tense, is. Frank didn't have a father in his life, so he went above and beyond to be there for his kids, pushing them to be their best even if it was hard or they were mad at him.
Through this, he taught them an important lesson.
"Life is not a perfect plan. You're going to have setbacks and the key is how do you deal with adversity? There's only one way to deal with you. You just look at your options: what can and what can't I do? And you move forward," Frank said.
After his surgery, Julian opened up about his struggle with feeling isolated and alone. That feeling is universal, and while NFL players can often feel untouchable, it is a reminder that they are human. Julian even admitted to getting take out dinner when he's feeling down, which is honestly very relatable.
"You just eat like complete sh** because you're sad. I don't know. That's what I did. That's what I've done after a few surgeries," Julian said. "Shake Shack is my go-to for some reason."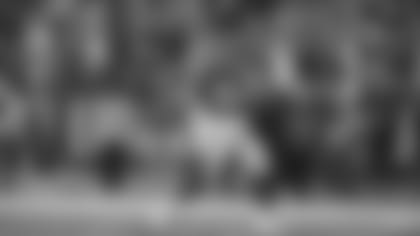 Recovery is all about small victories.
As Julian began to gain movement back and swelling subsided in his knee, he said each time he could add a new movement back into his repertoire, like bending his knee or walking, it was an important win.
"Every little thing that you feel new for the first time in a good way is like a little jelly bean of confidence that you eat," he said.
Julian's suspension challenged his relationship with his father.
After Julian was suspended for four games at the beginning of the 2018 season, it was difficult for everyone in his life. He said he felt alone, and his relationship with his father especially took a hit. Julian and Frank typically speak every day. They didn't talk for 81 days.
"I think it's your job as a parent to show unconditional love, unconditional support and move forward. I just went back to work, waiting until he needed me, and focused on what I had to focus on."
Frank made a comeback of his own -- coaching his son.
Though it was tumultuous, Julian and Frank reconciled, and eventually, Frank hopped on a plane to Boston to do what he does best -- coach his son.
"There was no football to be played those four weeks, obviously, so Frank got to coach him again," Julian's mom, Angie said. "Frank was happy. He got to coach his boy again, get him ready. I think they both were very happy. It was something they hadn't done in a very long time."
Super Bowl LIII capped off a hell of a story.
Okay, so we already knew this one, but it was driven home when Julian hugged his dad after the game and said, "We did it, Dad. We did it. I love you. I wouldn't be here without you."
For Frank, seeing his son get to the pinnacle of the game after coaching him through his childhood was a special moment too.
"Being a three-time super bowl champion and MVP, those are your dreams. Those are your dreams," Frank said.
Be sure to catch "100%: Julian Edelman" on Showtime.