Kenny Chesney has never been shy about his deep feelings for both Gillette Stadium and the Patriots. Throughout his long history of concerts in Foxborough, he has rocked Patriots jerseys, tank tops and showed his love for the team's home crowd. In a video this week, the country star announced he would be returning to the home of No Shoes Nation for his only stadium concert next summer, and it's no surprise Kenny spread the love to Foxborough and Patriots Nation in the process.
Kenny's not touring in 2017, but he said he wanted to return to Gillette Stadium for his 16th show because of the fans. And he even rocked a Patriots hat while doing it.
"We are so excited to come back and play again. I can't wait to see your faces, to feel your energy, for the only stadium show we're doing next summer," Kenny said in the video. "We're doing it because we love you, so thanks a lot. See you then."
Since 2005, Kenny has been a regular at Gillette Stadium, and every time he's in Foxborough he is open with his Patriots PDA. This summer, he told the crowd at one of his two shows exactly why he feels so strongly about it. 
"This weekend is special. This place, this stadium, is special," Kenny said. "I grew up in a town a lot like Foxborough. We worked hard. We played hard. We had our sports and our parents, and that's it … New England treats me like family."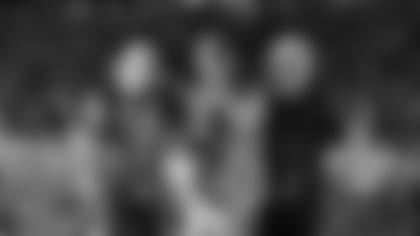 That family feeling extends right to the head of Patriots Nation, too. In 2015, Robert and Jonathan Kraft were even welcomed on stage during one of his shows, Lombardi trophies in hand. 
The show on Aug. 25, 2017, will also feature Thomas Rhett and Old Dominion, who also performed on the "Spread the Love" Tour this summer. Old Dominion also quickly dove into Patriots Nation, rocking jerseys on stage and joining the PFW crew's Patriots Pre-Game Social.
It's safe to say that whenever Kenny and Co. want to swing through Foxborough, they will be welcomed with open arms. Don't miss your chance to catch the fun in person next summer. Tickets for the concert go on sale on Ticketmaster.com Dec. 2 at 10 a.m.
RELATED LINKS