When Mark Lamson came to Gillette Stadium last Tuesday, he knew he was being honored for his efforts raising money for the Patriots Foundation, and more specifically the Myra Kraft Community MVP Awards.
Lamson, a Foxboro resident who has run for the Patriots Boston Marathon team for six years and raised well over $100,000 for the Foundation, was presented with two tickets to Super Bowl LVI by Robert Kraft, Josh Kraft, and Andre Tippett.
Lamson came to the stadium thinking he would be honored with a commemorative football until Kraft opened the door to the trophy room. When he first entered the room, Lamson got chills. Along the walls were the 11 AFC Championship trophies as well as the six Vince Lombardi trophies and six Super Bowl rings, plus two giant Super Bowl tickets.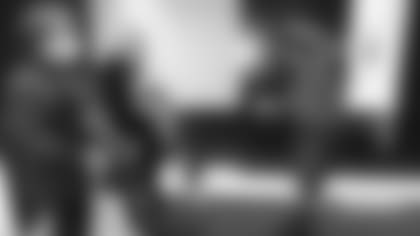 A few days removed from the surprise Lamson said it still hasn't sunk in he's going to the Super Bowl.
"It's quite an overwhelming and incredible gift and acknowledgment by the Foundation and the Krafts."
The money raised by the Patriots Marathon team helps fund the grants for the MHK Community MVP Awards, which recognize volunteers in the New England community who dedicate their time and service to others. Each year, a ceremony honors the 26 volunteer winners who receive a donation for their charity.
Lamson said that he has been fortunate enough to meet some of the recipients at the event.
"The ceremony is always very powerful. I take the opportunity at that event to introduce myself to some of the recipients and a few relationships have grown from that event. From the people I have met, to the relationships developed, and some of the stories that I have been told and heard, are what makes it an amazing part of the journey of running for charity."
For those who may be interested in joining the team, Lamson offers his encouragement.
"Beyond the marathon and fundraising, this is so much more. The people I've met, relationships developed, and stories from so many have made this a rewarding part of my life," Lamson said.
This year, however, Lamson plans on taking a step back to let others enjoy the marathon team. Instead, he hopes to volunteer for the Boston Athletic Association on race day. But before that, Lamson plans on taking his wife Jill, to the big game.