Last January, as the Patriots players' families were preparing to fly out for Super Bowl XLIX, Logan Ryan's girlfriend was packing up the couple's van. With plans to spend the offseason in Arizona, Ashley Bragg knew she had to get their dogs, Nala and Leo, out there, but for her and Logan, putting them in airplane cargo or sending them with a pet shipping company was out of the question. So Ashley offered to make the 2,600-mile drive with their four-legged friends along for the ride.
"I was like, 'You're kidding, right? That's a long drive,'" Logan recalled. "I [said I would] give her family Super Bowl tickets if they drove the dogs out there, so Ashley and her dad and sister took 40 hours to drive the dogs in our van across the country and met us in Arizona."
"That's how we treat them," Logan said of the dogs. "Honestly, a lot of people in the animal community, that's how they view their dogs too. I think that's how it should be."
It should be that way, but it isn't always the reality. That's why last June, Logan launched an initiative called Ryan's Monthly Rescue to do his part to help. On the 26th of each month, he shares a photo on Instagram of a dog in need of a permanent home. He includes a little bit of the animal's backstory and information on how people can help.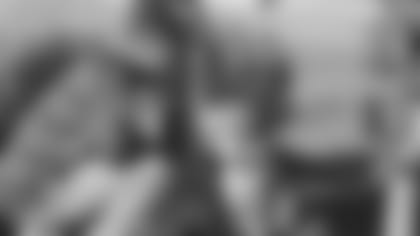 Still, it's more than just a photo and caption. Logan always spends a couple hours getting to know the dog before sharing its story.
"There are so many people that show up when we do the picture and they say [to me], 'Well, what do you want to do? How about you sit here?' he explained. "I've done it so many ways: I've done selfies with the dogs; I've played with the dogs and taken a picture; I've done formal stuff. It's just whatever the dog is. I go and hang out with the dog and kind of feel what their personality is. If they're laidback then we're going to do something laidback; if they're hyper then we're going to play and do something hyper. But it's very genuine and I care very much about each of the dogs."
Although Logan grew up with pets, they were considered "outside dogs," spending much of the day outdoors and sleeping in the laundry room. When he met Ashley in college, though, her passion for animals began to rub off on him, especially when they got Nala, a pug-beagle mix, while still students at Rutgers. 
"We had no idea what we were doing but we raised her like she was a little baby," Logan said.
Then two years ago, they added to their family when they adopted Leo, a pit bull. He had been found in the streets of Roxbury, Mass., and placed with a foster family before Logan and Ashley came along.
"When I got to the NFL, I knew I wanted to give back, but I didn't know what way was closest to me," he explained. "Whether it's **cancer research** or **sickle cell** or anything that my teammates or anybody does, they're all important causes, but I wanted something that would hit home in a sense. Dogs just fell into my lap because I rescued Leo and realized the mistreatment and misunderstanding of the pit bull and dogs in general."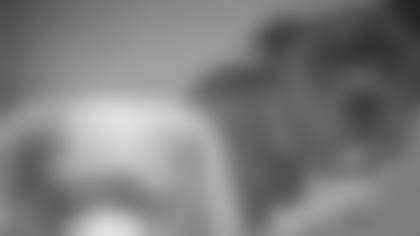 Despite the negative light often cast on pit bulls, Logan insists that they are just like any other type of dog. His experience with Leo is proof. 
"He's the most loyal and lovable dog I've ever had. He's this 80 pound pit bull and people might be afraid of any big dog or any type of pit bull, but he just completely breaks all of those stereotypes."
One scroll through the photos in** Logan's Instagram gallery** and his strong bond with both Leo and Nala is apparent. There are pictures of the dogs dressed up for Halloween, napping after a long walk, and even with Logan and Ashley in the photo that announced they were expecting their first child together.
Logan hopes that his Monthly Rescue initiative can provide other families with the same happiness that he and Ashley have gotten from their pets. And eight months into the project, he's already achieved that goal. Five of the dogs he's highlighted have been adopted, including the very first one, Jewel. She needed surgery on both of her legs, and Logan's Instagram post helped raise money to cover the procedure and found her a permanent home. 
"She was just the sweetest, most caring, lovable dog," Logan recalled. "That being the first dog, it definitely gave us great encouragement that this could work and was making a difference."
While Logan leverages his status as a New England Patriot to help animals, he shares the success with Ashley, who does a lot behind the scenes. She previously worked at Providence Animal Rescue League and has volunteered at other shelters, plus she helps run **The Pittie Stop Rescue**, a foster-based not-for-profit supporting pit bulls. Her knowledge and relationships in the animal welfare community are particularly important when it comes to selecting dogs for Ryan's Monthly Rescue, Logan said.
Although he hopes to expand his efforts in the future, for now Logan is tackling charity work much like the Patriots approach football; one game at a time has turned into "one dog at a time."
"I've made a lot of plays and play on a great team, but the feedback I get from this is honestly more than the football at times," he remarked. "It's insane how many people see it and how many people want to get involved."
He continued, "If I've only been doing it for eight months and I've helped five dogs and five families out, that's enough for me… And if I do this for the next 50 years then I'm happy with that too. But we'll see how it goes. I really just want to continue to grow the cause and give families and dogs more opportunities to meet and have some more happily-ever-afters."