Students at Foxborough High School met a new "classmate" Monday afternoon. He jumped right in during gym class and answered their questions during lunch, but instead of fielding queries like "What was your last school like?" he told them how it felt to make the Super Bowl winning play.
Malcolm Butler surprised the high school students with a visit, giving hugs and taking selfies during lunch and in the hall. Malcolm took over the NFL's Snapchat account for the day and wanted to make the most of it. 
"I had to come out and do something positive," Malcolm told the cafeteria full of surprised students. "I've been working out all day, so I decided to come and see what's up with you guys."
After a quick Q&A session in the cafeteria, Malcolm headed off to gym class to see how Warriors train. 
The Super Bowl champion was screened by Superintendent Debra Spinelli before he could enter the wellness class of CJ Neely. Only top notch athletes can join, even as a special guest.
"Malcolm, Mr. Neely wants to know if you qualify [for class] and what your fitness level is," she joked. 
He told her he was up for the task. Malcolm helped lead warm ups with laps around the gymnasium and lunges, high kicks and shuffles across the floor. 
Once the class was ready to go, Malcolm took a break from testing their physical toughness and quizzed them with trivia questions about his career, and in return, they challenged him to do pushups. Five students received autographed footballs and Malcolm did 21 pushups with "great form," one student noticed. 
Malcolm said the opportunity to give back and meet fans is the least he can do.
"They let me know, each and every time I do this, they let me know, kids, students, grownups, a lot of people look up to me," Malcolm said. "They're thankful of me and I just try to show the love back and I'm just doing what I do. I appreciate the love, that's it."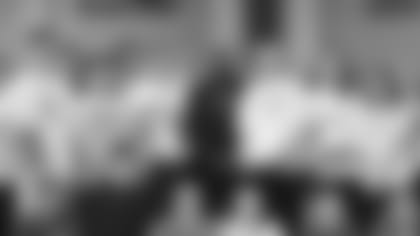 The wellness class was set to begin training for the Heinricher Hustle, a two-mile race to honor the school's assistant principal who passed away suddenly in March. The race to honor Joe Heinricher is set to take place on May 20, and while this time has been trying, Debra said having players like Malcolm visit encourages Foxborough students.  
"The New England Patriots are really role models for all the kids in the community about work ethic, hard work, perseverance, putting your best foot forward at all times, working as a team, and we look up to them in terms of being models for the attitude they should take in life and all the qualities they stand for as a team means a lot to us," she said. "They really follow that and they try to emulate that approach to life in everything they do, whether it's their classes or it's what they want to do in life or moving forward to college, and so to have people like Malcolm here in the flesh, if you will, they get to see them as real people it really makes a difference, like there is somebody that worked hard and aspired and had a dream and they accomplished it. Whatever their dream is they can do the same." 
Because Malcolm got to revisit high school today, we at Lifestyle wanted to take a look back at some of his favorite high school moments. 
Malcolm Butler High School Fast Facts
Vicksburg High School, Vicksburg, Mississippi
Class of 2009
*Favorite gym time game? *
Dodgeball
Flag football or two-hand touch?
Flag
Best football moment?
We were down by a couple of points. I took an interception back for 100 yards.
Lunchtime choice?
First lunch because I'm hungry!
If not in the NFL, what did you want to be?
I wanted to be a barber or a motivational speaker. 
Check out a full gallery from the visit below. 
Malcolm Butler took over the NFL's Snapchat and surprised Foxborough students Monday afternoon.