New England will face a tough test in trying to stop Peyton Manning this Sunday, but the Indianapolis quarterback is expecting just as stiff a challenge from Bill Belichick.
"Anytime you are playing against a Coach Belichick-defense, it's kind of a discipline test. His defenses have always been good at stopping the run and preventing the big plays from happening," Manning said.
Manning said facing AFC East rivals Buffalo and Miami is tough because those teams play a basic 3-4 that challenges an offense to run right at them. He said the Patriots defense is capable of doing the same thing, but the team talent allows them to show more confusing looks.
]()
            "A lot of times when teams do a lot of trickery, they are trying to make up for a lack of talent. New England gives a lot of looks, but they also have the ability to just line up in a basic defense because of their talent," Manning said. "Those are the toughest defenses to play against because you are facing a defense with the talent to do whatever they want. It will be a great challenge this week."  

New England has been a tough team for Manning in his short career. Though he won the last meeting between the teams, the third-year quarterback is 1-3 with eight touchdown passes and seven interceptions against the Patriots.
Manning credits some of the struggle to knowing that he is going up against Drew Bledsoe. In the four match-ups with Manning, Bledsoe has thrown for eight touchdowns and just two interceptions. In those games, New England has scored an average of 24 points.
"Anytime you are playing against a guy like Drew, you know that you are going to have to score some points," Manning said. "Our defense is going to have a challenge, because New England can score points. Winning 18-16 like we did against Buffalo might not be realistic. As an offense, it challenges you."
Since losing at New England a year ago, Manning and the Colts have won eight of the last nine road games they have played. The Patriots defense knows controlling Manning is important this weekend.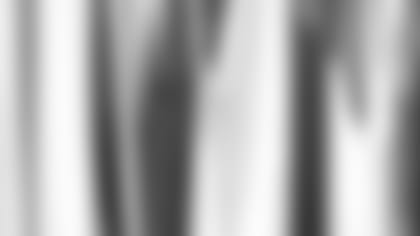 ]()
            "We have a very good quarterback coming in, and I think he's probably the least-sacked quarterback in the league. It's going to be tough to get to him, but we have to try to get people in his face to try and rattle him a little bit," defensive end Greg Spires said. "They are probably the best team we are going to play this year, and it's even more important because this is a conference game. We are at home, and you have to win your home games, point blank."  

The Patriots injury list is considerably shorter than it has been for the last few weeks. Guard Max Lane (hand), wide receiver Shockmain Davis (shoulder) and cornerback Antonio Langham (leg) were the only players listed, and all three were tabbed as probable for Sunday.
For the Colts, running back Abdul al-Jabbar is out after being placed on Injured Reserve with a knee injury. Wide receiver Chad Plummer and linebacker Ratcliff Thomas are both doubtful with foot injuries, while offensive lineman Adam Meadows (pneumonia) and defensive end Chukie Nwokorie (unknown) are both probable… Patriot receivers Terry Glenn (29 catches) and Troy Brown (27 catches) rank fourth and fifth respectively in receptions in the AFC… Adam Vinatieri needs six points to become the third player in team history to score 500 points… The offensive line has allowed just eight sacks in the last three games.