Even years after Yogi Berra retired from baseball, you would be hard-pressed to find a kid in a New York or New Jersey who didn't know the legendary Yankee. Devin and Jason McCourty were no exceptions to this, so when the brothers received the Service Award at the Yogi Berra Museum and Learning Center's inaugural Awards Dinner, it was a humbling surprise.
"It was kind of shocking just because we grew up in that area. We were too young to watch Yogi, but knowing his name, the type of player he was and what he accomplished, it was kind of humbling," Devin said. "We were able to see his achievements off the field and what he did in that area. It kind of felt undeserving. With everything he accomplished it was definitely an honor to be mentioned in the same sentence as him." 
The Yogi Berra Museum Service Award was just one of many awards handed out on May 12 to celebrate those who keep Yogi's spirit alive through service and sportsmanship. Devin and Jason's work through Tackle Sickle Cell, as well as their regular appearances in the community, countless volunteer hours and support of other players' causes earned them the first-ever honor. 
The Yogi Berra Museum and Learning Center Executive Director Eve Schaenen said this willingness to use their platform in the NFL to give back is exactly what makes the McCourty brothers worthy of the award.
"Their very presence as role models and how they go about their lives is in the spirit of Yogi," Eve said.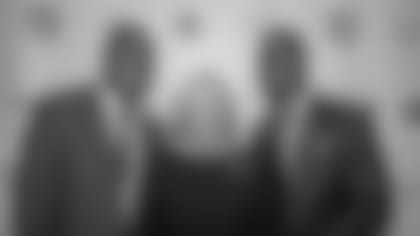 While it was a special moment for Devin and Jason, it was also an opportunity to thank those who help behind the scenes, as well. 
"To me, it's a sign that you're doing good things. I think it's great. It gives us a chance to thank the people that help us out and mention them and let people know the hard work they put in. It's not just us," Devin said.
Though there are friends, family, volunteers and countless others helping Devin and Jason create positive change, it also starts with the two of them. Being able to share these experiences – and this award – is exactly what Devin said he loves about being in the same league as his brother.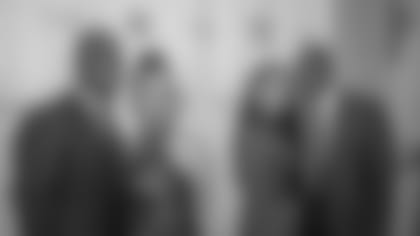 "I think that's what's been the best thing about both of us playing in the NFL – everything we can do off the field. It's something we're passionate about. It gives us a chance to be together," Devin said. "Being married and having kids, a lot of times the different community events we do allow us to come together for a weekend. It's a great cause and we can do great things, and we definitely enjoy being around each other in the offseason."
This attitude and dedication to giving back and doing it together was contagious as the awards dinner, Eve said. Though the museum is centered in baseball, Eve said two NFL players were the "hit of the night."
"There were a lot of baseball fans in the room that night and they left McCourty fans," Eve said.
RELATED LINKS