As Ben Lepper and his classmates were gearing up for high school graduation, the next chapter of his life suddenly looked a lot different from what he planned. A T-cell acute lymphoblastic leukemia diagnosis in March of 2021 meant two years of cancer treatment and that his first year at Holy Cross would have to be put off.
He managed to take up studies on his own, binging NFL Network and becoming enthralled with the NFL Draft in various hospital rooms at Dana-Farber Cancer Institute and Boston Children's. The COVID-19 pandemic complicated his second year of treatment and paused all sports – Lepper's favorite escape. But the NFL Draft remained constant and helped the Massachusetts native find a calling for when he did finally get to college.
Thanks to the Make-A-Wish Foundation, he'll get to take part in the event that helped him persevere to enter remission – announcing the New England Patriots' second-round pick in the 2022 NFL Draft on Friday.
"It's an honor to be part of such a special event," Lepper said shortly after Robert Kraft asked him to fly to Las Vegas on behalf of the team.
The Patriots' chairman and CEO surprised the 20-year-old during what Lepper thought was a stadium tour at Gillette, and he received a FaceTime call from quarterback Mac Jones shortly after.
"The draft changed my life, and I can't wait to be part of that for someone else."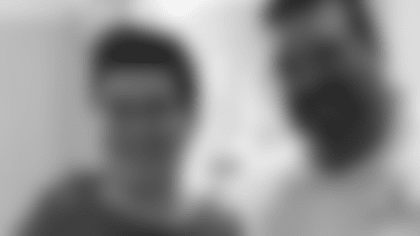 It's hardly hyperbolic for him to say that.
Lepper always was a big sports fan growing up in Massachusetts, but hospital stays opened his eyes to the power football could have off the field.
Most of the entertainment for kids at the hospital wasn't suitable for a 17-year-old kid, but the nurses and doctors knew Lepper loved Boston Sports – especially the Patriots.
A visit from Joe Andruzzi was arranged through a connection at his sister's school. Along with getting to try on the former Patriots guard's Super Bowl rings, Lepper gained an entirely new perspective.
"Andruzzi was my first real experience of sports giving back," Lepper said.
The retired three-time champion wasn't the first player Lepper would get acquainted with. He soon met players like Ryan Izzo and Chase Winovich and got acquainted with the team's community relations department. That led to an invite to the Patriots Premiere in 2019, and some fantasy football advice from former offensive coordinator Josh McDaniels.
Even when he felt his worst, Lepper's favorite team lifted his spirits.
In the hospital with a fever on the Fourth of July, he stayed an extra hour after discharge the next day to meet Joe Thuney. As luck would have it, he'd have to be admitted again a day later. This time, his favorite player Julian Edelman paid a visit.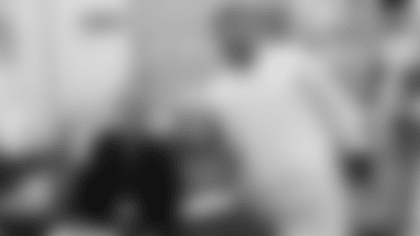 The pandemic entered the picture in March of 2020, and all those meet-and-greets had to get put on hold along with every sports league. One of the first live televised sports events ended up being the virtual NFL Draft in 2020.
"The draft to me is more than just an event," Lepper said. "It's hope for a new season. The time surrounding it, the mock drafts, the shows, the conversations around prospects – I love that so much. When I started to connect that the first time it was in the hospital, the draft was on. When COVID happened, the draft was on. The draft is a constant at this point, and it's a constant good thing that happens. It's the constant thing that I enjoy. I want to be part of that."
That's where the idea for his wish request came from, but once it came and went, he dove deeper than ever into sports media. Watching network sports television and consuming media digitally, he found entertainment and a potential new career path to pursue.
"At that point, I was like why can't I do this?" Lepper said. "Why can't I find stories that make people not just enjoy it, but help people forget that they're in their situation for a while? Because when I watch a video or watch the game and listen to the broadcasters, I forgot I was sick. That was super powerful for me."
Lepper hopes to unknowingly help people in the same way broadcasters and writers helped him. He wonders how much good he can do with that.
As hard as watching the rest of his friends go on to college, he finds a silver lining in having to wait two years.
"At this point in my life, I'd realized that things are changing," Lepper said. "You know, even if I didn't have leukemia, I wasn't going be seeing these people a lot anymore. Obviously, the situation is different. I would be staying at home and getting treatment while they continued with the next chapters of their lives. I was actually okay with that because I knew it wasn't my time. It just wasn't my time. I didn't know what I wanted to do in life. I had an I had another challenge to face first."
Remission doesn't mean he's out of the woods completely, but Lepper started his freshman year at Holy Cross this past fall.
He calls games at WCHC, the university's on-campus radio station, and works closely with the football team. Quickly ascending to a sports editor position at The Spire, he's found a knack for writing op-eds about sensitive issues.
"The human aspect is what brings me here," Lepper said. "The human aspect of all these athletes enthralls me and I want to write about it. I want to talk about it. I want people to know that they are more than people who just throw a ball around for a paycheck."
Of course, that comes from first-hand experience. He feels forever indebted to the athletes, reporters and content creators who got him through cancer and inspired his future.
"Just taking my mind off what was going on in my life inspired me so much to want to pursue sportswriting and sports broadcasting, but also to just try to make the world a better place through it," Lepper said. "I came out of this with a mindset that I'd rather leave a positive impact on the world because I have a second chance now."
At the 2022 NFL Draft, he'll get his first big platform to do just that.