The Patriots kicked off the first of their mandatory three-day minicamp practices in Foxborough on Monday and Bill Belichick put his troops to work for more than two hours. While most if not all of the practice took place at a measured pace, the team ran through several periods of full offense/defense with all of the quarterbacks receiving plenty of reps.
The tempo prevented the ability to take away too many evaluations but the overall offensive performance didn't seem to rise to the levels we'd seen previously this spring. That meant the defense was more noticeable on Monday, with a mix of pressure packages and tight coverages highlighting the work of those in blue jerseys.
The majority of the offense consisted of short throws, mostly to the tight ends underneath the coverage, and some occasional hooks and curls to wideouts. Then later in practice Jones and the offense worked against various blitzes and had some success in those situations.
The period began with Ja'Whaun Bentley coming free up the middle to disrupt one play, and later Jones was forced to scramble around in an effort to make something happen but nothing materialized. However, Jones did catch the defense a couple of times, first when rookie Christian Gonzalez blitzed out of the slot, leaving DeVante Parker open near the sideline. Jones read it perfectly and hit the hot receiver for a modest gain.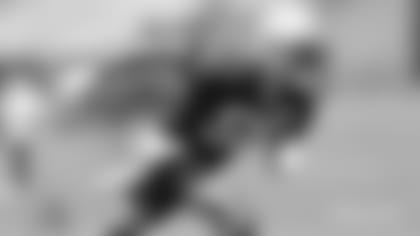 A few snaps later the Patriots sent the house, and again Jones calmly read it and hit a streaking Kendrick Bourne on a slant. The throw hit Bourne in stride, allowing the wideout to turn it upfield and race into the end zone.
But those flickers of production were mostly masked by batted passes (Deatrich Wise had one) and some tight coverage (Jack Jones was quite active on the outside). Again, the tempo was nowhere near full speed so take the results with a grain of salt, but the defense seemed to win more of the battles on Monday.
Here are one man's observations from the first day of mandatory minicamp.
*Although attendance at minicamp is mandatory the Patriots were without nine players, and at least two of them would appear to be non-injury related. Trent Brown and Lawrence Guy were among the missing, and neither took part in any of the OTA sessions that were open to the media either. According to MassLive.com, Brown missed a flight and was unable to make it to Foxborough in time to take part in the practice. ESPN said that Guy's absence was contract related. In addition to that pair, James Robinson, JuJu Smith-Schuster, Tyquan Thornton, Quandre Mosely, Tae Hayes, Kayshon Boutte and Mike Onwenu were not seen. ESPN said Thornton, who missed some OTA work, was dealing with a soft tissue injury while Smith-Schuster finished last season with a knee injury. Robinson was on the field for the start of OTAs but hasn't taken part in the last few open to the media.
*On the positive side, Matthew Judon made his first appearance of the spring, wearing his trademark red sleeves under his blue No. 9 jersey.
*Rookies Marte Mapu and Antonio Mafi were dressed but wearing red, non-contact jerseys. Mapu has been in red throughout the spring but Monday was the first time we've seen Mafi in red. Both still saw plenty of reps at their respective spots.
*Mapu continues to stand out each day, both for his attire and for his versatility. Monday saw him take reps at inside linebacker next to Jahlani Tavai in 7-on-7s and at safety in full team work. He also saw action at linebacker working in a 9-on-7 drill in a group with Judon, Christian Barmore and Daniel Ekaule going against various RPO and read option running looks. Both Trace McSorley and Malik Cunningham took snaps as quarterback during the drill.
*Cunningham spoke to the media after practice and explained that the Patriots were the only team to work him out at wide receiver during the pre-draft process and that he was attending meetings with the receivers so far in Foxborough. Any of his work at quarterback has generally come at the end of practice. "I've never run a route in my life, but I'm getting used to it," Cunningham said of his transformation to receiver. He added that the reason he felt New England was the right fit for such a chance was the "Julian Edelman story and the culture. I feel like I can do it."
*LeGarrette Blount and Aaron Dobson were once again on hand for practice. Belichick explained both were learning the tricks of the coaching trade as part of the Bill Walsh Coaching Fellowship. "I'm glad to have them, it's great to have them here," he said. "They're here to learn, observe and they're doing that. So, I'm happy to help them with their coaching careers. I'm sure there'll be others around, too. Pat [Chung] was here last week, so yeah, it's great to have those guys around."
*Devin McCourty and James White also took in practice as visitors, as did Penn State coach James Franklin. Franklin succeeded Bill O'Brien as head coach at Penn State back in 2014, and the two left the field together after practice.
*Prior to practice there was a report that indicated the Patriots were having veteran offensive lineman D.J. Fluker in for a workout. Fluker has been out of football while battling weight issues but has been working hard to get back in the league, and given the Patriots lack of depth at tackle it makes sense that Belichick has interest in the former Alabama standout and first-round pick.
"We bring players in and work out players throughout the course of the year," Belichick said. "I forget how many players worked out last year, but it was well over 100. We have worked out players, we will work out players. We're not going to talk about the players until they're on the team or if they're on the team, but that's part of what we do, procedurally, to evaluate them, whatever their situation is. Usually there's some physical component to it, and that's what we do in the pro personnel department. We work out a lot of guys."
*It's interesting to watch Mac Jones during the periods when Bailey Zappe or McSorley is operating the offense. Jones typically stands well behind the formation by himself, sometimes making gestures with his hands while seemingly taking mental reps as the plays are run. He told reporters after practice that he's always trying to learn not only what his job would be on a given play but what he would do based on how the defense reacts. "What do I do it they do this, of how do I run this play if the defense does that," he said. "It's just a way to get more reps mentally."
*Given the elongated nature of the practice there were several special teams periods. There were two punting periods with Corliss Waitman handling the kicking during both. Jabrill Peppers, Myles Bryant, Ed Lee, Demario Douglas and Marcus Jones handled the return duties. Brenden Schooler and Ameer Speed served as personal protectors while Matthew Slater, Jonathan Jones, Jourdan Heilig and Rodney Randle worked as gunners. Bryce Baringer was back in uniform after missing the last two OTAs open to the media but the rookie didn't do much if any punting.
*Later in practice the kickoff team got some work with both Nick Folk and Chad Ryland handling the kicking. Those two also closed practice with some field goal work into the skinny goalposts, connecting on the majority of their attempts ranging from roughly 35-45 yards out.
*The Patriots worked on a ball security drill where players would catch a short hook before turning upfield between a pair of would-be tacklers. Generally the trail defender would try to punch the ball loose, and one succeed in knocking it away from Marcus Jones.
*Practice ended with the team in a large circle as the players cooled down with some post-workout stretching. Riley Reiff, Carl Davis, Calvin Munson, Josh Uche, Judon and Barmore were the only players situated inside the circle.
*The rookies spoke for the first time since practices got underway as Christian Gonzalez, Mapu, Keion White, Baringer, Ed Lee, Cunningham and Demario Douglas were among those spending time with the media. Mac Jones also met with reporters after practice.
*Day 2 of minicamp is scheduled to kick off in Foxborough on Tuesday with practice scheduled to run from 11:15 a.m.-1:25 p.m. The workout is once again open to the media but closed to the public.
DISCLAIMER: The views and thoughts expressed in this article are those of the writer and don't necessarily reflect those of the organization. Read Full Disclaimer