The Patriots opened their mandatory minicamp on Monday and afterward, a handful of rookies spoke with the media for the first time since being selected over a month ago, including the team's first three selections of the draft.
The team went defense with those three picks and through three OTA sessions and one minicamp practice it appears that Christian Gonzalez, Keion White and Marte Mapu are all laying a solid foundation for their first season of professional football as they've been thrown into the deep end without a life preserver.
Now, they'll all learn have to learn to swim for their football lives.
"All the rookies, they've all been good," said Bill Belichick last week during availability. "They've got a lot to learn and they're trying. Drinking through a fire hose, but that's what it is for rookies coming into the NFL. They've all put in extra time. They're trying. They're overwhelmed, but they're still afloat, still swimming, treading water. Eventually it will sort itself out. No issues with any of them, really. They're all working hard, but it's a lot."
After an initial absence at the first open OTA, Gonzalez has been a fixture with the top veteran defenders. Although minicamp is more about learning than competition, Gonzalez has been an easy fit with his athleticism that jumps off the practice fields, even with many drills being run at half speed. With a long list of stellar cornerbacks in Patriots history, this year's 17th overall pick could be the latest in line to make a significant impact, at a time when the need for defensive backs with size and speed to cover has never been more important in the NFL.
"It's been eye-opening for sure, but it's football and I've just been having fun really," said Gonzalez after Monday's session. "Trying to ask a bunch of questions, learn from the best and really just enjoy the moment here. Stay in the present and take it day by day.
"It's fun really, getting out here and learning the playbook and just learning how to play with each other and really just working at it."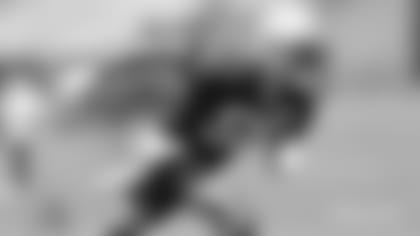 While Gonzalez has added an instant injection of youth to an experienced secondary, White has surprised with his early work at outside linebacker standing up in a two-point stance. After spending most of his college career as a hand-down defensive end, it appears the Patriots are at least kicking the tires to see how vast his defensive role can be. With limited young depth across the front seven, White could reinforce multiple positions of need once he gets it all down, offering more potential impact than many might've initially realized.
White has taken a lot away from his early interactions with Bill Belichick and the defensive coaching staff.
"That's been a real dope experience, not gonna lie to you," said White. "With Bill, he's real hands-on, and he knows everybody's position and he teaches you the ins and outs and everything like that. I respect that, [he's] not afraid to tell you the truth and tell you what he's thinking at all and I kind of cling to that and I like that, I appreciate that."
Despite early reps standing up, White's role is nowhere near set as he continues to take it all in, knowing how far he and his fellow rookies still have to go.
"Just learn the defense as a whole, we've only been out here for a month, so there are still a lot of things I have to learn," admitted White. "You bounce ideas off people and just try to find your own path and see where you fit in among everybody. I kind of choose the path of just keeping your head down and working and allow your actions to speak louder than your words because I don't really talk too much. That's just the path I choose."
Connecting the front and back end of the defense is arguably the most newly-interesting rookie of the top trio, as Marte Mapu has moved around to more spots than any of them. Whether taking base reps at linebacker or playing the full spectrum of safety responsibilities, the Sacramento State grad is a unique new ingredient to experiment with on defense and the Patriots are already trying a number of things to see what he can handle and where he might fit best.
"I'm doing everything I can on my part, but it's hard to tell what the process looks like because one, we're not in pads, two, we're really far from the season and haven't played any real games yet," said Mapu on Monday. "But on the other hand, I'm just trying to soak up as much as I can and grow every day.
"I'm comfortable doing anything they ask me to do, they watched my film, they know my strengths and weaknesses, I just try to follow through with whatever they ask me to do."
With two more minicamp practices scheduled and then over a month before the start of training camp, the Patriots rookies are already offering optimism that they can help the defense reach new levels.
But for now, they'll keep their mouths shut and their ears open until they find their legs.
As White summed up on Monday, "Nobody gives a, I can't say the word, about your opinion because you're a rookie."