My Cause My Cleats is an NFL initiative where players can showcase causes that are close to their hearts with custom cleats. The Patriots will wear their custom cleats when they take on the Kansas City Chiefs on Dec. 8, and Patriots.com is taking a look at some of the causes they are choosing to support. Some of these cleats will be available for auction after the game through the NFL.
The offseason for NFL players can mean many things. It can mean vacation, going home and spending time with family. For Phillip Dorsett and James White, it means all three when they head to the Bahamas to spend time with their loved ones who live there.
The next trip Dorsett and White make to the islands will be different than in years past. Hurricane Dorian struck the Bahamas in early September as a Category 5 storm, first hitting the Abaco Islands and then stalling over the Grand Bahama Island.
Months later, the islands are still reeling from the destruction, and when Dorsett and White walk onto the field on Sunday, he wears a reminder that the people of the Bahamas are still healing.
"I definitely wanted to do something for them, for the kids. There are a lot of kids that don't have clothes. They don't have shoes," he said. "They can't go to school because they don't have really anything to wear. Everything is basically wiped out. I just wanted to do something for them."
Though both of their families are okay, the damage on the islands is substantial. By wearing cleats representing the Bahamas, both Dorsett and White hope it will remind those tuning in to the game that there are still people suffering and missing.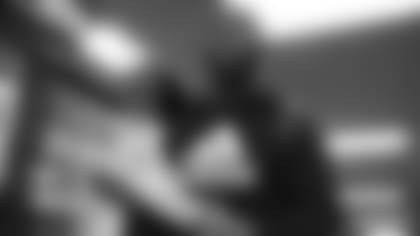 "Hurricane disasters are not just fixed in one day," White, who is representing ONE Bahamas Fund, said. "Maybe somebody will look up the foundation I'm representing or another foundation to help raise money or do whatever they can to help rebuild things."
Dorsett, who talked about Hurricane Dorian on the Patriots Off Topic podcast in September, said that while the official death toll is said to be around 65 people, many believe the number is far higher.
"I just want people to actually just realize what actually happened, what things are like around there," he said. "Like I said on the podcast, I've gotten text messages from family members where it's literally just water and you can smell flesh. It's that bad. They don't really know how many people died. It's devastating … At the end of the day, people just need to realize what really went on."
While the purpose of the cleats is to draw attention to the recovery efforts, both White and Dorsett's customization reflects the spirit of the islands. They're bright, colorful and full of life. White's depicts the famous Junkanoo festival, and Dorsett's show sharks and palm trees.
With this, they hope those in the Bahamas know that there are two Patriots players thinking about them and representing them for the world to see.
"I hope they see they're never forgotten," White said. "I'm constantly thinking about them. I know there's other people in the world thinking about them. I just want to go out there and dedicate this game to them and play for them."