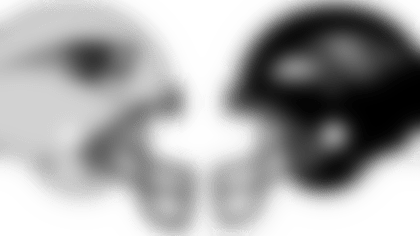 NEW ENGLAND PATRIOTS (2-1) vs. BALTIMORE RAVENS (3-0)
Sunday, October 4, 2009 - Gillette Stadium (68,756) - 1:00 p.m. EDT

The New England Patriots will host the Baltimore Ravens this Sunday at Gillette Stadium to close New England's only back-to-back home stand of the 2009 season. Last week, the Patriots beat the Falcons at home, 26-10, to extend their winning streak to 16-straight against NFC opponents.
Baltimore has never scored a touchdown in Foxborough after being held to a pair of field goals in a 20-3 loss at Foxboro Stadium in 1999 and a 24-3 loss in their first and only visit to Gillette Stadium in 2004.
For the second straight week, the Patriots will face an undefeated team with Baltimore standing at 3-0 after scoring 30-plus points in all three wins. Baltimore beat Kansas City, 38-24, San Diego, 31-26 and Cleveland, 34-3.
TELEVISION:This week's game will be broadcast to a regional audience by CBS and can be seen in Boston on WBZ-TV Channel 4. Jim Nantzwill handle play-byplay duties with Phil Simms providing color.
NATIONAL RADIO:This week's game will be broadcast to a national audience by Sports USA Radio Network. Bob Fitzgeraldand Ross Tucker will call the game with Tony Grazianihandling the sideline reporting.
RADIO:98.5 FM, The Sports Hub, is the flagship station for the Patriots Radio Network. A complete listing of the network's 36 stations can be found here. Play-by-play broadcaster Gil Santos is in his 33rd season as the voice of the Patriots and will call the action along with Patriots Hall of Famer Gino Cappelletti. Santos and Cappelletti are celebrating their 26th season as a tandem.
UNFAMILIAR TERRITORY
The Patriots have played just two regular season home games against Baltimore, with a 20-3 victory in the final game of the 1999 season (1/2/00) and a 24-3 win on November 28, 2004. The only two teams that have fewer trips to New England are Houston and Carolina with one visit each.
SERIES HISTORY
The Patriots and Ravens have squared off four times in the regular season since the Baltimore franchise was founded following the Cleveland Browns' move to Baltimore in 1996. New England owns a perfect 4-0 record over Baltimore. The teams last met in week 13 of the 2007 season with the Patriots overcoming a 24-17 fourth-quarter deficit to keep their perfect regular season alive and improve to 12-0. The Ravens' first trip to Gillette Stadium came on Nov. 28, 2004 with the Patriots claiming a 24-3 victory. Baltimore's first visit to Foxborough came in the final game of the 1999 regular season, a 20-3 New England win. The first meeting between the teams came during the Ravens' first season in Baltimore, when the Patriots prevailed 46-38 on Oct. 6, 1996. The 84 total points scored by both teams in that game rank as the secondhighest total number of points in a game in Patriots history.
Jarvis Green scored his only NFL touchdown when he scooped up a QB Klye Bollerfumble in the end zone to give the Patriots a 24-3 lead in their win against Baltimore in 2004.
Laurence Maroney registered a career-high 79 receiving yards and a career-long with a 43-yard reception vs. Baltimore (12-3-07).
Fred Taylor had a career-high nine receptions vs. Baltimore (9-20-98) when he played with Jacksonville.
Ravens President Dick Cass graduated from Yale Law School in 1971.
Ravens assistant head coach/special teams coordinator Jerry Rosburg was secondary coach for the Boston College Eagles from 1997-98.
Ravens defensive line coach Clarence Brooks attended New Bedford (MA) HS and was a guard at the University of Massachusetts from 1970-72 and a team captain in his final season. Brooks earned All-Conference and All-East honors on the O-Line.
Baltimore offensive assistant Jason Brooks (son of Clarence Brooks) was born in Amherst, Mass. and served as UMass' assistant defensive backs coach in the spring of 2007 and wide receivers coach at Vermont's Norwich University in 2008.
Ravens offensive assistant Craig Ver Steeg served as Harvard's passing game coordinator, QBs and WRs coach and recruiting coordinator from 1994-1995.
Baltimore head coach's assistant Matt Weiss was born in Cheshire, Conn. and attended the Hopkins School (New Haven, Conn.) where he quarterbacked the football team to its first ever 12-0 record and New England Prep School Class C Championship.
Ravens director of player personnel Eric DeCostawas born in Taunton, Mass., lettered in football for three years at Colby and from 1993-1995, was an intern and graduate assistant coach at Trinity College (Hartford, Conn.) while earning his master's degree in English.
Ravens scout Mark Azevedo was born in Plymouth, Mass., a four-year contributor at TE for Colby College and a graduate assistant at Springfield College in 2004.
Patriots special teams coach Scott O'Brien served as Ravens special teams coach from 1996-98.
Patriots LB Adalius Thomasplayed for the Baltimore Ravens from 2000-06.
Patriots S Brandon McGowan and Ravens LB Brendon Ayanbadejo played together for the Chicago Bears from 2005-07.
Patriots LB Rob Ninkovich and Ravens QB John Beck were teammates on the Miami Dolphins in 2007.
Baltimore C Matt Birk played his college football at Harvard and was teammates with Randy Moss on the Minnesota Vikings from 1998-2004.
Patriots WR Randy Mossand Ravens CBs Chris Carr and Fabian Washington played for the Oakland Raiders from 2005-06.
Ravens T Jared Gathierand Patriots LB Derrick Burgess both hail from Greenbelt, MD.
Patriots S Brandon Meriweather and Ravens ILB Tavares Goodenwere teammates at the "U" of Miami from 2004-2006.
Patriots CB Jonathan Wilhite and Ravens G Ben Grubbs played two seasons together at Auburn, from 2005-2006.
Ravens K Steve Hauschkawas born and raised in Needham, Mass. and received his bachelor's degree in neuroscience from Middlebury College (Vermont).
Patriots LB Gary Guyton, TE Michael Matthews and Ravens S Dawan Landry were teammates at Georgia Tech from 2004-2005.
Ravens LB Matt Lawrence grew up in Bloomfield, Conn. and played his collegiate ball at UConn before transferring to UMass and earning his degree in 2007.
Patriots WR/Special Teamer Sam Aiken and Ravens RB Willis McGaheewere teammates on the Buffalo Bills from 2003-06.
Patriots NT Vince Wilfork played football at the University of Miami with Ravens RB Willis McGahee from 2001-02. Ravens S Ed Reed was a member of the team with Wilfork and McGahee in 2001.
Patriots DL Mike Wright and Ravens S Haruki Nakamura were teammates at the University of Cincinnati in 2004.
Patriots rookie S Pat Chung and Ravens DT Haloti Ngata and WR Demetrius Williams were teammates at Oregon in 2005.
Patriots T Nick Kaczurand Ravens RB Jalen Parmeleplayed together at Toledo in 2004.
Patriots LB Derrick Burgess and Ravens TE L.J. Smith played together for the Philadelphia Eagles from 2003-04.
Ravens WR Kelly Washington was a member of the Patriots from 2007-08.
PATRIOTS IN OCTOBERSince 2003, the Patriots are 22-4 in October games, having swept the month in 2003, 2006 and 2007. The Patriots had an 11-game winning streak in the month of October that was snapped last season when New England dropped a 30-10 decision at San Diego (10/12/08).