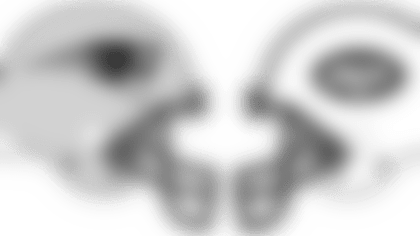 NEW ENGLAND PATRIOTS(6-3) vs.NEW YORK JETS* (4-5)
*Sunday, Nov. 22, 2009 - Gillette Stadium (68,756) - 4:15 p.m. EDT
The New England Patriots will return to Gillette Stadium this Sunday to face the New York Jets in the second meeting of their annual series. The Patriots, who fell to the Jets at the Meadowlands, 16-9, on Sept. 20, have not been swept in a season series with a divisional opponent since 2000.
New England owns a 41-12 (.774) record in regular season AFC East games since the beginning of the 2001 season, compiling the best intra-division record of any team in the NFL over the last eight seasons.
Since the beginning of the 2003 season, the Patriots are 20-1 (.952) in games following a regular-season loss, including a 2-0 record in such games this season. Over the last five-plus seasons (2003-09), the Patriots have only lost back-to-back games on one occasion (Nov.5 and Nov. 12, 2006).
TELEVISION:This week's game will be broadcast to a regional audience by CBS and can be seen in Boston on WBZ-TV Channel 4. Jim Nantz will handle play-by-play duties with Phil Simms providing color.
NATIONAL RADIO: This week's game will be broadcast to a national audience by Sports Radio USA. Larry Kahn and John Robinson will call the game. Troy West will be the sideline reporter.
RADIO:98.5 FM, The Sports Hub, is the flagship station for the Patriots Radio Network. A complete listing of the network's 36 stations can be found here. Play-by-play broadcaster Gil Santos is in his 33rd season as the voice of the Patriots and will call the action along with Patriots Hall of Famer Gino Cappelletti. Santos and Cappelletti are celebrating their 26th season as a tandem.
STRONG IN THE SECOND HALFThe Patriots have traditionally stepped things up a notch as the calendar has flipped to November. Since 2001, New England has done a remarkable job of finishing the season strong, compiling a 71-18 (.798) record after Nov. 1, including playoff games. Additionally, since 2001, the Patriots are 52-10 (.839) in games played after Thanksgiving Day and are 23-4 (.852) in games played after Christmas.
SERIES HISTORY
The Patriots and Jets will meet for the second time in 2009, with the Patriots looking to avenge the 16-9 loss in Week 2 at the Meadowlands. It will be the 101st meeting since the series between the AFC East rivals began in 1960. The Jets are leading the all-time series with a 50-49-1 advantage. The teams split the season series last season with the Patriots beating the Jets, 19-10, at the Meadowlands and the Jets beating the Patriots, 34-31, in overtime at Gillette Stadium. The Patriots have won 11 of their last 14 games against the Jets (including one playoff game). The Patriots have swept the season series with the Jets in four of the last six seasons. New England is 20-12 against the Jets since Robert Kraft purchased the team in 1994. New England's 49 victories over the Jets (including two playoff wins) are the second most over any single opponent, trailing only Buffalo with 59 all-time wins.
SERIES BREAKDOWN
NEW YORK 50, New England 49, 1 Tie
(Including New England 2, New York 0 in Playoffs)
Home Record, 25-24-1 (incl. 1-0 in playoffs)
- Record in Foxborough, 21-18
- Gillette Stadium, 5-3
- Foxboro Stadium, 16-15
- Record in Boston, 4-5-1
- Record in Birmingham, Alabama, 0-1
Away Record, 24-26 (incl. 1-0 in playoffs)
- Giants Stadium, 17-10 (incl. 1-0 playoffs)
- Shea Stadium, 5-14
- Polo Grounds, 2-2
Seasonal Sweeps, Jets 14 (most recent '00), Patriots 13 ('07)
Bill Belichick vs. N.Y. Jets, 14-8 (13-7 with New England)
DIVISIONAL DOMINANCE
The New England Patriots own a 41-12 (.774) record in regular season AFC East games since the beginning of the 2001 season, compiling the best intra-division record of any team in the NFL over the last eight seasons.
RECENT PATRIOTS-JETS GAMES
The Patriots and Jets have played 18 times since 2001, with New England holding a 13-5 advantage in those games. Since 2003, the Patriots are 11-3 against the Jets and have allowed New York to score more than 17 points in a game just two times over that span.
PASSING PERFORMANCESTom Brady owns a 12-3 record against the Jets as a starting quarterback including regular-season and playoff games. Brady's 12 overall victories over the Jets are his second highest total over a single opponent, trailing only his 14 wins over the Buffalo Bills.
Jets QB Coach Matt Cavanaugh was a second round selection of the Patriots in 1978 and spent five seasons with New England.
Jets WR Coach Henry Ellard was a member of the New England Patriots during the 1998 season.
Patriots WR Randy Mosspassed Jets WR Coach Henry Ellardon the All-Time Receiving list two weeks ago.
Jets backup QB Erik Ainge is the nephew of Boston Celtics General Manager Danny Ainge and the grandson of Don Ainge, a draftee of the Boston Red Sox.
Patriots QB Tom Brady and Jets K Jay Feely were teammates at Michigan from 1996-1999.
Patriots DL Jarvis Green and Jets DE Howard Green are cousins.
Jets S James Ihedigbo is a native of Amherst, Mass. and walked onto the UMass football team, where he started for three years and was a captain his senior year.
Jets LB/Special Teamer Larry Izzo was a member of the New England Patriots for 8 seasons, from 2001-2008. Larry so enjoyed his time in the area that he named his first-born son "Boston," born in the spring of 2009.
Jets T Damien Woody won two Super Bowls as a member of the Patriots from 1999-2003. Woody also attended Boston College and was a three-year starter from 1996-1998.
Patriots LB Jerod Mayo and Jets backup QB Erik Ainge both 'Volunteered' for the Tennessee football team together from 2005-2007.
Patriots S Brandon McGowan and Jets DE Mike DeVitowere teammates at Maine in 2003-2004.
Patriots RB Kevin Faulk and Jets G Alan Fanecawere Tiger teammates at LSU from 1995-1997.
Patriots LB Pierre Woods and Jets LB David Harris were teammates at Michigan from 2003-2005.
Jets QB Kevin O'Connellwas waived by the Patriots August 30, 2009, claimed by the Lions September 1, and subsequently traded to the Jets September 6.
Patriots S Brandon McGowan and Jets RB Thomas Jones played together for the Chicago Bears from 2005-2006.
Patriots WR Sam Aiken and Jets S Sam Leonhard both played for the Buffalo Bills from 2005-2007.
Patriots LB Tully Banta-Cainand Jets CB Donald Strickland played for the 49ers in 2007 & 2008.
Patriots TE Chris Baker was a Jet from 2002-2008 and registered a career high 8 receptions in a game at New England (12/16/07).
Patriots LB Adalius Thomas, Jets DE Marques Douglas and Jets LB Bart Scottplayed together in Baltimore from 2002-2004.
Patriots head coach Bill Belichick was the Jets' assistant head coach/secondary for three seasons (1997-99).
Defensive line coach Pepper Johnson played for two seasons with the Jets from 1997-98 before retiring in 1999.