Mac Jones won the Patriots' starting job this summer by jumping right into the offense and making progress nearly every time he took the field. His development from the early days of OTAs to a culmination that occurred in the first joint practice against the Giants was impressive, as Jones clearly grew in his comfort as an NFL quarterback. It was ultimately enough for the team to move on from Cam Newton and hand the reins to the rookie.
But on Sunday comes the real test, an opening-day divisional clash with the Miami Dolphins that will put all of what Jones has learned over the last four months to the test.
"[Mac]'s preparing to start, he's doing all the things necessary to put himself in position to have a good week and try to carry his preparation onto the field on Sunday," said Josh McDaniels earlier in the week. "We all have butterflies on opening day, that's just the nature of opening day."
"I think nerves are a good thing, you can always be nervous but you can't play nervous," said Jones on Wednesday evening. "It's my first time out there but at the same time, we've all been playing for a long time all of us together. It's really not a one-man show, it takes all the people and I've just got to focus and do my job on each play."
So far Jones has done his job well and in the process has earned the respect of his teammates.
"When you're working, you just have to earn your respect," said Jones. "I try to do that every day but when you're young whether in college or the NFL, you just gotta go to work and earn the respect of your coaches, your teammates, everyone in the whole organization and team. I try to do that every day, it's a daily grind, a daily battle."
Jones' desire for perfection has gone a long way towards winning over one of the members of the offensive line, the group tasked with keeping him protected.
"If a play doesn't go exactly right, he'll, on his own, without coach saying anything, he'll say, 'Do it over,' and with some authority," said Trent Brown on Wednesday afternoon. "As a young guy, that's pretty cool to see."
"I think practice, you kind of have a picture of how it supposed to go in your head and you want everything to be perfect," said Jones of how he's demanding of the offense already. "It's not always gonna be perfect, especially in the games. Sometimes I mess something up, I'll be like, 'damn, let's run that back' even if it's one little thing just to make sure we're good on it."
After an extended spring and summer of preparation, now Jones is slowly seeing the first game come to the end of the long tunnel and expects them to provide an excellent challenge.
"I think they do a really good job," said Jones of Miami. "Last year they were really good on defense and turnovers and third-down stuff. Obviously, it's a similar system and stuff but it's a new year so they're going to bring different things. They do a great job, they're well-coached, they're aggressive, they're going to give us their best looks. It's going to make us better too, we're just looking forward to going against a really good defense."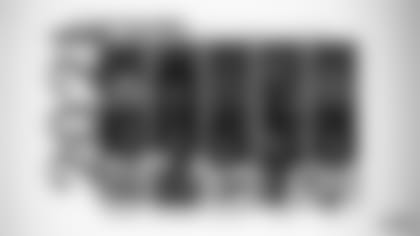 Captains named
The Patriots announced their 2021 captains on Wednesday and all five veterans have previously held the honor -- David Andrews, James White, Devin McCourty, Dont'a Hightower and Matthew Slater. Interesting to note that only Andrews is under contract for 2022 and beyond as the team could experience some veteran turnover next offseason at some key positions.
Report: Stevenson healing from thumb injury
According to a report from The Athletic's Jeff Howe, rookie Rhamondre Stevenson suffered a dislocated thumb in practice last week but is still expected to be available for Sunday's opener against the Dolphins. With Sony Michel and Rex Burkhead no longer in the backfield, it will be interesting to see how the offense manages things outside of Damien Harris and James White. Both Stevenson and J.J. Taylor are candidates to get extended reps, while Brandon Bolden's status remains up in the air after spending recent practices in a red "no contact" jersey.
The first injury report of the season was released later in the afternoon and Stevenson did on appear on it. Jalen Mills (ankle), Yodny Cajuste (hamstring) and Nelson Agholor (ankle) were the only players listed as limited. Mills is of particular interest given the lack of depth at outside cornerback. His status will be something to monitor throughout the rest of the week.
Practice Report
The Patriots had their full 53-man roster and 16-man practice squad in attendance for Wednesday's fully padded practice. One small change was that Brandon Bolden was no longer wearing a red "no contact" jersey in a sign that he is getting healthier. He could be an important part of Sunday's game if Stevenson is in fact limited by his reported injury.
Quotes of Note
Kyle Van Noy on opening game excitement:
"I think it's very exciting, the opportunity to play in front of the fans here. I think they're very excited, we can feel that sense of urgency from the fans and we're excited too. We're excited to play in front of a packed house, we're excited to play an AFC East opponent that's really good. We're just excited for the challenge. Any time you get a chance to play football it's exciting but more importantly in the division with a lot on the line right off the bat. You couldn't ask for anything better."
Davon Godchaux on stopping the run:
"It's the most important thing, I always like to say, "stop the run to have some fun,' everybody wants to pass rush, everybody wants to get sacks, before you do that you have to stop the run. That should be the mentality of everybody. I know for sure that's a mentality of ours. Today in a padded practice, you're going to emphasize that a lot. That's the first thing that comes to mind when you talk about playing football, when you talk about being a tough team... stop the run."