[wysifield-embeddedaudio|eid="516291"|type="embeddedaudio"|view_mode="full"]
For more than a month, Danny Amendola has been sidelined with a right ankle injury. He suffered it in Week 13 while fielding a punt against the Los Angeles Rams.
Last week, though, he finally returned to practice and looks poised to make a return to game action this Saturday night when the Patriots host the Houston Texans.
"Whatever Coach [Bill Belichick] wants me to do," was all the veteran wide receiver would say when asked directly if he will suit up for the Divisional Playoff Game.
"I feel good. Taking it day-by-day," Amendola added. "I feel good today and getting ready for tomorrow. I've had no setbacks. The only thing I've been focused on the past four or five weeks is to get as healthy as possible and feel as good as I can and be available for whatever Coach wants me to do."
Amendola described his absence as a "frustrating… long four or five weeks," but that now he doesn't even think about the injury when he's out on the field. He seemed to hint that he's healthy enough to play if called upon.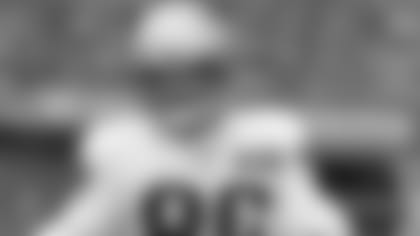 "The guys are playing great and I miss playing with them. Anytime you miss time it's mentally draining. You try to get back as soon as you can. The playoffs … It's what you play for. That's why everybody's here. It's what we've been waiting on all year. I'm ready to go."
Amendola scoffed when told that the Patriots are significant favorites among professional odds-makers, and that having home-field advantage in the postseason won't mean anything if the Patriots don't play well.
"Anything can happen at any time in any game," he remarked. "We've got to play good football to win. [The Texans] are a good football team. They're well-coached, they've been playing good as of late. They have good athletes with a lot of experience. So, I'm excited for the opportunity."
Practice Report
The Patriots suited up in full pads for their Tuesday practice, which took place on Gillette Stadium's game surface – the first time they've used the game field for practice since training camp.
Rookie cornerback Cyrus Jones (right knee) was back on the field for the first time since sustaining his injury during a Dec. 28 practice session. His return meant every Patriot practiced except for veteran defensive tackle Alan Branch, who also did not appear at the previous practice last Thursday.
Branch was seen briefly in the locker room on Monday, and it remains unclear what's keeping him out. We could learn more on Wednesday, when the first injury report of the week will be distributed.