Opções a quarterback
O tema mais discutido e que maior cobertura tem recebido é a situação no lugar de quarterback, pois Tom Brady, titular indiscutível desde 2001, estará ausente nos primeiros quatro jogos devido a suspensão imposta pela liga.
Apesar de fazer 39 anos hoje, Brady continua em grande forma e ninguém duvida que, mesmo com a paragem provocada pela suspensão, tornará a estar em grande nível em 2016.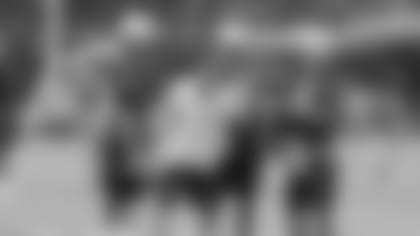 A suspensão vai dar excelente oportunidade a Jimmy Garappolo de mostrar se realmente tem valor para ser titular na NFL. Embora tenha o lugar tapado por Brady, que tem contrato até 2019, Garappolo sabe que um bom desempenho nestes quatro jogos decerto aumentará as opções ao seu dispor quando acabar o contrato no final da próxima temporada.
Até ao momento, os exercícios e as várias jogadas ensaiadas têm sido divididas de forma quase igual entre os dois porque o treinador Bill Belichick e o coordenador ofensivo Josh McDaniels têm de familiarizar os dois jogadores com os esquemas ofensivos que vão ser utilizados durante a temporada.
É nesta fase da época que se prepara o esquema atacante, com novas jogadas, e por isso é importante que todos estejam na mesma página, Garoppolo para começar a temporada, Brady para a acabar. Mas, há também que considerar a possibilidade de Garoppolo se lesionar e por isso o caloiro (rookie) Jacoby Brissett, escolhido este ano na terceira ronda do draft, também tem trabalhado com os titulares.
A opinião generalizada é que os Patriots estão bem servidos nesta posição.
A magia de Dante Scarnecchia vai ser testada
Depois da forma como a linha ofensiva foi dizimada pelas lesões em 2015, e da exibição bastante cinzenta frente aos Broncos na final da AFC, ficou bem claro que este é um dos sectores que mais precisa de ser melhorado para a nova temporada. O treinador Dante Scarnecchia, que se aposentara em 2013, regressou este ano e trouxe algum otimismo, mas as lesões já começaram a complicar a situação.
Concluídos cinco dias de estágio, o único titular a treinar com regularidade é o left tackle Nate Solder. O center Bryan Stork e o guard direito Jonathan Cooper foram obrigados a abandonar os treinos devido a lesão, o guard esquerdo Shaq Mason ainda não treinou e Josh Kline trabalhou pela primeira vez na segunda-feira.
Por sua vez, o tackle direito Sebastian Vollmer e o guard Tre Jackson estão afastados, pois foram colocados na lista dos Physically Unable to Perform.
Quando os jornalistas, na segunda-feira, lhe perguntaram o que é pensava da sua linha ofensiva, o treinador Bill Belichick respondeu que, tal como em todos os outros lugares, ainda "[há] um longo caminho a percorrer. Temos muitos [jogadores] a trabalhar nesse sector, muitos a trabalhar em cada lugar, então, vamos ver como as coisas correm, mas penso que estão a trabalhar no duro."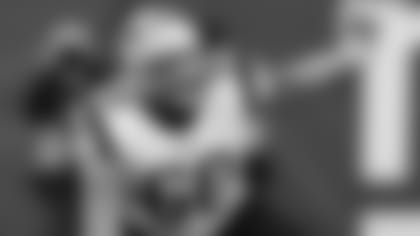 Em relação às lesões e ao fato destas impossibilitarem alguns dos seus jogadores de poderem treinar e conseguir a preparação devida para a nova temporada, Bellichick confessou que "queremos sempre o maior número possível nos treinos", mas explicou que aqueles que "não podem treinar, fazem o que podem fazer, tentam tirar o máximo proveito de cada dia e cada situação individual, fazem o que podem fazer. Espero que possamos melhorar nesta área, e [se há algo] que não podem fazer, nós impedimos que isso evite que consigam os seus objetivos."
O único lado positivo da questão está no facto destas ausências permitirem que os reservas possam mostrar serviço. E como Scarnecchia continua a merecer o respeito, quase reverência, de todos o otimismo permanece intacto.
O center David Andrews está a cumprir plenamente no lugar de Stork, Marcus Cannon tem desempenhado adequadamente as funções de Vollmer, o caloiro (rookie) Joe Thuney tem trabalhado com os titulares e até Ted Karras, escolhido na sexta ronda do draft deste ano, tem ganho pontos na luta por um lugar no plantel.
Sobre a evolução de David Andrews, o treinador dos Patriots reconheceu que "o David jogou muito bom football para nós no ano passado, é um jovem esperto, muito esclarecido em termos de football. Ele tem bons instintos para a sua posição. Sabe, eu acho que ele melhorou com a experiência do ano passado, viu-se isso na primavera. Ele sempre teve bom comando, mas eu diria que ele tem mais comando, mais confiança, talvez veja as coisas uma pequena fração de segundo mais rápido porque ele antecipa mais e vê mais."
Luta feroz por lugares no sector de wide receiver
Este é talvez o sector em que a luta pelas vagas no plantel é mais feroz pois, para muitos observadores, algumas das vagas já estão preenchidas. Julian Edelman e Danny Amendola, apesar de estarem na lista dos Physically Unable to Perform e por conseguinte ainda não terem treinado, serão titulares quando começar o campeonato.
Chris Hogan, contratado em Março depois de ter recusado a oferta de renovação do Buffalo Bills, e o rookie Malcolm Mitchell, escolhido na quarta ronda, também aparentam estar adiantados em relação à restante competição, o que deixa duas vagas para os outros, grupo que inclui: Aaron Dobson, Keshawn Martin, Chris Harper, Devin Lucien, Nate Washington e DeAndre Carter.
O nosso colega de redação, Bill Perillo, quando analisou a situação de Chris Harper sugeriu que ele "tem jogado bem até agora no estágio - muito semelhante ao que aconteceu o ano passado", e acrescentou "também tem trabalhado imenso como punt returner e saiu-se bem nessas funções," e até agora tem feito o seu melhor para se tornar um candidato sólido.
Martin recebeu um bónus de assinatura de $600.000 em Janeiro, o que normalmente indicaria que o treinador conta com ele.
DeAndre Carter, com caraterísticas e tamanho semelhantes a Julian Edelman e Danny Amendola, tem dado nas vistas desde que começou a ter a oportunidade de trabalhar com os titulares.
E, claro, há Aaron Dobson, que todos os anos parece destinado a mostrar todo o seu potencial, devido à velocidade e tamanho (1,95 metros), e que tem brilhado neste estágio. O problema é que tem vindo a fazer isso há alguns anos, mas depois quando os jogos a valer aparecem, Dotson por vezes desaparece.
"Sabem, o Aaron (Dotson) teve uma boa primavera e alguns bons dias aqui no estágio. Eu acho que já vimos isso dele antes," disse Bill Belichick na segunda-feira. "Eu diria apenas que o Aaron, por qualquer motivo, não tem sido capaz de estar em campo de forma consistente, quando está, tem sido muito bom, mas nem sempre está disponível, por um motivo ou por outro. Então, espero que - eu sei que ele está a treinar arduamente, parece estar em boa forma este ano- espero que ele consiga continuar em campo para continuar a melhorar. Penso que essa é a chave, você sabe, não é apenas estar saudável, mas estar saudável para treinar e melhorar e o Aaron tem trabalhado duro, fez algumas boas receções, por isso espero que ele continue a melhorar nesse sentido."