All you need to know about the 85th Annual National Football League Player Selection Meeting.
The New England Patriots hold 12 selections in the 2020 NFL Draft, tied with Jacksonville and Minnesota for second to Miami's 14 picks. The Patriots enter the draft for the second year in a row with 12 selections. Last year, the Patriots started with 12 overall picks and used just three of their original 12 selections in selecting 10 players. Since the draft was shortened in 1993, the most picks the Patriots have used in a draft is 13 in 1996 and 12 in 2009 and 2010.
WHEN
8 p.m. (ET) Thursday, April 23, 2020 (Round 1)
7 p.m. (ET) Friday, April 24, 2020 (Rounds 2-3)
12 p.m. (ET) Saturday, April 25, 2020 (Rounds (4-7)
DRAFTING
The 2020 NFL Draft will consist of seven rounds with a total of 255 selections. In addition, a total of 32 compensatory choices were awarded.
ON THE CLOCK
Round 1: 10 minutes per selection
Round 2: 7 minutes per selection
Rounds 3-6: 5 minutes per selection
Round 7: 4 minutes per selection
HOW TO WATCH THE DRAFT
The 2020 NFL Draft will be presented across ABC, ESPN, and NFL Network, April 23-25 -- the second straight year that The Walt Disney Company has worked with the National Football League to offer a multi-network presentation for all seven rounds. The 2020 NFL Draft will serve as a three-day virtual fundraiser benefitting six charities that are battling the spread of COVID-19 and delivering relief to millions in need. The National Football League, ESPN and ABC hope the 2020 NFL Draft will bring fans a small but welcome diversion in the middle of a difficult and unprecedented time.
ESPN and NFL Network will combine to offer a singular presentation across both networks, while ABC will present its own distinctive, prime-time telecasts for rounds 1-3, in addition to simulcasting the ESPN and NFL Network telecast of rounds 4-7.
NFL DRAFT-A-THON
The NFL will be holding a "Draft-A-Thon," a massive fundraising campaign part of the 2020 NFL Draft aimed at raising much-needed funds for COVID-19 relief efforts. The Draft-A-Thon will be live streamed on NFL social and digital platforms and featured in live Draft coverage on ABC, ESPN, NFL Network, and ESPN Deportes on April 23-25.
Donations can be made at NFL.com/RELIEF starting today. There is also a text-to-donate option. In addition to raising funds, the Draft-A-Thon will pay tribute to healthcare workers, first responders, and others on the front lines of the battle with COVID-19. To date, the NFL family has raised more than $50 million in COVID-19 relief.
Fans can follow the Draft-A-Thon on NFL digital properties across devices (phone, PC, tablet and connected TVs) and on Twitter, Twitch, Facebook, YouTube, Yahoo Sports. Hosted by the NFL Network's Rich Eisen and Deion Sanders, the Draft-A-Thon will feature a wide variety of athletes, celebrities, and personalities, including actor and comedian Kevin Hart, music artists Quavo and Kane Brown, football player Toni Harris, gaming icon Ninja, NFL stars Tyrann Mathieu, Devin McCourty, Torrey Smith, Rod Woodson and many others.
STREAMING THE DRAFT
NFL Network, ESPN and ABC all offer live streams of the NFL Draft (may require logging in through your cable provider).
In addition, Patriots.com will live stream post-draft press conferences at the conclusion of each day of the draft.
DRAFT RADIO BROADCASTS
Patriots.com's flagship radio show, Patriots Unfiltered will offer live coverage of the NFL Draft with instant analysis of all the picks. The schedule of live shows are noted below (all times eastern):
Thursday, April 23 - 8pm to end of first round (first 30 minutes broadcast in video)
Friday, April 24 - 7pm to 10pm (7pm - 8pm broadcast in video)
Saturday, April 25 - 2pm - 4pm (2pm - 3pm broadcast in video)
PATRIOTS DRAFT STATUS
As of April 22, the Patriots possess 12 selections in the 2020 NFL Draft.
PATRIOTS 2020 DRAFT SELECTIONS
Table inside Article

| ROUND | SELECTION | OVERALL | HOW ACQUIRED |
| --- | --- | --- | --- |
| 1 | 23 | 23 | Assigned Selection |
| 3a | 23 | 87 | Assigned Selection |
| 3b | 34 | 98 | Compensatory |
| 3c | 36 | 100 | Compensatory |
| 4 | 19 | 125 | From Chicago |
| 4b | 33 | 139 | From Buccaneers |
| 5 | 27 | 172 | From Detroit |
| 6a | 16 | 195 | From Denver |
| 6b | 25 | 204 | From Houston |
| 6c | 33 | 212 | Compensatory |
| 6d | 34 | 213 | Compensatory |
| 7a | 16 | 230 | From Atlanta |
DRAFT ORDER
The NFL's 2020 draft order was derived from the reverse order of 2019 regular-season records, with the exception of the Super Bowl champion, the Super Bowl runner-up and the playoff teams. Teams that made the playoffs are ordered by which round of the playoffs they are eliminated. For teams with identical records, the tiebreaker is strength of schedule, with the team with the lowest strength of schedule drafting first. The final tiebreaker is a coin flip.
PASSING ON A SELECTION
If a team does not make a pick during its allotted time period, the team "passes" and the pick will defer to the next team. The initial team may then at any point make a pick, regardless of whether or not the subsequent team has made a pick.
ROUND-BY-ROUND ROTATION
The draft order of teams with identical records will rotate by round, with the exception of the Super Bowl champion and the Super Bowl runner-up, which will draft last and next-to-last in each round. In ties that involve three or more teams, the team at the bottom of the tied segment in a given round will move to the top of the segment for the next round, while all other teams in the segment move down one position. This rotation continues throughout the draft.
COMPENSATORY DRAFT CHOICES
A total of 32 compensatory choices in the 2020 NFL Draft have been awarded to 15 teams. The Patriots were awarded four compensatory picks: two third-round picks (98th and 100th overall) and two sixth-round picks (212th overall) (213th overall). The Patriots have been awarded a total of 43 compensatory selections in the 27 years since the system was adopted prior to the 1994 draft, tied for the second-most. In 2000, the Patriots used a compensatory draft choice to select QB Tom Brady (sixth round, 199th overall).
Numbers and Positioning: The number of picks a team receives equals the net loss of compensatory free agents, with a maximum of four. The compensatory picks are positioned within the third through seventh rounds, based on the value of the compensatory free agents lost.
Formula: Compensatory free agents are determined by a formula based on salary, playing time and postseason honors. The formula was developed by the NFL Management Council.
PREDICT THE PICK: DRAFT 2020
Predict each first round pick of the 2020 NFL Draft for a chance to win a VIP trip to Super Bowl LV!
PATRIOTS ALL-TIME FIRST-ROUND PICKS BY POSITION
Table inside Article

| OFFENSE: 33 TOTAL | DEFENSE: 27 TOTAL |
| --- | --- |
| Running Back: 8 | Defensive Back: 11 |
| Wide Receiver: 7 | Defensive Line: 11 |
| Offensive Line: 12 | Linebacker: 27 |
| Tight End: 3 | |
| Quarterback: 3 | |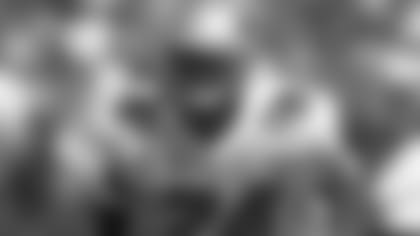 HISTORY OF PICK #23
PATRIOTS AT #23: The Patriots have enjoyed success picking at No. 23 overall three times, using that two times on future Patriots Hall of Fame members. In 1995, they selected CB Ty Law out of Michigan, who enjoyed a 10- year career in New England with 133 starts in 141 career games as a Patriot. Law won three Super Bowl titles in New England and is tied with Raymond Clayborn as the franchise's all-time leader in interceptions with 36. In 1987, the Patriots selected T Bruce Armstrong out of Louisville, who spent his entire 14-year career in New England, starting all 212 games he played in and earning six Pro Bowl berths. The Patriots most recently drafted OL Isaiah Wynn out of Georgia with the 23rd pick in 2018.
NOTABLE PICKS: The 23rd selection produced running back Antowain Smith (Buffalo) from the 1997 draft, who later spent three seasons in New England and won Super Bowls in both 2001 and 2003. Other notables at No. 23 include tight end Ozzie Newsome (Cleveland) from the 1978 draft and punter Ray Guy (Oakland) in 1973, both of whom are enshrined in the Pro Football Hall of Fame.
A YEAR AGO AT #23: The Houston Texans selected T Tytus Howard out of Alabama State with the 23rd pick overall in the Draft. He started the first eight games of the season, seven at right tackle and one at left guard before finishing the season on injured reserve due to a knee injury.
HISTORY OF PICK #87
PATRIOTS AT #87: The Patriots have made two selections at No. 87 overall, including last season when they selected RB Damien Harris out of Alabama. In 1988, the Patriots selected NT Tim Goad with out of North Carolina. Goad played seven seasons with the Patriots and started 105 of 109 games.
NOTABLE PICKS: In 2010, WR Eric Decker (Denver) was selected with the 87th pick out of Minnesota. After four seasons with Denver, he played for the New York Jets for three seasons and the Tennessee Titans for one season. He went to training camp with New England in 2018 and retired before the start of the season. He had three 1,000-yard seasons during his career and an NFL-best 13 receiving touchdowns in 2012.
A YEAR AGO AT #87: Last year, the New England Patriots used the 87th pick in the 2019 draft to select RB Damien Harris out of Alabama. The Patriots acquired the pick in a draft-day trade with the L.A. Rams. Harris played in two games as a rookie.
HISTORY OF PICK #98
PATRIOTS AT #98: The Patriots have picked once at No. 98 overall, selecting QB Rich Gannon out of Delaware in 1987. Gannon refused to switch from quarterback to running back with the Patriots and was soon traded to Minnesota.
NOTABLE PICKS: The 98th selection in 1972 was used on WR Cliff Branch (Oakland). He played his entire 14-year NFL career with the Raiders and was a three-time Super Bowl Champion. Branch was selected to four Pro Bowls and earned three First-Team All-Pro honors. Branch of was Pro Football Hall of Fame finalist in 2004 and 2010. Gannon went on to have an 18-year NFL career with Minnesota, Washington, Kansas City and the Raiders. He earned four Pro Bowl nods, was named All-Pro twice and won the 2002 MVP when he led the Raiders to the AFC Championship.
A YEAR AGO AT #98: The Jacksonville Jaguars used the 98th pick in the 2019 draft on LB Quincy Williams out of Murray State. Williams played in 11 games with eight starts at linebacker. He finished the season with 48 tackles.
HISTORY OF PICK #100
PATRIOTS AT #100: The Patriots have made the 100th selection in the draft three times in team history, most recently in 2005 when they selected OL Nick Kaczur out of Toledo. He started 62 of 68 total games during his five-year career with the Patriots. In 1989, the Patriots used the 100th pick on WR Michael Timpson out of Penn State. Timpson spent six seasons with the Patriots where he stared in 25 of his 70 games with the team. In 1988 the Patriots selected K Teddy Garcia out of Northeast Louisiana. He played one season in New England.
NOTABLE PICKS: The 100th selection was used on TE Mark Bavaro (N.Y. Giants) in 1985. He won two Super Bowls with the Giants and was selected to the Pro Bowl in 1986 and 1987 when he also earned All-Pro honors. He became renown during his career for his blocking and toughness. The Raiders used the 100th pick in 1991 on Raghib "Rocket" Ismail, who first began his career in the CFL with Toronto before coming to the Raiders in 1993. He had a breakout year in 1998 with Carolina when he caught 69 passes for 1,024 yards and eight touchdowns.
A YEAR AGO AT #100: Last year, the Carolina Panthers used the 100th overall selection on QB Will Grier out of West Virgina. Grier started two games late in the season for the Panthers.
A LOOK AHEAD TO THE 2021 DRAFT
Table inside Article

| ROUND | HOW ACQUIRED |
| --- | --- |
| 1 | Assigned Selection |
| 2 | Assigned Selection |
| 3 | Assigned Selection |
| 4 | Assigned Selection |
| 5 | Assigned Selection |
| 6a | Assigned Selection |
| 6b | From Dallas |
| 6c | From N.Y. Jets |
| 7 | Assigned Selection |
6b - Acquired from Dallas on Oct. 25, 2019, in exchange for DL Michael Bennett.
6c -  Acquired from the New York Jets on Sept. 11, 2019, in exchange for WR Demaryius Thomas.