Bill Belichick's Patriots (10-3) head to Miami this weekend for a Sunday afternoon affair against the Dolphins (7-6) with a chance to clinch the AFC East and take another step toward a potential No. 1 seed in the AFC playoffs. New England has won three straight, but given the Rob Gronkowski injury and recent tight games with questionable competition it doesn't necessarily feel like the team is building momentum heading toward the postseason. Tom Brady and Josh McDaniels are once again working to figure out what the Patriots are as an offense. Belichick and Matt Patricia are trying to keep an injury plagued defense together. And Miami has always been a tough place for the Patriots to play, an issue that's compounded by the fact that Joe Philbin's team is in the hunt for a possible playoff spot in the AFC. New England has put itself in a good position midway through December, but that won't mean anything if the team can't finish out the schedule in winning fashion. That three-game journey toward the promise land starts in Miami on Sunday. While you wait for the early afternoon kickoff, and try to warm up your body after a weekend of shoveling in the northeast, warm your fandom with this South Beach inspired, Squish the Phish edition of the Patriots at Dolphins Pregame Six-Pack!
Life after Gronk** - Gronkowski was placed on injured reserve on Monday. The most important man on the New England offense not named Brady is gone but not forgotten. The season goes on with or without any player. The Patriots offense had been at its 30-plus-points best since Gronkowski's return to action. Belichick and McDaniels talked about the Patriots being experienced playing without Gronk from earlier this season. But that was back when New England's defense was healthy, more stout and leading the way to victories. It also included healthy rookie receivers Aaron Dobson and Kenbrell Thompkins, both of whom missed last week to injury and remain limited in practice. Make no mistake the Patriots team that will take the field in Miami and in the next three weeks is not the same one that was getting the job done in September. The offense is going through its third identity transition this season. That's a lot for Brady to deal with. Still, there are weapons to believe in. Shane Vereen has been really impressive since returning from IR and creates matchup problems. Julian Edelman has been consistent and over his career has often taken advantage of increased opportunities. Danny Amendola is doing his veteran best despite his groin issue. Maybe it's time for one of the rookies - even Josh Boyce saw big playing time a week ago - to make a few more impact plays. Somehow, Brady and McDaniels need to find a way to continue to move the ball and score points because the likelihood of the defense holding opponents to 21 points or fewer, as was the case in four of the first five games of the season, is slim. New England must continue to score at a high rate and get things done on offense. And it needs to eliminate the rocky starts that have led to early deficits as the margin for error and probability of dramatic comebacks lessen by the week.
2. Protection is key - The health of the Patriots tackles, and by extension the potential health of Brady, has been shaky of late. Marcus Cannon missed two games with an ankle injury. Will Svitek filled in, but has been dealing with an ankle injury. Nate Solder missed a day of practice with a concussion last week. The line had been playing a bit better in terms of protection after the bye week, but that took a hit against the Browns as Brady took too many hits. He was sacked four times, hit six times and harried many others. Solder struggled on a number of occasions. Solder returned to practice and seemed on the track to return to action in Miami, but that's never a certainty with concussions. Regardless, the line faces a challenge from Miami. Cameron Wake will give the right tackle spot problems, as the Pro Bowler has 7.5 sacks. The other side will see second-year rusher Olivier Vernon and his Dolphins-best 11.5 sacks. Miami has nine different guys with multiple sacks this season. It's solid front across the board and they bring some pressures, mainly with some A-gap blitz looks. Overall the Dolphins are seventh in the league in sacks per pass play. They will try to get after Brady, who has struggled early in games at times and when under pressure early in games. The offense is already scrambling in life after Gronkowski. That's tough enough for Brady. It will be an even tougher option if Brady is under heavy pressure. New England's line needs to tighten things up, almost regardless of health.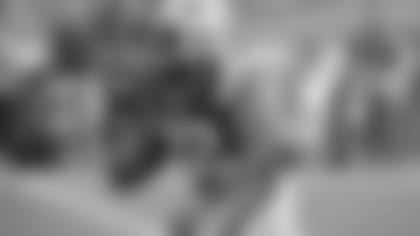 Backs to the wall** - Clearly the passing game is going through a transition as Gronkowski lands on the sideline yet again. That may be an opportunity for the running game, and maybe Stevan Ridley in particular, to creep back into becoming a bigger part of the offense. Miami has a middle-of-the-pack run defense. So this could be a week to try to stay balanced and complement the reworked passing game with a more consistent ground game. Gronkowski's departure might just be the opening Ridley needs to get back into the mix on a more regular basis, especially in the red zone. Despite his ball security issues, Ridley has a proven nose for the end zone. He had a dozen touchdowns a year ago. He has seven rushing scores in more limited carries this season. Vereen is also obviously going to be a key part of the offense, both on the ground and through the air. Given the all-hands-on-deck nature of the offense heading down the stretch, it's possible that more could be thrown on the plate of the Patriots backfield committee.
Pressure to pressure** - New England's pass rush recorded progressively fewer sacks each game for a four-week span, and has had just a single sack in each of the last two games. Chandler Jones was pretty much shut down by Joe Thomas a week ago, as he was in early on in the first meeting with Miami this year. That matchup saw Bryant McKinnie start at left tackle just days after arriving with the team via trade and do a solid job against Jones before New England went with more blitzes and creative rushes in the second half. Jones earned AFC Defensive Player of the Month in November, but hasn't reached the quarterback in the last two weeks with zero sacks and zero QB hits. He's only had three previous games all year with no sacks and only one game with no QB hits. Simply put, Jones needs to start making more impact plays again for a defense that's seemingly hanging on for dear life. He's healthy. He's a rising star. He's got the right attitude. Now, he just needs to start putting it all together to get to the quarterback more consistently. That should start this week with the rematch with McKinnie. Tannehill has been sacked 48 times on the season, including six for the Patriots in the first meeting. Miami is 30th in the NFL in sacks allowed per pass play. The secondary is banged up. The run defense is undermanned. The offense is looking for answers. The pass rush - i.e. Chandler Jones and Rob Ninkovich and rookie Chris Jones - is healthy and simply needs to start being more of a positive impact for the Patriots.
Tom's team** - Brady is now getting some buzz for NFL MVP given all he's done for the Patriots to get to this point this season. That's well deserved, even if his numbers aren't elite or comparable to Peyton Manning's. But there is even more pressure on No. 12 now to carry the offense and the team. Brady was limited in practice with a shoulder injury on both Wednesday and Thursday. And those sideline close-ups of his seemingly banged up throwing hand weren't all that long ago. He's struggled at times early in games. Right now, all eyes are on Brady as a leader and a playmaker for the offense. He can't afford to have some of the early-game inaccuracy that we've seen in recent weeks. He can't afford to turn the ball over or take sacks, as we've seen in recent weeks. The margin for error for him grows slimmer by the week, as it does for the team as a whole. Brady is the most competitive man on the planet, and I expect he will rebound and shine in the face of offensive adversity and doubt. But he's had some off days in Miami in the past and he's going up against a unit that's in the top 10 in interceptions (6th), sacks (7th) and points allowed (9th). There is a clear challenge for the future Hall of Fame passer. His team is in position to earn a first-round bye and make another potential postseason run in a wide-open, lackluster AFC. Brady needs to take control of this team and be the man to take it where it wants to go. That starts Sunday in the heat against the upstart and fight-filled Dolphins.
Sunshine State of mind** - The Patriots are just 7-6 in 13 games in Miami under Belichick. That's not terrible, but compared to most numbers for New England over the last decade-plus it's comparably alarming. Miami has won three of its last four and four of six. The two losses were by a combined seven points. After the bullying scandal, Miami has held it together and showed fight to the finish this season. The Patriot are looking for the season sweep against Miami for the fourth straight year. New England has won three in a row in South Beach. Brady has four multiple interception games over the years in Miami and the Dolphins have 16 interceptions as a team, including five guys with multiple picks. The Patriots have a big game on the road next week in Baltimore but can ill afford to look past this trip to Florida in any way. New England can't come out flat. New England can't expect to beat Miami. New England has to reassert itself as the unquestioned team to beat in the AFC East against a Miami team that's fighting for respect, a playoff spot and to prove that the division is no one-team race.
Prediction:
There is little doubt the Patriots are in for a dogfight in Miami. The Dolphins have been playing tough, close games. New England has had 10 of 13 games decided by seven points or less. The Patriots are also looking to pull things together through transition on both sides of the ball. Both teams have shown resiliency through the year, but even with the injuries the Patriots are the better team with the better coach. That means something. I think the Patriots will look to be balanced on offense, running the ball and utilizing the quick, high-percentage passing game with a few shot plays mixed in. I'm worried about the Miami front controlling the game and making life difficult on the New England offense against the run and the pass. Defensively if the Patriots don't get pressure on Tannehill, then I think the unit could be in for a tough day. I don't believe either team is going to march up and down the field and light up the scoreboard. I'm looking for a game in the range of a23-20 victory for the Patriots, with Stephen Gostkowski continuing to be a major factor in New England winning football games. Belichick's team has fought too hard to get where it is to give up now because of one more injury. And that fight will have to continue this week in Miami.