At a recent New England Patriots Cheerleading clinic with the Patriots Junior Cheerleaders, veteran Molly Shelters got to put her skills to the test.
First and foremost, as a professional cheerleader, instructing the children through specific moves and choreography, but more importantly, as a speech and language pathologist, being paired with a girl who needed some special instruction to have the same opportunity to cheer and dance with her peers.
"It makes me feel like this opportunity has really come full circle for me," Shelters said, describing how it felt to see the girl participate and have fun.
"I have been able to have my two worlds collide. I can use my experience as a speech pathologist and working with children with varying disabilities and bring that to my role in the community as a Patriots Cheerleader. It's really why I wanted to be a Patriots Cheerleader."
Molly's worlds collided once again on Friday with an appearance at blue S.E.A.S., an inclusive, multicultural, dynamic program designed for children with Autism Spectrum Disorder. There, she participated in a tailgate with kids and their families, providing a social opportunity for children to cheer on their favorite team together.
In November, she'll attend the American Speech and Hearing Association's convention in Boston, where she's presented on three occasions. Meeting and networking with like-minded people who are passionate about using their skill set to make a difference is important to her, and her platform as a Patriots Cheerleader has taken that to another level.
"Every member of our team brings such a unique skill set and background to this big puzzle, and it's an honor to be on a team full of so many inspiring people on and off the field," Molly said.
"I always looked up to the cheerleaders because as a little girl, you hope to be able to be like just like them. As I got older and I looked more into the role and realized it's so much more than just wearing a uniform and cheering on your favorite sports team it just made me want to do it even more."
It took a while for that dream to become a reality.
Molly tried out for the team a couple of times, and despite not making the team right away, she kept meeting other incredible people through the process. It motivated her to become the best version of herself, and was inspired by these men and women who offered much more than meets the eye.
Despite her dedication, it took her three tries to earn a spot on the Cheerleading squad. Her then-boyfriend knew how much making the team meant to her – not just to achieve a personal goal, but for what she could accomplish in her community as part of the Patriots organization.
"Eventually, you become the leader you looked up to, and become this person who future girls who aspire to be cheerleaders can look up to," Shelters said. "It kind of happens overnight without you realizing, and it's a really cool feeling to be a part of that, and hopefully inspire others to go after their dreams. It's infectious."
The day finally came for Shelters to put on the uniform for her first game in 2021. It was everything she worked for, and to symbolize how important making the team was to her, her boyfriend proposed in front of her new teammates before they went out to cheer on the Patriots.
"It was the sweetest and bravest thing," Shelters said.
"I was so completely surprised, and I'll never forget that moment. Flash forward to July 1, 2023, and many of my teammates who were there that day were there at our wedding. I just feel so blessed that this team also gave me a family. It's a part of making this team that you don't even realize you're gaining."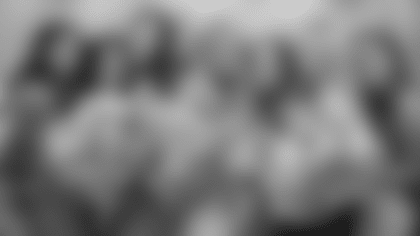 That feeling of being a part of something bigger than yourself is something she wants everyone to experience.
These values were instilled in her by her parents, both nurses, who prioritized volunteering as a family. In high school, she joined peer leadership and student council, and got involved in her community with organizations like the Special Olympics -- all environments that led her to where she is today.
Coaching gymnastics for 11 years, Shelters loved working with kids and thought she wanted to be a teacher: a perfect blend of her compassionate spirit and ability to break down skills. Then, she learned about speech pathology and it all fell into place.
"I went to school thinking I was going to be a teacher and then I learned about speech pathology, and I absolutely knew that was where my heart is and what I was meant to do," Shelters said. "From there, it's kind of taken off."
As a school-based SLP, she works with students to improve their speech and language skills.
This can look different depending on the individual student and their different diagnosis, but she is more than equipped to help, knowing that deep down, these children yearn for connection.
"Most importantly, what drives me as a clinician is seeing how they can actually apply these skills in meaningful ways," Shelters said. "I love being able to see what the kiddos learn when I'm working with them and how they can apply it to things that are really meaningful for them, like interacting with others and learning how to make new friends, which ultimately leads to opportunities for inclusion."
In most schools, that support for kids is intentional and standard practice. Her future goals include expanding her knowledge base and skills as an SLP to provide the best possible services.
As a Patriots Cheerleader, she gets to amplify that message of inclusion to the entire region of New England.
"You put on the uniform and you become that touch point between the team and people in the community," Shelters said.
"Of course, you can go out and volunteer and do everything you're passionate about on your own, but it's almost like once you put on the uniform, you truly become a part of something so much bigger than yourself. If just feels like you're making an even bigger impact."