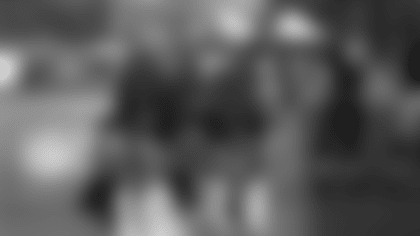 ](/node/46686)Saturday morning, Alexandria, Brittany, Camille and Leigha Marie gathered in the lobby of the beautiful Marriott Tianhe in Guangzhou, dressed in their Patriots Cheerleaders signature uniforms. Greeted by some Patriots fans from China, Canada and the US who were guests of the hotel, the ladies posed for some photos before departing for the Tianhe practice field for their first NFL Home Field event.
Upon arrival the cheerleaders began greeting Chinese fans who gathered to watch two of thirty-six University teams that comprise the program that plays American football. The ladies performed dance routines at half time, posed for hundreds of photos, encouraged the children and adults participating in the many interactive events and hosted a cheerleading clinic. Even in the 85 degree heat, the students were enthusiastic and energetic and did an amazing job! China has some great young cheerleaders!
After conducting a few interviews for the media (practicing some of their newly learned Chinese words and phrases), the NEPC quickly packed their bags once again and headed to the airport to catch an evening flight to Beijing. We were so excited to board a half full flight and with everyone finding their own row of seats to stretch out in, the three-hour flight went by in a flash!
The Kerry Hotel will be our "home" for the next four days so we were excited to unpack our bags. What an amazing place - love the waterfall showers. The fitness club is enormous (our personal trainer for BMAX, Andy Berler, would be pleased). There is even an entire shopping mall on the lower level!
Sunday brought another NFL Home Field event; this one at Beihang University, and the cheerleaders enjoyed a day similar to the one before. Since the NFL celebrates October as breast cancer awareness month even in China, the ladies had an opportunity to see many survivors participate in a human BCA ribbon ceremony. This was just one more great experience from an amazing trip.
Tomorrow we are going to visit the Great Wall of China. Looking forward to sharing that adventure and photos with our fans back home.