Patriots cheerleaders are used to dancing. Many of them grew up doing just that, warming up with their plies and tendus at the barre in ballet classes at a young age. 
Tuesday night the Patriots cheerleaders took their places in the studio of Pure Barre at Patriot Place instead of their typical workout, and rather than slow melody of a ballet class, they were greeted with upbeat music, small moves and a serious workout. With former cheerleader and current instructor Kelsey guiding the squad through the tucks, pulses and motions, the class was a chance for the cheerleaders to try something new before heading to practice. 
While a few on the squad have taken a barre class before, including Cheerleader Brittany who teaches alongside Kelsey at Pure Barre, many had never tried it. Barre classes focus on small motions for a total body workout, and those who had never done it before were taken aback by how sore the tiny movements made them by the end of the class.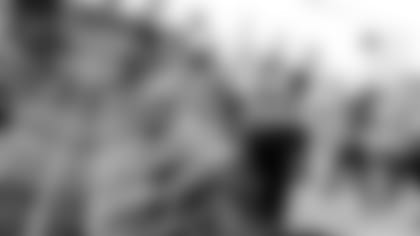 Cheerleader Rebeka said it really took her by surprise. 
"I was shocked at how hard it is. I'm usually a high-intensity workout person, so I usually don't do small movements like the ones that were involved, and my legs were absolutely burning," she said. "I was stretching in the middle of workouts because they were on fire. I'm surprised at how little movements can have an impact on your muscles." 
Though the workout was a challenge different from the squad's typical routine, Brittany said she was proud of her teammates who, despite sore legs, finished the class in good spirits.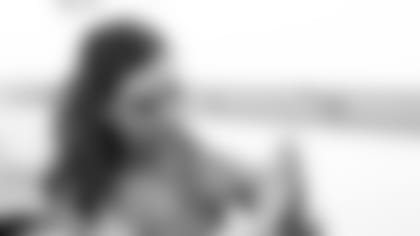 "I think they did a great job. At first they were making fun of doing the tucking and doing all the different movements, but once they got the hang of it and really zoned in, they were like 'Oh my god, my legs are shaking. Is this normal?' Yes, it's normal because you're building those muscles up," Brittany said.
For Brittany, having her team try another one of her passions was a "full circle moment" where two of her passions collided, and Rebeka said it is always awesome to see fellow cheerleaders sharing what they love.  
"It's inspiring to see the things people do outside of the team because we come every week," she said. "We see each other practice and we see each other dance, but we don't get to see the things we do. It's really fun to see my teammates in their element."
Pure Barre opened up at Patriot Place in December. For more information, check out the studio's website here.