FOXBOROUGH, Mass. – Newly promoted Patriots defensive lineman Marcus Forston took a break from battling offensive lineman during practice to visit Cameron Middle School in Framingham, Mass on Tuesday as part of the New England Patriots Celebrate Volunteerism initiative. He visited with students from the school who take part in the Big Brothers Big Sisters program to speak about the importance and the value of mentoring.
"My mom was my mentor. Everything she has done despite not having a job that paid a lot or being able to pay for me to go to college, she made sure I got good grades and stayed on top of [my work] so that I could earn the scholarship that I did to the University of Miami. Mentoring is important because you can make an impact on someone's life. I know me going [to Cameron Middle School] is challenging myself to go there and change at least one kid's life."
The day was a change of pace for both Forston and the students, who traded in their pencils and notebooks for an hour of fun competition against a professional athlete. The day started with introductions and a few speeches, but competitive nature quickly took over and the kids were showing off their skills at all manner of events, including cups stacking and crab walk races. Forston was determined not to be left out either, and he participated in a spirited crab-walk race and cup stacking competition -with his feet.
And while the event fostered a spirit of fun and games, the day was really about celebrating volunteers that have worked tirelessly to make a difference in the lives of youth in their community as mentor leaders. Forston understands the importance of mentorship and the role it can play in the development of a child.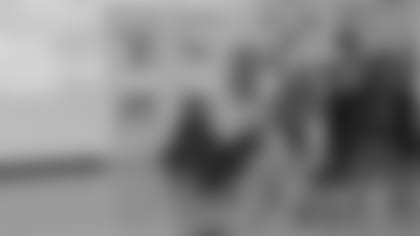 "Mentoring means a lot, but it doesn't have to [come from] someone older than you, because you learn from a lot of people. You can learn from the kids that your mentoring," explained Forston. "A lot times we don't understand and we don't know what a person is going through. Instead of just giving advice on life and school and everything like that, we can get advice on what keeps them positive through their tough times."
Forston might still be getting acclimated along the Patriots defensive line, but he has a good mentor of his own to help him with his transition to life in the NFL and as a role model in the community. He played the along the same defensive line at the University of Miami that current teammate Vince Wilfork did over 10 years ago. Wilfork has been an active member of the New England community with his wife Bianca since his arrival to the team, and has provided Forston with an outlet for questions of frustrations.
"I met [Vince] my sophomore year of college when he came back to the school. Right then and there we connected and exchanged numbers. My whole time through college we always talked the night before the game and he would tell me what I need to work on."
The event Tuesday served as a positive example of the good that mentoring, and in the grander scheme of things, volunteering can inject into a community. You couldn't miss the bright white smiles that lit up the Cameron Middle School Gymnasium, and the laughs that filled the room were enough to even bring a smile to the onlookers. But the gleaming example that was witnessed Tuesday also shed light on the need for more volunteers. At the heart of this initiative, that is what the New England organization is looking to do; inspire Patriots fans and members of the New England community to go out and make a difference in their community by volunteering.
Tuesday's visit to Cameron Middle School was part of the Patriots Charitable Foundation's ongoing Celebrate Volunteerism initiative, which recognizes deserving volunteers and encourages Patriots fans to give back in their communities. For more information about Celebrate Volunteerism and for a complete list of future initiatives, go to www.patriots.com/community.