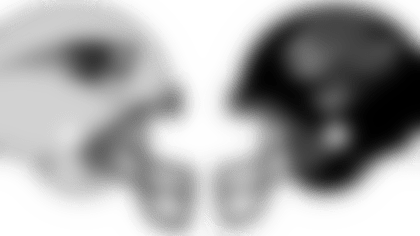 NEW ENGLAND PATRIOTS (9-5) vs. JACKSONVILLE JAGUARS (7-7)
Sunday, Dec. 27, 2009 - Gillette Stadium (68,756) - 1:00 p.m. EDT
The New England Patriots will close out the regular-season home schedule when they face the Jacksonville Jaguars at Gillette Stadium this Sunday. A victory or tie or a Miami loss or tie will give New England its ninth AFC East Division Championship since 1994 and its 12th overall Division Championship.
TELEVISION:This week's game will be broadcast to a regional audience by CBS and can be seen in Boston on WBZ-TV Channel 4. Kevin Harlan will handle playby- play duties with Solomon Wilcots providing color.
NATIONAL RADIO:This week's game will be broadcast to a national audience by Westwood One. Mark Champion and Dan Reeveswill call the game with Scott Grahamhandling the sideline reporting.
RADIO:98.5 FM, The Sports Hub, is the flagship station for the Patriots Radio Network. A complete listing of the network's 36 stations can be found here. Play-by-play broadcaster Gil Santos is in his 33rd season as the voice of the Patriots and will call the action along with Patriots Hall of Famer Gino Cappelletti. Santos and Cappelletti are celebrating their 26th season as a tandem.
SERIES HISTORY
The Patriots and Jaguars will meet for the ninth time overall and for the first time since New England claimed a 31-20 victory in a Divisional Playoff game at Gillette Stadium on January 12, 2008. The Patriots have won all four of the regular-season games between the clubs. The two teams have faced each other four times in the playoffs, including the 1996 AFC Championship Game at Foxboro Stadium, a 20-6 New England win. The Patriots lead the Jaguars 3-1 in postseason games. The Jaguars will visit Foxborough for the sixth time overall, with the Patriots having won all five previous games against the team in New England. Two of the wins were in the regular-season and three were postseason wins. Three of the six previous games between the teams in Foxborough have been playoff games. The first playoff game was the 1996 AFC Championship Game at Foxboro Stadium. In that contest, the Patriots beat the Jaguars 20-6 to advance to Super Bowl XXXI. The Jaguars claimed a 25-10 win in the 1998 Wild Card playoffs. The Patriots won 28-3 in a 2005 Divisional Playoff game and 31-20 in a 2007 Divisional Playoff game.
Overall Record (including 3-1 in playoffs), 7-1
 - Record in New England, 6-0 (3-0 in playoffs)  

 - Foxboro Stadium, 2-0 (1-0 in playoffs)  

 - Gillette Stadium, 4-0 (2-0 in playoffs)

* Record in Jacksonville, 1-1 (0-1 in playoffs) * Total Points, Patriots 194, Jaguars 133 * Patriots' Largest Margin of Victory, 25 points (01/07/06) * Patriots' Largest Margin of Defeat, 15 points (01/03/99) * Highest Combined Point Total, 53 points (09/22/96) * Lowest Combined Point Total, 26 (01/12/97) * Games Decided by Seven or Fewer Points, 1 * Current Win Streak, Patriots, four games * Bill Belichick vs. Jacksonville, 4-2 (4-0 with New England) * Jack Del Rio vs. New England, 0-4
SOUTHERN HOSPITALITY
The Patriots have an all-time record of 75-46-1 (.618) against the teams that make up the AFC South. It is the only division in the NFL where the Patriots own a winning record against each team. New England owns winning marks against Tennessee (22- 16-1), Indianapolis (44-29), Jacksonville (7-1) and Houston (2- 0).
In winning seven of eight total contests in the series, the Patriots have won 88 percent of their games against the Jaguars. The only other teams against which the Patriots have won at least 80 percent of their games are the Baltimore Ravens (5-0) and Houston Texans (2-0).
The Jaguars are one of just four teams against which the Patriots own an undefeated home record (6-0). The Patriots are 3-0 at home against Baltimore, 3-0 against Chicago and 1- 0 against Houston.
Patriots RB Fred Taylor played for the Jacksonville Jaguars from 1998-2008.
Patriots P Chris Hanson played for the Jaguars from 2001- 06.
Patriots OL Dan Connolly was a member of the Jaguars from 2005-06.
Jaguars S Gerald Alexanderand Patriots S Pat Chung both hail from Rancho Cucamonga, Calif. Alexander was also teammates with Leigh Bodden in Detroit in 2008.
Jaguars LS Jeremy Cain attended UMass. Cain and Patriots NT Vince Wilfork are both from Boynton Beach, Fla.
Patriots LB Tully Banta-Cain and Jaguars DT Atiyyah Ellison were teammates on the San Francisco 49ers in 2007.
Patriots CB Jonathan Wilhite and Jaguars DE Quentin Groves were teammates at Auburn from 2005-07.
Patriots LB Derrick Burgess and Jaguars DE Derrick Harvey claim Greenbelt, Md. as their hometown.
Patriots CB Terrence Wheatley and Jaguars LB Brian Iwuh were teammates at Colorado from 2003-05.
Patriots WR/kick returner Matthew Slaterwas college teammates with Jaguars RB Maurice Jones-Drew and TE Marcedes Lewis at UCLA from 2004-05.
Patriots LB Rob Ninkovich and Jaguars OL Uche Nwaneri were teammates at Purdue in 2004.
Ninkovich was also teammates on the New Orleans Saints with Jaguars DT Montavious Stanley in 2008.
Patriots FS Brandon McGowan and Jaguars FB Montell Owens were born in New Jersey and were teammates at Maine from 2002-04.
Patriots LB Derrick Burgess and Jaguars OT Tra Thomas were teammates on the Philadelphia Eagles from 2001-04.
Patriots rookie CB Darius Butler and Jaguars rookie DE Julius Williams were teammates at UConn from 2004-08.
Patriots WR Sam Aiken and Jaguars DT Greg Jennings are both from Kenansville, N.C.
PASSING PERFORMANCES
Tom Brady will face off against the Jaguars for the third time in his career in the regular-season. Brady has also played Jacksonville two times in the postseason.
ANNUAL ACHIEVEMENTS
The Patriots won their ninth game of the season last Sunday at Buffalo and are the only team in the NFL to have recorded nine or more wins in each of the last nine seasons. Entering 2009, the Patriots had won 10 or more games seven times in the last eight seasons and had won 11 or more games six times in the last eight seasons.
OFFENSE RANKS HIGH
The Patriots offense is currently ranked second in the NFL and is averaging 398.3 yards in total offense. If that pace continues, it will be the second highest offensive output in team history.
PATRIOTS ON THE POINTThe Patriots have scored 365 points so far in 2009 and rank eighth in the NFL with 26.1 points per game. They are on pace to finish with 417 points, which would be the fifth most in team history.