FOXBOROUGH, Mass. — Every year since 1998, the Kraft family and the New England Patriots have been celebrating those who give their time to help others. The program was originally known as the Community Quarterback Awards and were presented to those who exemplify leadership, dedication and a commitment to improving their communities through volunteerism.
In 2011, the awards were renamed in honor of the late Myra Kraft who committed her life to volunteering. As part of the New England Patriots Foundation's ongoing Celebrate Volunteerism initiative, the Kraft family hosts a special luncheon each year to show their appreciation for local volunteers.
On Tuesday, Aug. 20, 26 volunteers were recognized for their contributions at an awards ceremony at Gillette Stadium. Twenty-five organizations received grants of $10,000 in honor of their outstanding volunteers and one grand prize winner received a surprise $25,000 donation.
On hand to congratulate the award winners were Patriots Chairman and CEO Robert Kraft, New England Patriots Foundation President Joshua Kraft and Patriots and Pro Football Hall of Famer and Patriots Executive Director of Community Affairs Andre Tippett.
"This event has always been one of my favorites because it not only highlights the organization that is positively impacting the lives of others in our communities, but it also allows us to shine a spotlight on each organization's most-deserving volunteer," said Robert Kraft. "The stories describing the many volunteers who are nominated each year are inspirational. They serve as a reminder of how much good there really is in the world and how committed some people are to making their community a better place."
Jillian Tsiplakis of Salisbury, Mass. was selected as this year's $25,000 grand prize winner for her volunteer efforts at Stepping Stones Family Services in Haverhill, Mass.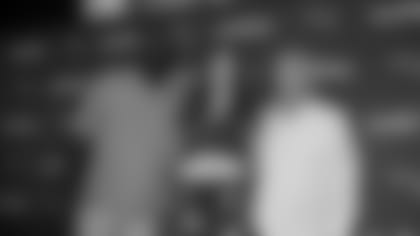 Jillian has committed most of her life to volunteering. In elementary school, she created a recycling program at her grandparents housing facility, while also starting a program that delivers groceries to seniors who could not drive. After college, Jillian joined the military. While in Afghanistan, she discovered that literacy rates in her province were less than two percent. She then started a radio literacy program that featured traditional Afghan folklore stories with page turn signals. Jillian went on more than 30 missions to hand out books and solar power radios to women and children. She also helped to open two middle schools in the province.
"Learning of the alarming 2% literacy rate in the province, I knew I had to do something to help change that," said Jillian.
"This was the first time in my life that I realized through hard work and determination I could do anything I set my mind to."
Jillian was injured during her time in Afghanistan and while she lives on disability, she doesn't let that stop her from giving back to the community. She currently serves as the director of Stepping Stones Family Services, which provides child care items to low income families in the Lawrence area. The nonprofit also assists with job searches, offers tutoring sessions and provides emergency services.
Last year, following the gas explosions in the Merrimack Valley, she jumped in to help as many families as possible. Within a month, Jillian went from serving eight families to more than 250 families. She even took out $4,000 of her own personal savings to help provide essential items for families in need.
Jillian dedicates more than 50 hours a week to Stepping Stones. In addition to the donations provided to families, Jillian hosts Stepping Stones Family Gathering, a twice monthly event for moms in need to learn more about services offered, speak with child development specialists, make connections with one another, participate in free child care/healthy family classes and shop their free family closet.
She also implemented a Mommy Moolah work program, which hires moms to work for her part time. This program helps to improve their workforce skills while ensuring families get back on their feet. Thanks to Jillian's leadership, Stepping Stones Family Services will soon open a family home, allowing homeless mothers to live with them for up to two years while pursuing a college degree, trade school or on the job training.
"The security this grant provides will help ensure we are able to keep our office open, keep babies in clean diapers, provide training to families in need and continue with our monthly outreach programs," said Jillian. "This award means everything to me and to the families at Stepping Stones Family Services. I am grateful beyond words for the opportunities we will be afforded thanks to the Myra Kraft Community MVP Award."
The 2019 Myra Kraft Community MVP winners range from 14 to 76 years old and represent every New England state. The selected nonprofits provide support for many causes, including education, domestic violence prevention, healthcare, homelessness, mentoring and military support. The Kraft family and the New England Patriots Foundation received more than 350 applications this year from nonprofit organizations looking to recognize their outstanding volunteers. Nominations open each spring and the awards are open to all nonprofit organizations in the New England region. For more information on the Myra Kraft Community MVP Awards, please visit www.patriots.com/community.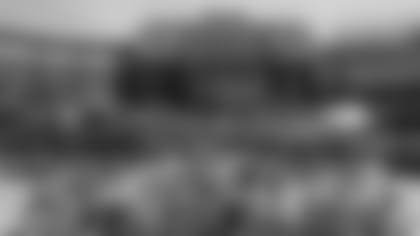 *Below is a complete list of the 2019 Myra Kraft Community MVP Award Winners:     *
$25,000 Grand Prize Winner
Table inside Article

| First and Last Name | Hometown | Organization | Organization Town |
| --- | --- | --- | --- |
| Jillian Tsiplakis | Salisbury, Mass. | Stepping Stones Family Services | Haverhill, Mass. |
Table inside Article

| First and Last Name | Hometown | Organization | Organization Town |
| --- | --- | --- | --- |
| Sandra Aleman-Nijar | East Boston, Mass. | East Boston Soup Kitchen | East Boston, Mass. |
| Richard Bachand | Newington, Conn. | New Britain Brawlers | Newington, Conn. |
| Georgina Bogert | Manchester, N.H. | Manchester Police Athletic League | Manchester, N.H. |
| Esta Cohen | East Greenwich, R.I. | Dress for Success Providence | Providence, R.I. |
| Jason D'Amico | Freeeport, Maine | Maine Boys to Men | Falmouth, Maine |
| Tammy de la Cruz | Groton, Conn. | Community Speaks Out | Groton, Conn. |
| Timothy Flanigan | Tiverton, R.I. | Star Kids Scholarship Program | Middletown, R.I. |
| James Flatley | Cambridge, Mass. | One Summit | N. Andover, Mass. |
| Alexander Galinelli | Warren, R.I. | Central Fire Company | Warren, R.I. |
| Amanda Gonzales | Marblehead, Mass | Plummer Youth Promise | Salem, Mass. |
| Noelle Gregoire | Haverhill, Mass. | Laps 4 Backs | Haverhill, Mass. |
| Edward Ithier | Hookset, N.H. | Webster House | Manchester, N.H. |
| Kristen Johnson | Dunbarton, N.H. | Bethany Christian Services | Candia, N.H. |
| Sesay Johnson | Bellingham, Mass. | GrowHope Foundation | Brockton, Mass |
| Elizabeth Keeling | Taunton, Mass. | Families for Depression Awareness | Waltham, Mass. |
| Noelle Lambert | Manchester, N.H. | Born to Run Foundation | Medfield, Mass. |
| Kelly Ohlrich | Jamaica Plain, Mass. | The Sharewood Project at Tufts | Malden, Mass. |
| Scott Paganelli | Georgetown, Mass. | Family Services of the Merrimack Valley | Lawrence, Mass. |
| Douglas Phillips | Woodstock, Vt. | Zach's Place Enrichment Center | Woodstock, Vt. |
| Felicia Puadano | Danbury, Conn. | Women's Center of Greater Danbury | Danbury, Conn. |
| Steven Roy | Bridgewater, Mass. | Comfort Zone Camp | Bridgewater, Mass. |
| Jerome Shanahan | Concord, Mass. | Salute Military Golf Association | Concord, Mass. |
| Therese Stafford | Coventry, R.I. | Women & Infants Hospital | Providence, R.I. |
| Jillian Tsiplakis | Salisbury, Mass. | Stepping Stones Family Services | Haverhill, Mass. |
| Thelma Velasquez | Lynn, Mass. | Lynn Economic Opportunity | Lynn, Mass. |
| Brenda Venice | Fall River, Mass. | National Alliance on Mental Illness | Fall River, Mass. |