FOXBOROUGH, Mass. (AP) -- Tom Brady called out Rex Ryan and then he beat the Bills - again.
After shouting the name of the Buffalo coach as an audible, Brady led New England to a 20-13 victory over the Bills on Monday night and kept the defending Super Bowl champions on course for their second perfect regular season in nine years.
Brady completed 20 of 39 passes for 277 yards, hitting James White for a 20-yard score that was the first touchdown of the running back's career. White added a 6-yard run in the third quarter to give New England (10-0) the lead for good.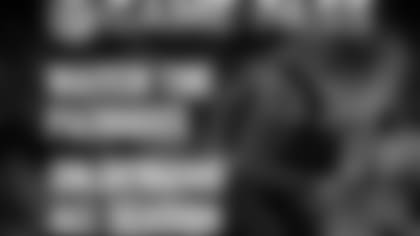 Buffalo's LeSean McCoy ran 20 times for 82 yards and a 27-yard touchdown and caught six passes for 41 yards to surpass 100 yards from scrimmage for the fourth straight game. The Bills (5-5) snapped a two-game winning streak and lost to Brady for the 25th time in 28 games.
The game was filled with mistakes, penalties, injuries and turnovers - including two fumbles on a single punt, a rare missed field goal by Stephen Gostkowski and an inadvertent whistle that led to one of many lengthy conferences among the officials.
And New England lost another key player: Danny Amendola, who took over as the Patriots' No. 1 receiver because of last week's injury to Julian Edelman, caught nine passes for 117 yards before leaving with a knee injury of his own in the third quarter.
With the wind chill temperature at 21 degrees at kickoff, both teams struggled on offense, and the Patriots even failed to score in the fourth - the first time they were shut out in a quarter since the first one of the season.
In the third quarter, both teams fumbled on the same punt.
Leodis McKelvin fielded a punt at his own 30 yard-line and made it just 2 yards before the ball was knocked out by Brandon King. New England's Jonathan Freeny picked up the ball and rumbled 5 yards before he lost the ball and it bounced out of bounds.
The Patriots took over at the Buffalo 30 and took a 20-10 lead on Gostkowski's 35-yard field goal.
Even the referees were sloppy.
Early in the third, Brady rolled toward the right sideline before throwing downfield to Amendola. As the receiver broke for the end zone, the play was whistled dead - apparently because the official thought Brady stepped out of bounds.
After a lengthy discussion, the referee announced that there was an inadvertent whistle. The 14-yard reception counted, with a 15-yard penalty for interference from the Bills coaching staff. The drive ended with an even more unusual error: Gostkowski's first miss in 51 weeks.
Brady threw a first-half interception that was nullified by offsetting penalties. But he did throw one at the Buffalo goal line in the fourth that stuck.
Brady took a dig at Ryan in the first quarter by adding "Rex Ryan!" to his pre-snap signals. The Bills coach has been a longtime rival of the Patriots.
But the Patriots managed just a field goal in the first, then went scoreless for 22 minutes, 16 seconds before Brady led a 33-second touchdown drive to make it 10-3 with 13 seconds left in the half.
Brady threw an out pass to White, who broke a tackle along the sideline to score from 20 yards out.
That prolonged New England's scoring streak, but it came to an end at 38 in a row when they failed to score in the fourth.
And another streak was snapped, too.
Gostkowski hadn't missed a kick all season, a total of 22 field goals and 35 extra points before his attempt from 54 yards out in the third quarter sailed wide right. It was his first miss since Nov. 30, 2014, and his first miss at home since Week 2 of the 2013 season.
NOTES:Brady improved to 11-4 in his career against teams coached by Ryan. ... McCoy is the first Buffalo player to rush for more than 100 yards in four consecutive games since C.J. Spiller in 2012. ... Patriots injuries: Amendola (knee) and WR Aaron Dobson (ankle). Bills injuries: WR Marcus Easley (head), OL John Miller (ankle), S Bacarri Rambo (shoulder), DL Mario Williams (foot), TE Charles Clay (neck). ... Gostkowski extended his streak of consecutive extra points to 447.
View a collection of the best images from the Patriots regular season game against the Buffalo Bills at Gillette Stadium on Monday, November 23, 2015.