Dante Scarnecchia may not be doing the barking, but the message being spread to the Patriots offensive linemen this summer and fall isn't going to change.
First-year New England offensive line coach Dave DeGuglielmo will now be the vocal conduit for the scheme being employed up front, but what he's teaching and the language he's using to teach it will be very much the same.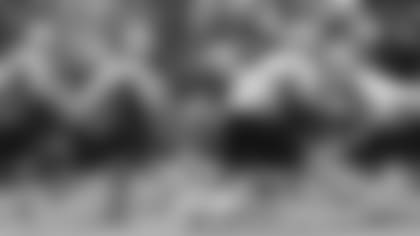 In a recent sit-down interview with Patriots Today, DeGuglielmo said his job was to "maintain the system" and that it would simply be a "different voice saying the same things."
In fact, while DeGuglielmo is obviously tasked with teaching guys ranging from veteran leader Logan Mankins to rookies like Bryan Stork, Jon Halapio and Cameron Fleming, he's also doing plenty of learning in his own right.
"Every day it's like being in school again," DeGuglielmo said of his first few months working under Bill Belichick in New England. "I'm a 46-year-old teenager in school again."
Patriots offensive coordinator Josh McDaniels was asked following a recent New England OTA workout if the terminology would remain the same along the line despite the transition from Scarnecchia to DeGuglielmo.
"Oh yeah," he replied with a big smile. "Since Charlie [Weis, New England coordinator/offensive architect from 2000-04].
But according to his offensive boss, DeGuglielmo is putting his own personality to work with his new group of linemen.
"Dave has come in and done a really good job of establishing what he's going to be like," McDaniels said. "There will be a lot of differences and probably some similarities. The players have really grasped his style so far very well and I really enjoy working with him. I think he's a good addition to our staff. I'm excited about our entire offensive staff as a whole."
That's not to say the 30-year legend Scarnecchia didn't leave a hole in the coaching staff with his retirement this winter.
"Again, Dante deserves every accolade and kind thing that can be said about him," McDaniels raved. "He's a great coach who I was fortunate to have enough years to work with that I probably learned more from him than anybody else that I've been with. And he's a great human being. We're going to miss him in that regard. But that happens a lot in this league and you have to move on fast."
Scar's departure will indeed leave a clear void, but that won't show up in the scheme, terminology or style the Patriots line is playing under this fall with DeGuglielmo doing his best to move forward maintaining the system up front in New England.