(On being excited to get playing again this weekend)
"Yes, definitely excited. It's always fun getting back together with your teammates [when] you've had a couple days off from them and everything. Seeing them again is exciting and [you] get to go out and practice again and playing football is always exciting, practice time or game time, so just glad to be here."
(On the team always having a high intensity level regardless of the time of year)
"Every single week we prepare the same. That's how we always did it [throughout] the whole year and nothing's going to change. We're going to prepare as hard as we can just like any other week and make sure we're ready when it comes down to game time."
(On Aaron Hernandez's big game against Denver because of extra defensive attention on him)
"Yes, but none of that matters. It's a whole new game. It's whoever comes out and plays better on Saturday night - that's the only difference. It's what we do this week to get prepared and what we did to get ready for this week Saturday."
(On Tim Tebow and his style)
"He's on offense and I'm on offense, so I'm not really going up against him. I'm worried about the Denver defense and that's all. I'm focused about getting better [and] doing my own job and not worrying about anyone else especially on their offensive side. [I'm] just focusing on their defensive side and just trying to get better and to be prepared come Saturday night."
(On run blocking against Von Miller and Elvis Dumervil)
"You've got to watch film on them. They are great players and they're both outstanding players, especially Von Miller being a rookie and doing what he's doing. I mean you've got to be ready; you've got to watch the film on them – not just them, but their whole defense. They're all good, they're all fast and we've got to be able to learn what they can do so we can be prepared when it comes down to game time."
(On what he did this weekend)
"I just relaxed, worked out around here and everything. Just getting myself ready so I'm healthy for this whole week, practice week, and everything, so when it comes down to game time I'm ready."
(On whether the this weekend was beneficial)
"Yes, definitely. I mean you get some of your strength back lifting and everything. Your bumps and bruises and all go away and everything, if you take care of them. So I'm feeling good, my body's feeling good, and I'm ready for a good practice week."
(On if he watched this past weekend's Denver game and if the Broncos look any different)
"Yes, I watched the game obviously. They look like the Broncos, man and whatever they did change differently we're going to be watching the film on them and everything and stuff like that. We've just got to be prepared for any situations, so that when it comes down we're ready [for] whatever we see."
(On if he has met Josh McDaniels yet)
"Whatever coaches tell me to do, that's what I'm doing. We've got great coaches here and everything and great veteran players that help me out every single day and whatever I'm told at practice I'm going to go out and apply and everything. That's all."  
(On his skill at catching passes over the top of defenders)
"Definitely more of it goes into the plays and that's what you start out at practice doing, getting the little details down, so when you go out there [come] game time we're both on the same page with the little details and all, so we can complete the pass."
(On the key to the over the top plays)
"Just basically getting open and myself being the guy. I mean you've got to figure out ways to be the guy and everything and being on the same page so Tom [Brady] knows where I'll be so he can put the ball there."
(On if he had mixed feelings knowing that Bill O'Brien will be leaving)
"That's the last thing I'm worried about man. He's here, he's a great coach and I'll listen to whatever coaching tips he has this week just like any other week. We'll listen to whatever the game plan is and we'll go out there and whatever it is, listen to the coaches, the players, and that's all we're focused on [is] the Broncos this week and the big game Saturday."
(On his reflections on his first postseason game last year)
"I'm not even going to bring that up. That was a year ago and all. It's a whole new year this year and just preparing hard like any other week now, so just practicing hard and hopefully we're 100 percent ready to go Saturday night."
(On if he's ready for first postseason experience)
"Ready and going to work, man, going to work. So we're getting there. We started off - today was a good day at practice, helping get the week off to a fast start and you know roll into this thing Saturday and hopefully come out the way we want to."
(On if he noticed a different intensity this week)
"You know Coach Bill [Belichick] man, every game is serious - playoffs, regular season, preseason, whatever it is that game. Like we've said, we're going to take it one game at time and put all our emphasis into that. This week we're focusing on Denver and doing whatever we have to do to get out there and win – that's what we're going to do."
(On if having a high intensity always helps relax the pressure of the playoffs)
"It's just another game, right, right, because you know Coach Bill [Belichick], like I've said, he puts so much emphasis into each week. You know we don't look ahead or behind, we're looking on that upcoming game, so it's another game to us – that's how we're treating it. It's going to be a playoff atmosphere, it's going to be a big-time game and we're going to go out there and just play football and stay calm and go out there and try to play a sound game."
(On his thoughts of the Broncos game on Sunday)
"They came to play, [Tim] Tebow came to play, their team came to play and they want to win just like any other team. It's a nice story hearing about Tebow and stuff like that, but he's a player, he's a quarterback, he's a winner. I don't care what they say, the guy wins, so we're going to have to come in here and play solid football if we want to win this game."
(On the Broncos defense)
"The defense is solid, man. They've been doing good things for them and that's what they really don't talk about that much. It's a lot about [Tim] Tebow, but not so much about their defense, but they're playing sound football all the way around and all three phases."
(On the advantages of recently facing them)
"No, like I said we're just preparing like it's another game, so we're not going to take it any different, just focus on the Broncos."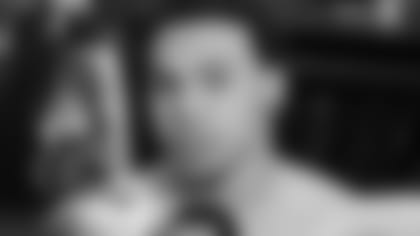 (On revving up for the playoffs)
"No, it's the same thing. You don't want to put too much pressure on yourself, just have to treat it like it's any other game and that's what I'm trying to do this week."
(On if he watched the Denver game)
"Yeah, I did. I watched it. You know because we're going to be playing the winner of that game and I wanted to see what kind of team we were going up against and try to get a few extra pointers."
(On if he learned anything from how Pittsburgh approached Denver's pass offense)
"You know they had some good things and some bad things, so you kind of just want to take the good things that they did and kind of avoid the bad things that they did, but it's one of those games where you're going to have to be mentally sharp and know your assignment and do your assignment only."
(On Bill Belichick keeping a high intensity every week)
"Yeah, it's the same every week. It doesn't change no matter if it's a playoff game, regular season game [or] preseason game. It's all the same so that makes it easier because you know the attitude in here doesn't change."
(On what can he use from the last time they played Denver)
"That first game is meaningless. You might as well take it and throw it out the window because it means nothing to us. We're not even looking at it. We're only focusing in on this game now and how we can prepare our best so we can play our best football come Saturday night. That's the only thing that matters and that's what we're focusing on."
(On how dangerous it can be to rely on past games)
"Like I said, our preparations are based on this week and our playoff game and that's where our preparation is going to lie."
(On the difference between the way Patriots prepare for a playoff game or the Jets)
"I'm just preparing for this game and that's our focus as a team. And as a defense, we prepare to stop their offense and to win. That's where our preparation is and that's where our mindset is. We understand where we're at and what we want to do this season."
(On if he can take anything from his playoff experience with the Jets)
"You know just preparation is everything and that's our mindset - the better you prepare [and] the better you practice. Games like this are won throughout the practice week. It's about how you prepare and how you practice and then you go out Saturday and execute. That's what we're doing."
(On if the preparation is harder because Denver is so unique of offense)
"Bill [Belichick] you know is a great coach. He's going to prepare us and put us into the best position to be successful and that's where our confidence lies."
(On if he is looking at any Denver games in particular to draw upon)
"It's just our overall preparation like I've said. Coach [Bill] Belichick and the rest of our staff is going to put together a good game plan for us and it's just a matter of going out in practice and executing that and understanding our responsibilities on defense and executing that."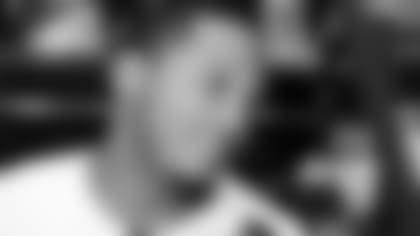 (On if you can learn anything from the last time you played Denver until now)*
"I know that four weeks ago is four weeks ago and they're a different team now, some injuries [and] different players. I mean, they're good, they're good and we're getting ready for the Broncos."
(On if he watched the Broncos game on Sunday)
"Yeah, of course. Who didn't watch that game? I mean, they're a good team, they're a good team. They have good players and we have to get ready to play a good game."
(On if he thinks the Broncos have improved since the last time they played four weeks ago)
"Yeah, I honestly feel they have because they're still in the playoffs and they're still making plays and they're still winning games, so I mean, it speaks for itself, man. You're not going to be in the playoffs if you're not good and they're a good team."
(On paying attention and worrying about the Broncos deep ball)
"We kind of have to get ready for everything. I mean this is our first day of preparation, you know actual physical preparation, so kind of just see how practice goes and see what we can do and see what Coach [Belichick] wants to do."
(On how important it was personally to play one game – coming back from injury – before the playoffs)
"That's not important, that's last game, bro. [I] played one game then it was two weeks to heal and now it's playoffs – we take it one game at a time. I'm not worried about that stuff."
(On playing Saturday instead of waiting and playing on Sunday)
"Yeah, I mean, that's everybody though. Everybody wants to play and play one day earlier."
(On being fresh coming off the injury in comparison to other players)
"Everybody needs to play like they're fresh. It's a one game season, man – one game at a time. So, you [need] to play like you have fresh legs every down."
(On if he's talked to his teammates about the Denver offense and their past experiences from four weeks ago)
"Man, coaches prepare, we execute. So whatever the coaches want us to do, it's our job to execute, so we don't know what we're doing yet until we go out there on the field today."