Training camp is a great way to see our offense compete against our defense. But what is this team doing to prepare for the Josh Allen/Lamar Jackson/Justin Fields/Jalen Hurts QB option offenses that have tormented us for years? How will they be better prepared this year to face teams that do more than just throw and hand off? - Robert C.
Funny, we saw a few periods of working specifically on read option offense during OTAs then in training camp it had looked like the Patriots are working more on what they're doing rather than trying to specifically prepare for what an opponent might do. Then Monday's rainy practice happened and we saw a lot of Malik Cunningham doing that kind of stuff off of cards. So they're certainly dabbling in those preparations at this point, whether for their own defense or just some preseason Texans prep is hard to say. Maybe Cunningham will even play some QB on Thursday. He certainly has a chance to carry this role into the regular season on the practice squad because these mobile quarterbacks have been a significant problem in recent years, with Justin Fields and Lamar Jackson highlighting the struggles last season. Obviously with Hurts right out of the gate, they'll have to be ready for an offense that is designed with quarterback mobility in mind. I think the addition of Marte Mapu is an interesting potential counter, he got some surprisingly early work in the spring when they were repping it. This will be a huge part of the match up to watch in Week 1, and then sporadically throughout the season, with Daniel Jones being another notably mobile quarterback. Of course these days just about every quarterback is dangerous with their legs so even for the offenses not employing read option elements, it's something to be aware of week in and week out.
With arguably the greatest offensive line coach in the history of the NFL Dante Scarnecchia getting recognition for his lifetime of hard work and dedication in the form of his induction into the NFL Hall of Fame in Canton Ohio, it got me thinking just how many excellent linemen he has educated throughout his career in the finer points of protecting quarterbacks and creating lanes. Who in your opinion would be your best front five made up from all the players who he has consistently and successfully coached up over his many, many years in the league? - Marc Saez
Love this question and it's one that I had to do a little digging on since Scarnecchia's career was so long and distinguished. Scar got his start in college coaching offensive line but in the NFL he started focusing on special teams and tight ends before getting an offensive line coaching job in the late-80's with the Colts. He returned to New England in the early 90's, again as a special teams and tight ends coach. Then, in 1999, he became the o-line coach with the Patriots, a job he'd maintain until 2013, then 2016-2019. So while he coached Bruce Armstrong at left tackle I'm not sure I can make Armstrong or anyone prior to the 2000s a member of this team. So, give me: Matt Light, Logan Mankins, Dan Koppen, Stephen Neal, Sebastian Vollmer. I think that gives a nice cross-section of what Scar did. Light, Mankins and Koppen started as rookies and never relinquished their jobs in long, accomplished careers. Neal is the other end of the spectrum, a guy who didn't even play football in college and was just a raw lump of wrestling-trained clay who turned into a reliable guard. That group was as rock solid as they come and showed the range of players that Scar helped to the highest levels of performance.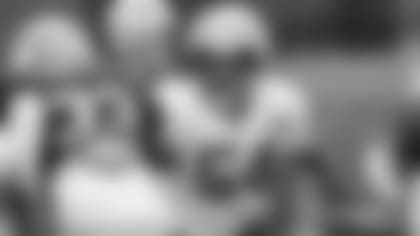 What's up with Sidy Sow? haven't read much about his performance so far in camp. Has he been getting reps at tackle? How has he looked? - Tommy Vernon
It's been a bit of a position change for Sow, who played left guard in college along with a little left tackle early on and now he's been situated at right tackle. He's now outside and on the other side of the line so a bit of a learning curve should be expected. He's not the usual build of a tackle, but he's got the same kind of stout build that didn't seem to hurt Michael Onwenu when he's landed at tackle during various points. That said, there's a big opportunity still looming for both Sow and second-year tackle Andrew Stueber. Along with Riley Reiff and Conor McDermott, those are the only four tackles currently participating in practice. Sow and Stueber haven't really gotten any high level opportunities yet and I wonder if it's realistic to think either can push the two veterans Reiff and McDermott. For what it's worth it appears McDermott is settling into the top right tackle spot, and both Sow and Stueber are more likely to land there than at left tackle. Still plenty of reasons to be patient on Sow, but through almost two weeks of camp it looks like he'll need some developmental time before he makes a push.
There is still a month to go before the season starts, but my biggest concern is the OL. It just seems to be a patchwork of older veterans and a few newer players trying to find the right combination to start the season. If the OL cannot protect Mac then it will be another long season. A solid defense won't matter if they cannot run the ball or pass with any regularity. Not addressing this issue in the draft was a mistake in my opinion. Do you see this as the biggest concern right now? - Paul Oleksak
Yes. Yes. Yes. But first, let's just offer a bit of optimism in that despite the health issues, the starting interior trio was Mafi-Ferentz-Russey during Sunday's practice but they were actually pretty solid. It was the tackles that have been having the bigger issues, maybe not that much of a surprise considering what Josh Uche and Matthew Judon did to the NFL last season. But still, it's a concern until they can get healthy. Trent Brown looks like he's inching back towards getting his top left tackle reps, while Calvin Anderson was spotted by Mike Reiss during recent practice, a sign he could be close to a return as well. I think Anderson is a wild card and I'd love to see where he lands when both he and Trent are back in the mix. Ultimately, if we can get to Brown-Strange-Andrews-Onwenu-McDermott, I think the o-line has enough to be okay. Possibly Anderson could even push Trent over to the right, but I might be getting ahead of myself. Ideally, I'm with you though. I was shocked tackle wasn't more of a priority in the draft. I thought for sure they'd take one by the end of Day 2. But I really like the addition of Adrian Klemm and hopefully he can stabilize a position group that has had four different combinations of coaches in the last four seasons. Health is the key here and it could actually be a very good thing that players like Mafi and Russey are getting so many reps here in summer to help them develop.
If Pats did not pick WR Thornton in the 2d round but a LT, did not sign Reiff, kept Harris and Meyers for the money they got - would you be good with that? - Stan C
Well we're mixing drafts up a bit since Thornton was drafted in 2022 and the signing of Reiff and the departures of Harris and Meyers happened in 2023. I guess you could sell me on someone like Bernard Raimann over Thornton in 2022, though Raimann went 27 picks later. At the time I thought Raimann was a potential first rounder and despite a choppy first season everyone knew he needed some time to adjust to the NFL and now it looks like he'll be the Colts stalwart left tackle. It's always tough playing the "should've drafted this guy" game. Plenty of people out there would swap Thornton for George Pickens, Alex Pierce or Skyy Moore, who went in three of the four picks following Thornton, regardless of how much uncertainty now exists along the line. That's probably a different conversation. Personally, I'm not that disappointed about Harris, but we'll have to see on Meyers and how Juju Smith-Schuster does replacing his role. Meyers' savvy is not easy to replace, but I think Juju could exceed his production given what I've seen through training camp.
Can we already push the bust button on Tyquan Thornton? - Keroack Batista
No! Look, there's no question Tyquan has had a quieter camp that we all hoped for, which included a significant number of practices spent on the lower fields doing conditioning work while the team drills were going on. Thornton has had his moments in camp and on Sunday he was back in the mix during team periods, but it was a good example of the good and the bad. He had a nice catch along the sideline in 7-on-7's and then caught a slant in 11s from Bailey Zappe, but was unable to come up with another catch later in red zone work with the second team as it looked like he was outmuscled at the catch point. The top of the receiver depth chart is clear. Parker is the outside, down-the-field contested catch guy. Juju will work the slot, while Bourne can fill in at multiple spots as well. Pop Douglas has emerged because his quickness jumps off the field in a way that we really haven't seen Thornton's long speed jump off the field yet. The sideline catch from Zappe on Sunday was the closest thing to it so far. That said, we're two weeks in, with a new offense so I'm being patient with Thornton, especially with the preseason games and joint practices to go. Thornton will get a ton of work over the next three weeks, especially in the preseason games with Zappe. He's got a lot of chances left this summer to get things clicking so let's not bail on him just yet.
Who's been the best player in camp so far? - @Fuadnehemen
I must go with Hunter Henry, he's been consistently involved in every practice, especially in the red zone. He looks to be in great shape and has shown improved effectiveness up the seam, an up and down area last season. On defense, and I'm biased here, but I'm going to highlight Jabrill Peppers. Now, he's given up some contested catches, like Mike Gesicki's impossible one-handed catch on Sunday, but on a defense that has largely been the same personnel, Peppers is bringing a new kind of aggressive energy to the defense and he's flying around ready to lay his shoulder into someone. We won't get the true feel for his potential impact until real games, but to me it looks like he's bringing leadership and an edge to the defense that I think any defense can always use. But if I had to bet, Henry will have a bunch of red zone touchdowns this year and Peppers will be among the team's most active and involved defenders. There's a reason he keeps getting rolled out for media availability. I think it's a sign the team sees Peppers emerging as I do.
How can you grade the offense? When the OL has been so bad and a QB knowing that he has no worries because they can not hit him. - @P1gully
Two things. First is that the QB knowing he can't get hit in practice is always an element of watching training camp practice. So grading on that curve has always been the same. Second is that things are never perfect. Some games the OL could be short-handed and they have to make it work. So, we watch what we watch and we make our judgements. My feeling is that the offense looks far more diverse and multiple at this point (four padded practices). The coordination is just so much more clear. They have a plan and they're starting to put the defense in tough situations simply with scheme and formations. Another thing I always keep in mind is defense is usually better out of the gate. It's easier to destroy than create, and by that token, things are going according to plan. So what do we really know now (four padded practices, again)? It looks better than last year but the difficulty and sample size will dramatically increase over these next three weeks with games and joint practices. We'll really get the best sense of it all during those two days in Green Bay and the two days in Tennesee. So stay tuned, it's a process.
If you could add a player to any position, which one would it be? - @vkhak
I think they need a running back just for depth at this point, and unless Calvin Anderson gets back out there soon they could use a tackle too perhaps. Unfortunately so could most teams so a tackle probably isn't that realistic, at least one that might move the needle in any way. Adding one of those big name running backs would be a nice little boost though, especially since Rhamondre looks poised for another monster season as both a runner and receiver. He touches the ball a lot in every competitive session that he's participated in. They need to make sure they aren't forced to over-rely on him.
Expecting any additions to the hoodie arsenal in 2023? - @jasongay
Wrapping things up with my wheelhouse as the keeper of the Bill Belichick Hoodie Database. I don't know what to tell you folks, I think we might be headed for the first red hoodie game since Super Bowl 42. For those that don't remember, Super Bowl 42 got off to an ominous start when Belichick came out before the game in a red hoodie with cutoff sleeves. We know how that game went and many put at least some of the blame on that red hoodie. He has not worn red in a game since then, despite having worn red five times before that fateful day in early 2008 (3-3 all-time in red), though that was the first and only time he had cut off a red hoodie. So here we are, BB wore the old De-elvis'd Hot Jacket for the first day of camp and on Day 11, Monday's rainy practice. Otherwise it's been nine practices in the cutoff red hoodie. The hoodie historian part of me is intrigued but I'd be lying if the superstitious side of me wasn't terrified.
DISCLAIMER: The views and thoughts expressed in this article are those of the writer and don't necessarily reflect those of the organization. Read Full Disclaimer