Training camp marched on in soggy Foxborough with Bill Belichick explaining how the team is moving forward toward the preseason. The Houston Texans will be in town Thursday night, and some of Monday's full-padded practice work was devoted to preparation for the opener.
"We're kind of rolling into the next phase of training camp here, playing Thursday," Belichick said before practice. "It was a good experience in the stadium on Friday night, good tempo, got a lot of work done. The guys did a lot of running and ran pretty fast, so it was good to see that, you know, get some confidence in the stadium and be able to handle some situations and whatever the conditions were. That was good, especially for some of our young guys.
"Back at it here, back in pads and let's grind through some fundamentals here and work toward Thursday night."
The practice was heavy on full team periods with Mac Jones and Bailey Zappe taking the bulk of the reps until late. The early 11-on-11 periods featured second- and third-down situations and Kendrick Bourne was active, catching a handful of passes from Jones that resulted in would-be first downs. Zappe wasn't as sharp, although neither offense generated consistent success. Zappe did find J.J. Taylor alone on an obvious coverage bust for what would have been a big gain.
"We've got most everything in that we're going to do," Belichick said of the installation. "We've been through every situation on a practice field. We covered most of them in the stadium the other night. There's always more to do. We've covered all of the situations. We haven't covered every single play we're going to run, but we're pretty far along."
Along those lines, Zappe talked about the offensive installation after practice and said, "We're way ahead of what we thought we were going to be."
Land Clark's officiating crew was on hand and they were busy throughout. Virtually every period of 11-on-11 work saw multiple flags ranging from false starts and illegal formations to holding. Most of the calls came against the offense but there were occasional flags on the secondary for holding as well.
Belichick said the team has yet to sit with officials for the annual video reviewing various rule changes but that could take place in Green Bay next week.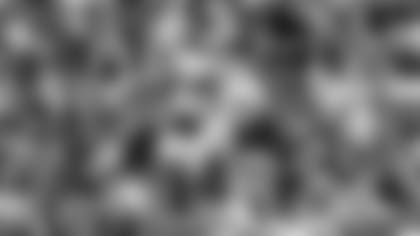 Here are one man's observations from Day 11 of Patriots training camp.
*The practice featured quite a bit of team periods with multiple quarterbacks running the show. That included Malik Cunningham, who directed what appeared to be a scout offense off cards as the Patriots turn their attention to the Texans on Thursday night. Cunningham took some of Trace McSorley's reps as well, operating in a variety of looks. Cunningham looked comfortable getting to the outside and putting stress of the edges as a dual threat option. If Cunningham remains with the team during the season he will likely serve as a scout team quarterback quite often.
*Still not much movement on the attendance front as Ty Montgomery (ninth straight), Cole Strange (sixth), Matthew Slater (third) and Jonathan Jones (third) all missed practice. Bill Murray was added to the list while David Andrews returned after missing Sunday's workout. With Andrews unlikely to play extensive snaps Thursday night and Murray and Strange on the mend, the depth on the interior offensive line is being challenged.
*Trent Brown was in uniform but again did little more than conditioning work. He spoke after practice and said his inactivity is injury related and has nothing to do with his contract.
*Marte Mapu and Johnny Lumpkin continue to take part in practices fully while wearing red, non-contact jerseys.
*Celtics coach Joe Mazzulla was a guest at practice and spent some time chatting with Belichick during warmups.
*With the team back in pads for the fourth time this summer there was a return of the 1-on-1s and tackling drills. Christian Barmore had an impressive bull rush against Kody Russey while Conor McDermott did a nice job containing Keion White on a couple of the reps that caught the eye. In the passing game, the receivers struggled with their footing and ball security in the rainy conditions. Christian Gonzalez did a great job of sticking with Tyquan Thornton after the receiver tried several moves. Ultimately Mac Jones' pass fell incomplete as Thornton tried to cut his route off and the pass sailed long. JuJu Smith-Schuster tried several moves in the tackling drill but couldn't shake free and eventually lost the ball. Andrew Firsker, Scotty Washington, Kendrick Bourne and Thornton were among those with drops during the drills. The running backs/tight ends against linebackers/safeties work also featured some blitz pickup reps.
*Mike Gesicki built on the momentum he seemed to generate on Sunday and was active again. He ran a nice over route and caught a 15-yarder near the sideline from Jones in 11-on-11s. DeVante Parker turned in another big play when he high-pointed a Jones pass in between Isaiah Bolden and Adrian Phillips.
*Jack Jones jumped an out route intended for Smith-Schuster and knocked the pass away early on. He motioned as if to kick the rolling ball away off the turf before turning back to his teammates, where Jabrill Peppers motioned to Jones with his hands in an effort to try to keep him calm.
*Nick Folk took the reps at kicker and was sharp, connecting on 4 of 5 long-range attempts. His lone miss came on a 47-yarder that pushed to the right, but he hit 48- and 50-yarders on his next two attempts later in practice. The field goals came at the end of each quarterback's 11-on-11 reps.
*Defensive linemen Christian Barmore, Carl Davis, Lawrence Guy and Davon Godchaux ran some conditioning sprints late in practice with director of skill development Joe Kim.
*Mac Jones, Bailey Zappe, Trent Brown, Barmore and Gesicki all spent time chatting with the media after practice.
*The Patriots final training camp practice open to fans will take place on Tuesday in Foxborough with gates set to open at noon and practice starting at 1 p.m. Next week the Patriots will head to Green Bay for a pair of joint practices with the Packers and then head to Nashville for another two with the Titans. Those four workouts will be open to the media. As always please check with Patriots.com for the latest updates to the training camp schedule.
DISCLAIMER: The views and thoughts expressed in this article are those of the writer and don't necessarily reflect those of the organization. Read Full Disclaimer