Mike Gesicki was one of the Patriots' key offseason acquisitions this offseason and in recent days at training camp, the veteran tight end is showing an increasing propensity for impressive catches, a welcome addition to the team's burgeoning attack.
On Sunday during practice in shells, Gesicki made a dynamic one-handed catch during a 7-on-7 period, reaching out over Jabrill Peppers to secure the ball. Peppers acknowledged after the session that sometimes you just have to tip your cap after an outstanding play like that, with Gesicki confirming on Monday that he had in fact gotten both feet in bounds.
"It was good coverage by Pep, it was a great ball by Mac," said Gesicki, "Just gotta go out and make plays."
Making plays is what Gesicki has been doing over the last few practices. He had an active spring, tantalizing fans with the potential of another one-two punch at tight end, pairing with Hunter Henry, who has been one of the best players on offense through 11 camp practices. Even veteran Matt Sokol has made an impression during the summer, as the tight end room suddenly looks even deeper and more dangerous than originally thought.
Though Gesicki had a quiet start to camp, his performance in recent days shows the growing confidence that the quarterbacks have that the tall playmaker can go up and make plays in a different stratosphere than those covering him.
"[Gesicki] would make some plays one-on-one, and down the field, and all that stuff," said Mac Jones earlier in the spring of watching his new teammate while he was with the Dolphins. "You can definitely see that translate to here... It might be different guys at times, but Mike definitely has playmaking ability. He's a smart football player, and I'm just excited to work with him."
With 11 practices down, those plays are starting to come to fruition as the offense gets on track.
"It's just the operation, communication, getting in and out of the huddle," said Gesicki on Monday of the learning curve in a new offense. "Before we win, we must keep from losing. This is an opportunity in the preseason to iron out some mistakes so this way once September rolls around it's go time, all of our pre-snap operations and communications, all that stuff is ready to go."
On Monday, the Patriots faced their first practice of the summer without ideal sunny conditions. As a consistent rain fell throughout the early afternoon, Gesicki carried the momentum from Sunday into an early 7-on-7 period, picking up a catch on a crossing route that was well executed. On a day where the offense struggled at times to deal with the wet weather, Gesicki showed some reliability in inclement conditions.
"[Mac] hit me on a crossing route and obviously it's raining out, put really good touch on, not trying to fire it in there in these conditions and I went up to him afterwards and said good touch on that because in these conditions it's harder to catch the ball obviously. So he has that awareness which is just another positive that his game. The chemistry is good on the field, in the building, outside the building. Everything's good, excited to be here. I'm excited to keep progressing in that aspect as well."
The wet weather also forced Gesicki to alter his post-game routing of catching balls from the JUGS machine, instead choosing to rely on an assistant coach to help him get his extra work in.
"Obviously there's always going to be a learning curve and stuff to get better at, but I feel right at home, I feel comfortable, I feel confident," said Gesicki. "I feel like I'm playing fast and we'll just continue to get better."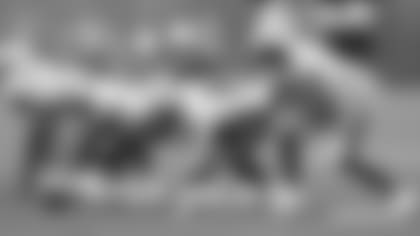 Deuce's Dime Package
Monday was ugly at times with a lot of dropped passes and penalty flags but it didn't stop Kendrick Bourne from having one of his most productive practice days of the summer. I had Bourne down for three catches from Mac Jones during 11-on-11s while working from a variety of spots on the offense. Most encouraging was where Bourne was making the catches, downfield and near the sideline, as the team's passing game has slowly begun to set their sights downfield more and more.
Nice day for Nick Folk kicking in the rain, I had him down for 6-of-7 with makes from 50, 47 (three), 45 and 44, with the miss coming from 47 on his second attempt. That kind of consistency in challenging weather is why Folk can't be ignored in the kicking competition, even if the ball explodes off of Chad Ryland's foot. I had Ryland going 3-of-4 in Sunday's practice, with hits from 44, 45 and 50 and a miss from 46.
Don't ignore veteran Calvin Munson, who is on his third different stint with the Patriots primarily as a special teamer. He's been getting some looks at linebacker in recent practices as the team continues to spin the dial at linebacker with a number of different options behind the top trio of Bentley, Tavai and Wilson. Chris Board has also gotten some opportunities as well.
The most interesting development from Monday's session was the extensive use of undrafted rookie Malik Cunningham at quarterback. Though listed on the roster as a QB, we haven't seen much of him actually doing any quarterbacking since the spring with him getting more work at receiver. Cunningham ran a variety of plays similar to what he ran at Louisville that took advantage of his excellent speed. He didn't look out of place throwing the ball either. He could be carving out an important practice squad role at least.
While Kayshon Boutte had the catch of the day coming off a play-action bootleg from Cunningham, I'm not sure it had to be that impossible because the throw from Cunningham was off target. It was still a great leaping catch by the rookie Boutte, but I thought it would've been a simple toss and catch if Cunningham had put it on him. Still, Boutte is staying consistent, making a catch or two a day that keeps him in the picture.
Brenden Schooler already grabbed two onside kick attempts this summer and on Monday, with everything wet and slippery, it was Adrian Phillips coming down with the key special teams play, securing the ball before any oncoming tacklers could force a fumble. Those are important plays that don't go unnoticed.
Jack Jones had an emphatic pass defense on Juju Smith-Schuster during the first rep of 7-on-7, batting the ball away while wearing the hand pads that the corners are often forced to wear to keep them from holding. It was somewhat similar to the play last week after which Jones left practice. With Jonathan Jones missing for the last three practices, Jones' presence becomes even more important. He's around the ball a lot in just about every practice.
Daniel Ekuale had one of the better 1-on-1 pass-rushing sessions on Monday. I think he's one of the more underrated defenders on the roster as an interior pass rusher. He was valuable last year when Barmore was hurt. That duo could form a potent combination on third-and-long this season.
With Bill Murray missing his first practice of the summer, the interior depth is being taxed as guards Michael Onwenu and Cole Strange have already been missing. The team gave usual defensive tackle Jeremiah Pharms a look at guard on Monday, as depth is getting razor thin, even with Kody Russey and Jake Andrews, who are both probably more suited to center, working in as well.
Matthew Slater missed his third practice and his absence on the practice fields is hard to miss without him running his usual array of individual work. Of course, Slater's presence is sure to still be felt behind the scenes, and while it was doubtful he'd play in the preseason game Thursday anyway, it's still something to monitor. The team has a lot of new options to consider in a variety of special teams roles and perhaps Slater's absence allows them to sort things out a little more quickly.
DISCLAIMER: The views and thoughts expressed in this article are those of the writer and don't necessarily reflect those of the organization. Read Full Disclaimer