Foxborough, Mass. - The New England Patriots have spent this week addressing issues in their injury-depleted defensive secondary. While the re-tooling hasn't involved bringing in any help from the outside, the Patriots do have contingency plans in place as they prepare to face the Baltimore Ravens on Sunday.
What is known is the Patriots will likely be without veteran starting cornerbacks Ty Law and Tyrone Poole. Law has missed the last three games and is expected to be out another 3-5 weeks with a broken foot. It is also looking increasingly likely they will be without Poole, who is improving from a knee injury that has caused him to miss six of the last seven games, remains doubtful on the injury report. Poole had an arthroscopy on his knee in October, and said earlier in the week the team is taking a cautious approach to the injury in an effort for him to return at 100 percent.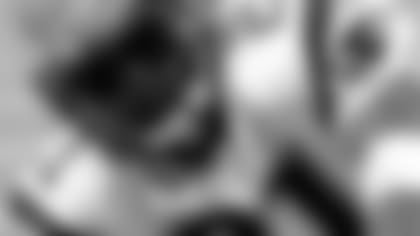 ]()The Patriots appear set to enter another game with Asante Samuel, Earthwind Moreland and Randall Gay at cornerback. The trio, who have 11 career starts between them, have combined to serve as the Patriots starters the last four games since Law was injured in the Oct. 31 loss to Pittsburgh. But Samuel, who has been playing through a shoulder injury, was forced to leave last week's game on several occasions. Gay, an undrafted rookie free agent who has started the last three games, was also forced to leave with an arm injury. Both are listed as questionable on Friday's injury report.
Who plays - and where - will likely be a game-time decision against Baltimore.
"I think that a game-time decision and making the final call on where everyone is going to be is definitely a possibility," head coach Bill Belichick said Friday. "It probably is going to happen that way. We're practicing some contingencies during the week. I hope we have our bases covered. But where we are on Friday and where we are on Sunday could be two different things.
"I think it's still going to come down to the wire."
Moreland, who started last week alongside Gay, is clearly the healthiest of the group. But he was involved in both of Kansas City's long touchdowns last week, 26- and 65-yard scoring strikes to Eddie Kennison, as Trent Green passed for 381 yards. Wide receiver Troy Brown was used as an extra defensive back against Kansas City in nickel and dime situations for the third consecutive week. With Samuel and Gay less than 100 percent, the Patriots may need to ask Brown - among others - for an extra contribution again this week.
It leaves questions as to how long the Patriots can not only survive - but also continue to win - with the constant shuffle in the secondary.
"I hope it will look better," Belichick said about the secondary earlier this week. "We have a lot of work to do. That is what we will be focusing on. One of the things we will be focusing on defensively this week is to do a better job in the passing game and part of that is just getting ourselves straightened out. We just have to do a better job on everything. It is not any one thing, but too many errors combined and you just can't do that. You have guys running wide open and nobody is near them. That is just bad football."
Impressive Pair Of Tackles
The Baltimore offensive line, which is among the largest in the NFL averaging 339 pounds among its five starters, features impressive bookends in tackles Jonathan Ogden and Orlando Brown. Ogden, who has 131 career starts and has been to seven consecutive Pro Bowls, is the prototype among left tackles in the NFL.
"He is one of the best," Belichick said. "I think he probably sets the standard at that position probably for everybody in the league. When you go into your draft room and say, 'Who do we want our left tackle to be like?' I think everybody would take Ogden."
On the other side is Brown, who has 107 career starts despite missing three full seasons due to an eye injury in 1999. Brown, who played three seasons (1993-95) under Belichick in Cleveland, has developed into one of the most powerful run blockers in the league after starting full-time on offense only one season at South Carolina State.
"Big," said Belichick when asked how the 6-foo-7, 360-pound Brown looked this season. "He has the great size and he is just a hard guy to get around because he takes up so much space. You have to be careful with a guy like that because he can get a lot of movement. He can create a lot of space in your defense just because of his physical style of play and how powerful he is."
As his former coach, Belichick was asked Friday if he had a "soft-spot" for Brown. "A soft spot? Not anymore. He is in Baltimore. I'm in New England. So, it is not too soft."
Quick Hits
The Patriots reported no changes to the injury report Friday. Along with Law (out, foot), Poole (doubtful, knee), Samuel (questionable, shoulder) and Gay (questionable, arm), linebackers Matt Chatham (hamstring) and Roman Phifer (calf) are both questionable. Quarterbacks Tom Brady (shoulder) and Jim Miller (shoulder) remain probable. ... Belichick on Baltimore second-year defensive end Terrell Suggs, who is fourth in the NFL with 8.5 sacks: " He is really a good player. He is a very good pass rusher and is strong against the run in [their] 3-4 defense. He is tough for the tight ends to block because he is a physical guy who uses his hands well. He has really good initial quickness off of the ball. He is a really good player." ... Baltimore, who are 7-3 for the first time in their 9-year history, have won three straight and five of their last six games overall after a 2-2 start. ... The Ravens announced linebacker Peter Boulware was not activated from the physically unable to perform list by today's deadline and will not play this season.