Foxborough, Mass. - The way New England offensive coordinator Charlie Weis sees it, if you want any information about his coaching future, you might as well just go straight to the source.
Weis addressed the media Wednesday for just the second time this season, speaking to a number of topics that included his pending coaching future with the Patriots. His agent, Bob LaMonte, confirmed during the offseason that the two sides could not reach an agreement on a new contract for Weis, whose current deal expires at the end of this season. The scenario has led to speculation that Weis - who reportedly makes around $500,000, a figure LaMonte has said is far below the $1 million range other top coordinators are in - would leave New England even if he doesn't receive a head coaching offer. Weis separated himself from those comments Wednesday.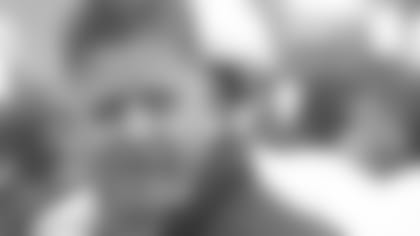 ]()"But that's my agent talking," Weis said. "Talk to me sometime. Sometimes it's always good when you talk to the person themselves."
Weis, 48, has orchestrated the Patriots offense since the beginning of the 2000 season. Since the two sides have yet to reach an agreement, it has been long assumed this would be his last season in New England. Weis is clearly looking for the right situation, which could include a college head coaching position.
"It would only be the certain, right situation, because I'm pretty happy with the job I have," Weis said.
Along with defensive coordinator Romeo Crennel, Weis is at the forefront of NFL assistant coaches in line for head coaching jobs. He inquired about the job at the University of Washington when it opened in 2003 and also interviewed with three NFL teams, including the Buffalo Bills and for the New York Giants position that eventually went to Tom Coughlin.
Weiss didn't hesitate, though, when asked if he would consider a return to New England.
"We've won two Super Bowls in the last three years," he said. "Who wouldn't? I don't see everyone knocking down my door. I think right now, this place is a pretty good place to be. We've won two Super Bowls in the last three years; I don't know how many other places in the last 10 years can say something similar to that."
Ultimately, neither Weis nor Crennel was chosen for one of the league's seven head coaching vacancies last offseason. As an accomplished coordinator for two Super Bowl teams and a coaching veteran of 25 years, Weis is willing to let his current success do the talking.
"In the grand scheme of things, the best way that you could say something positive about yourself is to fit in within the structure of which you're already working and be successful doing that," Weis said. "So basically, my answer to that is to just do my job as well as I can here for the Patriots. Each week is an interview."
Branch Banter
Entering the season, it looked as though third-year player Deion Branch was ready to assume the billing as the top receiver for the Patriots. Branch established career-highs with 57 receptions and 803 receiving yards in 2003, leading the Patriots in both categories, and was the leading receiver in Super Bowl XXXVIII with 10 receptions for 143 yards and a touchdown. His impact this season has been non-existent since a knee injury against Arizona on Sept. 19 has forced him to miss the last seven games - an absence that has been felt by the offense.
"Deion is one of our better players, obviously," Weis said. "What it does, it forces you to shuffle your players around to fill in some spot that you were counting on production from No. 83. I think our receivers have done an admirable job in his absence, and I think as he comes in, the next thing you have to do is try to get him back into that mix again."
Without Branch, fellow third-year receiver David Givens leads the Patriots with 42 receptions for 710 yards. David Patten has chipped in with 29 receptions for 473 yards and five touchdowns. No other Patriots wide receiver has more than 11 receptions. Branch, who hinted to reporters prior to the St. Louis game that he would be returning soon, was upgraded to "questionable" on the injury report last week for the first time all season.
"First of all, lets get him practicing first," Weis said. "Lets start from there and lets see what we have."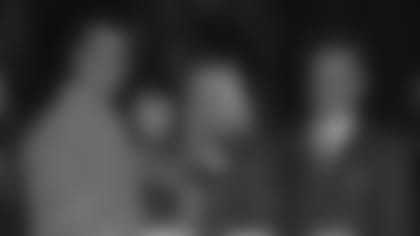 ]()Vinatieri's Gets His Cake** The Patriots presented kickerAdam Vinatieriwith a cake Wednesday to celebrate his 1,000th career point in last week's 29-6 win over Buffalo. Vinatieri made a career-high five field goals and connected on both extra points in the win, giving him 1,013 career points to become just the second player in team history to reach the 1,000-point plateau. He now trails only Patriots Hall of FamerGino Cappelletti(1,130) on the team's all-time scoring list. The team took a photo including Vinatieri, his wife Valarie and Patriots ownerBob Kraft to recreate a similar photo taken when Cappelletti notched his 1,000th point in 1968.
Injury Report
The Patriots official injury report released Wednesday was considerably shorter than in recent weeks. Cornerback Ty Law (foot) is out, while cornerback Tyrone Poole (knee) was upgraded to "doubtful." Poole has missed five of the last six games.
Branch and linebacker Matt Chatham (hamstring) are both questionable, while quarterbacks Tom Brady (shoulder) and Jim Miller (shoulder) are listed as "probable."
Lowe Added To Practice Squad
The Patriots made a practice squad transaction Tuesday, signing defensive back Omare Lowe and releasing safety Scott Farley. Lowe, 26, was originally a fifth-round pick by the Miami Dolphins in 2002. He spent time on the active rosters of Miami (2002) and the New York Jets (2003), while also seeing time on the practice squads of the Tennessee Titans (2003) and both the Minnesota Vikings and Washington Redskins this season. Farley was signed to the Patriots practice squad on Nov. 3, 2004 after released following training camp earlier this season.
Quick Hits
The Patriots will make their 30th appearance on Monday Night Football against Kansas City. They have won three of their last four games on Monday nights and are 10-19 all-time in said contests. ... Kansas City head coach Dick Vermeil took exception to a question that suggested a lack of talent on the Patriots roster. "Who's evaluating it? The quarterback ain't bad. The offensive line is pretty good. The defensive tackles are pretty darn good. That football team is a pretty darn good football team and it's put together for a purpose and it's put together better than anybody else could put it together." ... Vinatieri leads the NFL in scoring with 93 points, holding a slight lead over Kansas City's Priest Holmes (90). Vinatieri has made a league-high 23 field goals (in 24 attempts) and hit all 24 of his extra-point attempts.