This article has been updated to include additional donations since publication.
In light of the COVID-19 pandemic, those who are able have been quick to do their part to help their loved ones and their communities. Patriots players are no exception.
Since those across the country have started sheltering in place and physically distancing themselves in an effort to slow the spread of the virus, Patriots players have done their part to ease the burden of those hit especially hard by the pandemic. From food scarcity to healthcare workers, members of the Patriots have used their platform in the NFL to step up and help out.
In honor of National Nurses Week, Jake Bailey spent May 6 handing out meals, masks, autographs, and flowers to nurses at Mass General Hospital. The trip was a small way of saying thank you to those who are working diligently in the face of the pandemic.
In doing so, Bailey is yet another Patriot to have teamed up with a local business to deliver healthy meals to healthcare workers. Nutre Meal Plans, a healthy meal delivery service based in Massachusetts, is matching purchases and donations of their meals, and Patriots players have quickly and enthusiastically pitched in.
David Andrews, Shaq Mason, J.C. Jackson, Jonathan Jones, Joejuan Williams and more have all donated meals to local hospitals and healthcare workers through Nutre Meal's "Feed Heroes" donation program. In April, Jackson even joined to drop off meals and masks to hospital workers.
Valentino Perrina, one of the founders of Nutre Meal, said he wasn't surprised by the Patriots players involvement, but having their names tied to some of the donations has provided a much-needed boost for many.
"The people that are getting the food know where it's coming from. We've been leaving notes and getting pictures and videos and words of inspiration and encouragement saying please thank them for me," Perrina said. "It's really bringing the community together and having leaders like them really being involved or even giving their two cents it really means a lot."
While Mason gave meals to those in the New England area, he also gave to those working in his hometown of Columbia, Tenn. On May 13, Mason donated pizzas and spent time thanking those working in a COVID-19 unit at a regional hospital in Columbia.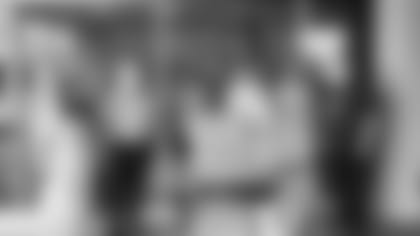 On the same day, Lawrence and Andrea Guy donated lunches to the staff of a hospital in Miami, where they live in the off-season. In a picture on Instagram, he wrote his thanks to those working on the frontlines: "Shout out to all the amazing healthcare professionals around the world who are risking their lives to keep us safe!"