People walking on Boylston Street on Feb. 8 could probably still find pieces of confetti on the ground, remnants of the Patriots Super Bowl parade still fresh in the city.
Yet just miles away in the Mattapan neighborhood of Boston, a group of Patriots players were celebrating a different champion: Mindy Butts. Gone were the duck boats and screaming fans. Instead, it was just Devin McCourty, Duron Harmon, Kyle Van Noy and Derek Rivers on a quiet day, surprising this single mother of six known for her generosity and work in the community.
Mindy works diligently in her community, using her own personal struggles to advocate for herself and educate others. Despite losing her husband to gun violence when her now 13-year-old daughter was just six weeks old, Mindy has turned her own battles into inspiration. She began couponing as a way to save money for her family and become a savvier shopper, and after realizing how shopping with coupons could change how much she is able to bring home, Mindy decided to use her skill to help others by donating items she buys on sale and teaching others how to implement their own "extreme couponing" habits.
"Throughout the year, whether it be bread or something, I get coupons and I'll be at home fixing sandwiches," Mindy said. "We'll go out and feed the community. Thanksgiving time, I'm out in the cold. Doesn't matter whether it's cold or not. The mission at hand for me is to meet the needs of other people."
Through her community work, Mindy has developed a relationship with the Boston Police Department's community engagement unit, as well as a strong relationship with Detective Larry Ellison, who is president of the Massachusetts Association of Minority Law Enforcement Officers.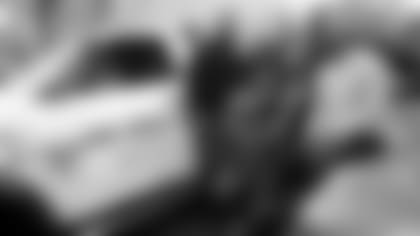 And while Mindy's trying to help others, it is still sometimes hard to make ends meet. Recently, she has been been unable to use her car, so Larry lent her his car while he was working.
"I come in to work, and her younger daughter goes to school around 9:30 a.m. She hadn't been able to get her to school on time, so I'd been letting her use my vehicle during the day to get her daughter to and from school and to help with her extreme couponing," he said. "Now please, this is not about me, but I'm just saying I've never done that before, but because of her willingness to help others, I felt that we needed to do everything that we could to make sure that she was able to take care of her family and to help other people as well."
And that's where the Patriots come in.
What she thought was a visit from Larry, Boston Police Officer Jeffery Lopes and Kraft Group Vice President Robyn Glaser turned into something entirely different. Mindy opened her door to find Devin, Duron, Kyle, Derek and a tow truck, ready to take her car to be fixed.
Every NFL team has its own social justice fund, where players donate their own money and NFL owners can match what's raised to do good in the community. The guys decided to use part of this money to fix Mindy's car and help take care of her family.
"I lost it. I was so floored. It was such an amazing experience. And then I got, I had the chance to learn a lot about the Patriots and what they do off field too," Mindy said. "You only get to really know about the players or see them on the field, but just to know that off season, they're dedicated to giving back support in other organizations and then go above and beyond when they feel the need to be in support of somebody that touches their heart. That was amazing to learn."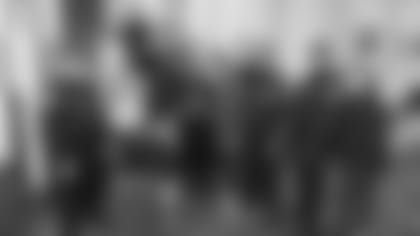 Along with replacing Mindy's transmission, the Patriots made other donations, surprised her with gifts and spent time with her and her family. After hearing about the work Mindy does in the community, she said Devin, Duron, Kyle and Derek all told her they were inspired by her, and hearing that from Super Bowl champions meant a great deal.
"It meant a lot to me. Those days that I'm driving up and down the road, and I'm collecting clothes for the homeless and I'm just doing what I'm doing," she said. "It's not like you do things for recognition because I never asked anybody for that in return, but later on, to have your work be recognized by people that hear your story and are paying attention, it's mind blowing. It just made it worth everything that you're doing."
Larry said that not only does something like this help the Boston Police Department build invaluable relationships within the community, it also helps spread the work Mindy is doing even further.
"I tell people, when you find someone like a Mindy Butts and you help her, she now reaches out and helps so many others by helping on person like her," he said. "She's not going to be selfish with it. There's so many that will benefit from it."