FOXBOROUGH, Mass. (Dec. 8, 2017) – Over the past seven years, the Kraft family and the New England Patriots Foundation have placed a strong emphasis on celebrating volunteerism and honored hundreds of volunteers in the process. Throughout the 2017 season, the foundation continues its mission of teaming with nonprofit organizations to educate fans about the need for volunteering, highlight deserving volunteers from across the region and seek to inspire Patriots fans to become lifelong volunteers.
Every week throughout the season, the Kraft family and the foundation present the "Patriots Difference Maker of the Week" award, which recognizes deserving volunteers who go above and beyond to support their local community and nonprofit organizations.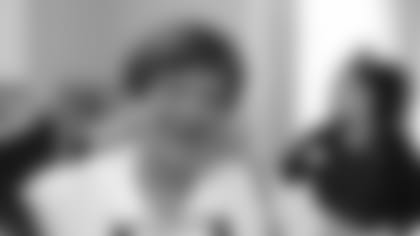 "So many nonprofit organizations rely on the work of volunteers," said Patriots Chairman and CEO Robert Kraft. "We encourage everyone to volunteer and like to highlight those who do the most to positively impact their communities. It's nice to give credit to those who are most deserving and to reward the nonprofits they represent."
Dorothy Blanchette from Falmouth, Maine was selected as a Patriots Difference Maker of the Week for her commitment to The Falmouth Food Pantry.
Blanchette started the Falmouth Food Pantry in 2008 and has served as the President of the nonprofit for the past 10 years. When it first began, the pantry served approximately 25 families. Now, they serve more than 500 families in Falmouth and the surrounding communities.
"I have been involved in charity work since my teens because I could never bear to see people sad or in need," said Blanchette. "The seed for starting the Falmouth Food Pantry came to me because of my concern for the difficulties a number of my students faced in obtaining basic necessities."
Blanchette spends hours each week writing grant letters, requesting donations and is in charge of all of the pantries finances. She helps to provide other services to families to help them get back on their feet. Whether it's helping them to find affordable housing, providing job skill training or seeking out affordable medical help, she is willing to do whatever it takes to help those in need.
Before starting the pantry, Blanchette spent time helping refugees in Portland, Maine who were forced to leave their native countries because of war and genocide. She worked with the Refugee Resettlement Program to provide countless services to families including food, shelter and job training.
"Every day that I work to help others has been an adventure and a lesson in humility as I witness the courage of families who face enormous challenges," Blanchette continued.  "I feel so blessed to be a part of their lives."
Blanchette will join 14 other outstanding volunteers for a special in-game ceremony at the Patriots Dec. 31 game against the New York Jets. She will also be featured in the Patriots Football Weekly newspaper, Patriots GameDay magazine and on www.patriots.com/community.
For more information about the Celebrate Volunteerism initiative, including pictures and videos of Patriots players giving back to the community, resources and information about volunteering, or the "Patriots Difference Maker of the Week" award, visit www.patriots.com/community.