FOXBOROUGH, Mass. (Oct. 5, 2018) - Eight years ago, the Kraft family and Patriots Foundation introduced Celebrate Volunteerism, a season-long initiative focused on recognizing community volunteers and promoting the importance of giving back to the community through service.
Throughout the 2018 season, the foundation will continue its Celebrate Volunteerism initiative by teaming with nonprofit organizations to educate fans about the need for volunteering, highlighting deserving volunteers from across the region and seeking to inspire Patriots fans to become lifelong volunteers. The foundation will present a weekly "Patriots Difference Maker of the Week" award, which recognizes deserving volunteers who go above and beyond to support their New England communities.
"We originally started the Celebrate Volunteerism initiative as a tribute to my sweetheart, Myra," said Patriots Chairman and CEO Robert Kraft. "Over the past eight years, it has become the heart and soul of the Patriots Foundation, just like Myra was. We enjoy shining the light on local volunteers that are committed to improving the lives of children and families across the region and we hope that this inspires our fans to get more involved in their communities."
Wilda Hayes from Danbury, Conn. was selected as this week's 2018 Patriots Difference Maker of the Week for her commitment to Ann's Place.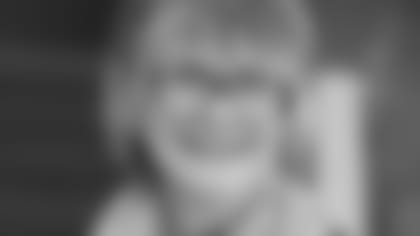 Wilda, a pharmaceutical marketing and advertising executive, was one of the first people to volunteer for the Ann Olsen Endowment in 1987, a fund designated to support cancer patients and their families. Ann lost her life to cancer at the age of 38, before she could fulfill her desire to support others on their cancer journey. The Endowment partnered with I Can, a support services group, and eventually merged into Ann's Place, a full-service nonprofit agency that now supports more than 1,100 clients across Connecticut and New York.
Wilda joined the board of Ann's Place and later served as its pro bono Executive Director, then President, for 16 years, leading the organization through dramatic clinical services growth during challenging economic times. She played a key role in creating and running key fundraising events like the Ann Olsen Golf Classic, now in its 30th year, and the Festival of Trees in its 16th year. Wilda currently serves on the board and chairs the festival which attracts 5,000 each year to support people facing cancer.
"What an honor to be recognized for my volunteer work as a Patriots Difference Maker," said Wilda. "To fight cancer with only medical means is rarely enough. Dedicated volunteer support has allowed Ann's Place to effectively offer amazing professional social, educational and psychological services with only a small paid staff."
One of her greatest accomplishments was creating a permanent home for the organization. Thanks to Wilda's efforts, thousands of volunteers came together to build a beautiful 17,000 square foot facility offering comprehensive counseling, support groups and wellness activities.
"Volunteers make it happen everywhere, every day and quietly solve problems that help keep the nonprofit sector delivering services," said Wilda. "There is very little we could accomplish without volunteers."
Fifteen individuals will be named Patriots Difference Makers throughout the season. The outstanding volunteers will be recognized on the Patriots website and in print materials, including Patriots Football Weekly and Patriots GameDay magazine. They will also be honored during a special ceremony at the Patriots final regular season home game against the New York Jets on Sunday, December 30.
Fans are encouraged to nominate a local volunteer for the Patriots Difference Maker of the Week award by visiting www.patriots.com/community.