FOXBOROUGH, Mass. – As the clouds rolled in high above Gillette Stadium Tuesday, so did a thunderous herd of 300 excited kids eager to participate in the "Healthy Kids Summit," sponsored by Stop & Shop and "Hometown Huddle," part of the NFL and United Way's league-wide Hometown Huddle program and PLAY 60 initiative, bringing awareness to youth health and fitness. It is an event the Patriots are pleased to be involved in, as it aims to equip parents, caregivers and children with the knowledge and skills necessary for kids to lead healthy, fit and balanced lifestyles and helping them to "Fuel Up to Play 60."
Though rain threatened to spoil the event, there was no dampening the mood on the field, as everywhere you looked were toothy smiles and bright eyes. The participants were provided with healthy snack options, including nature valley snack bars, cheese sticks, fresh fruit and bottled water, as well as their first lesson on healthy living. As they sat on the artificial playing surface, petting the faux grass and toying with the tiny rubber pellets, they contained their exuberance enough to partake in and enjoy a healthy lifestyle question and answer panel.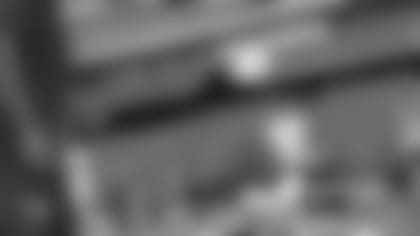 The panel was comprised of health and fitness experts, including Julie Menounos, MS, RD, LD-N, in-store nutritionist at Stop & Shop, Caitlin Gibbs, Director of Association Health Innovation at the Hockomock YMCA, Dr. Brian Patel, Associate Chief of the Emergency Care Center at Sturdy Memorial Hospital, and an expert that Patriots fans know very well for his performance on that same playing surface Sunday afternoons: Patriots team captain and defensive back Devin McCourty. The group interacted with the kids through a true/false trivia game about the proper ways to eat healthy and stay fit through exercising.
The children enthusiastically waved true/false paddles provided at the event and shouted out the answers that they could not contain due to their excitement. It was an important part of the afternoon, because it provided a brief glimpse into the way to live a healthy life.
"Today, we focused mainly on nutrition, exercise and living a balanced lifestyle," explained Menounos. "We want to provide kids and families with small, simple changes that they can make to get healthier because [a healthy lifestyle] really does start as a child. We want to teach them what to do as a child because it only makes it that much easier for them to do healthy things as an adult."
McCourty could not stop grinning himself as he sat on the panel and shared tips about how he maintains healthy habits, including a glimpse into his favorite breakfast cereal, which happens to be Corn Flakes. As each answer was shared the kids laughed heartily if they answered correctly, or yelled in mock dismay if they were incorrect. It was obvious the excitement was close to reaching its boiling point, and there couldn't have been a more perfect time to have 100 yards of open green grass waiting.
A cheer that rivaled those of the Patriots Cheerleaders in attendance was let out when the kids were finally given the green light to run to their fitness stations and go through exercises with the players. The Patriots were well represented for the event, with wide receiver and team captain Matthew Slater, linebacker Jamie Collins, safety Kanorris Davis, cornerback Alfonzo Dennard, defensive lineman Marcus Forston, quarterback Ryan Mallett, wide receiver Kenbrell Thompkins, defensive tackle Joe Vellano, and alumni players Joe Andruzzi and Andre Tippett joining McCourty.
Tippett had some words of wisdom for the youngsters before they set out in their activities.
"I know you guys are all excited to get out there and run on the field to do all the things that Mr. McCourty does," spoke Tippett. "The things for you to take away from this event are to learn about healthy eating, and the importance of trying to get 60 minutes a day of activity. If you do that, you will live a long and healthy life."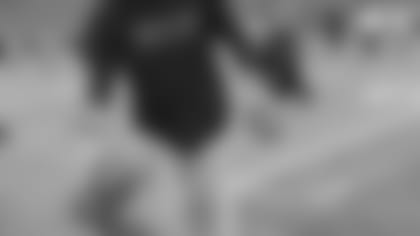 Andruzzi led the kids through several warm-up stretches before the exercises could begin, and the instant he blew the whistle, the field was transformed into a sea of bobbing and weaving "Healthy Kids Summit" t-shirts, provided by Stop & Shop and appropriately colored the distinctive New England Patriots shade of red. Davis and Thompkins led their groups through the basics of jump-roping, McCourty and Dennard taught their groups how to skillfully navigate high steps on the rope ladder, Joe Vellano did his best Gostkowski impression as he instructed participants on the finer points of place kicking, Forston and Collins showed their groups how to best the bag drills, and Mallet and Slater worked through pass catching and throwing 101 while the cheerleaders in attendance brought some spirit to several relay races. Even Pat Patriot was out for the event, running around between the groups, offering his own brand of encouragement.
Everywhere you looked, Patriots players, cheerleaders and kids alike were dodging, weaving, jumping, throwing, kicking and moving in some manner. The kids were having so much fun that it is a safe bet they didn't even realize they were exercising, a point that the event was trying to drive home.
And the kids weren't the only ones having fun either.
"Oh, it's huge. I think the important thing is for us to come out here and run with the kids and have fun," said McCourty. "I think it brings stiff competition to staying inside and playing video games to come out and run with the New England Patriots."
The smiles were definitely contagious on the field today, amongst the Patriots and kids alike. When the rain finally did come, it was not enough to dampen the spirits of those in attendance. I'm not so sure anybody even noticed. The real impact was left on the bond that the players and kids shared during their 60 minutes of exercise underneath the stadium lights at Gillette Stadium. It was not something that will be forgotten soon, by either side.
"To get the kids out of the house and get out here to do different football activities with guys like us, it makes a great impact on both our lives," said Collins.