I am shocked and excited at Bill Belichick's free agent big-buck shopping spree with Robert Kraft's credit card. However, with all these additions, are the Patriots over the salary cap? Will the Patriots have to cut some of these expensive players? Gordon Rowlinson
How much room do the Patriots have under the cap at this time? Are we still able to get free agents or do we need to hold off now to sign draft picks? Ron Scarlata
Really, Ron? You want MORE free agents? The Patriots have already signed half the league! Fear not. New England is still under the salary cap, though not by a lot. They need to save room to sign their upcoming draft choices and any undrafted rookies. They could still add a few veterans before it's all said and done, and part with some more current players on the roster, but it's safe to say the biggest part of the teambuilding period has come and gone. And as Gordon said, you should all be very excited with what's taken place here in Foxborough. Erik Scalavino
The Patriots added four pass catchers through free agency, all of them over six-feet tall. They did not re-sign Damiere Byrd (5-9). With the exception of Edelman and the running backs, every pass catcher on the Patriots' roster is now over six-feet tall. Cam Newton struggled with low throws last year. Are the Patriots going tall to fit Cam Newton's playing style? Dan von Staats
Your premise is somewhat misleading, Dan. New England signed just two pass-catchers, a term generally reserved for wide receivers. Both of the newest Patriots wideouts are indeed at least six-feet, Kendrick Bourne (6-1) and Nelson Agholor (6-0). The other two new skill position players on offense are tight ends, and in the NFL, every player at that spot is in the six-foot range. So, it's not entirely accurate to say lump all four of these men as pass-catchers, even though tight ends do catch passes, particularly the two who just joined the Patriots (Hunter Henry and Jonnu Smith).
It's the wide receiver position where you frequently have relatively short (i.e., below six feet) players, and New England has had more than its fair share of those over the years. However, the addition of two players on the taller side for wide receivers has little, if anything, to do with Cam Newton and everything to do with improving the talent level of the position over last year. Erik Scalavino
Given the Patriots' remaining 2021 cap space, would the following scenario be possible: sign a valuable free agent with 80-percent of the salary in signing bonus and 20-percent salary, then trade that player to a prearranged team (agreed upon by the player and his new team) for a draft pick. Doug Gheyssen
Highly unlikely. Erik Scalavino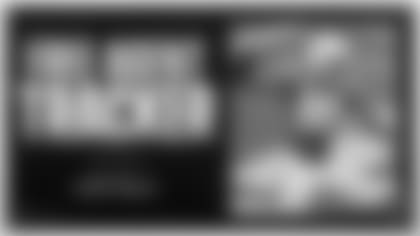 2021 Patriots Free Agent Tracker
Tracking all of the Patriots transactions during the free agent signing period.
I've done mock draft after mock draft. I've landed on a plethora of guys I'd like at 15 if we don't trade up for a QB: corners Surtain of Alabama and Horn of South Carolina; the linebacker, Parsons, from Penn State; Michigan D-lineman Paye; the wideout from 'Bama, Waddle. Even though I'd rather take a wideout on Day Two because of the depth of the draft at that position, if all are on the board at 15, who do you choose? I'm on [patriots.com] daily. Appreciate everyone's hard work. John Meehan
It's an interesting question, John, and it might depend on the status of Stephon Gilmore. If he's still on the team come Draft Weekend, maybe I'd go with Parsons or Waddle. If not, the corners would definitely be in play. I would love to get Paye, simply because he's a fellow Rhode Islander, but I think we've cornered the market on University of Michigan edge players. So, pretty much any of the young men you mentioned would be fine by me. Erik Scalavino
Do you guys think that Justin Fields is a good fit for the Patriots if they were to trade up? I love Justin Fields. He's my favorite QB in the draft. Billy Schmidt
Any of the top three or four QBs in this year's crop of rookies would be a good fit here. The question is, will any of them be available if the Patriots don't move up from their current spot at 15 overall? Most likely not. Erik Scalavino
Should New England make it a priority to take Mac Jones in the draft or in your opinion does he lack the intangibles to merit pick 15? Marc Saez
Is it realistic for the Patriots to go Mac Jones at 15? Or will they look elsewhere? Jacob Thompson
Realistic? Sure. He could be there at 15. But I'd prefer they look elsewhere for a young passer. The NFL game is changing. Athletic QBs who can throw AND run are taking over this league. New England needs to get one of those. I don't think Jones can be considered such a dual threat. Erik Scalavino
Hey guys! Even though James White is back, there were numerous reports of trying to get Playoff Lenny [Fournette]. And he is a different type of a back. Given that information, what do you think about going with Travis Etienne or Najee Harris with the first-round pick? How would that impact the offense? Rosen Rashkov
As I've stated here in this column previously and numerous times on our Patriots Unfiltered radio show/podcast, I want New England to take the most talented player available whenever they make their first selection. Generally speaking, that's not a running back. I suppose I'll just be content if the Patriots don't trade down or out of the first round, but I can think of more exciting positions I'd rather see them address with that 15th overall selection (i.e., wide receiver, pass rusher). Erik Scalavino
Do think the NFL will continue to use the new practice squad rules in 2021? The expanded practice squad and call-up rules seemed very successful in 2020, allowing teams to get their players game action that in past years was just not possible. Bryant Smeeth
Another great question. I certainly hope so, Bryant, because those rules were a wonderful addition to the 2020 season. I'd also put the altered injured reserve policy in that category. I'm guessing those issues will be addressed in this year's Annual Meeting, which is underway on a virtual basis at the moment. Like you, I'm looking forward to hearing what decisions come out of that gathering. Erik Scalavino 2023 Patriots Mock Draft Tracker
Find out what the top 'experts' are predicting the Patriots will do in the first round of the 2023 NFL Draft.
What are the chances Jimmy G is available to trade? I know the 49ers are saying he's their starter for the upcoming season, but do you really spend the Number 3 [overall] pick for [that player] just to warm the bench? Also, he's got a big cap number. Is it all just smoke to try and get a bigger offer for Jimmy? Robin Hill
Why wouldn't the Patriots make a move on Jimmy Garoppolo if it was an option? Tyler Franks
Who said they wouldn't or that it's not an option? The probability of it happening might be on the lower end, because San Francisco has no impetus to part with him at the moment (even after the blockbuster trade they consummated with Miami last week), but I wouldn't rule out the possibility until we get through the upcoming NFL Draft. You could see some player movement at that time, possibly even involving old friend Jimmy G.
Assuming San Fran does draft a quarterback (any other position seems unlikely, given all the capital the Niners expended to get that high), Garoppolo could very well be on the trading block, but he could also remain the 49er starter this coming season, the same way Alex Smith was for the Chiefs the year K.C. traded up to select Patrick Mahomes. Erik Scalavino
I know everyone wants to write [WR N'Keal] Harry off as a bust, but what are your thoughts on him taking a big leap forward in his third round of action? Russ Porter
I'm not optimistic. At this point, what we've seen from Harry is likely what we're going to get out of him. Erik Scalavino
What is happening with Julian Edelman? Is he healed and ready to play and is he staying with Patriots? Marie Thiessen
Last we heard from external media reports, he's still not back to full strength following last year's knee surgery. If we do see him in a New England uniform again, it might be later this year, rather than sooner. Perhaps he enters training camp under a PUP scenario (physically unable to perform list). I wouldn't give up hope of seeing his No. 11 Patriots jersey on the field again, but suffice to say, his 2021 status remains clouded at the moment. Sorry I don't have better news to report, Marie. I'm sure you're not alone in your concern for Jules. _Erik Scalavino _