The Patriots travel to Germany this week to face the Indianapolis Colts in Frankfurt, it will be New England's first time playing in their new international home market. Coming off a disappointing loss to the Washington Commanders, the Patriots sit at 2-7 this season and will enter their bye week following the contest in Germany. 
The change of venue might be just what the team needs to break their current two-game losing streak that has seen an improvement in certain areas like turnovers and protection, but problems continue to haunt New England in crunch time as they've had opportunities to win their last four games but have only been able to pull out one of them, thanks to a game-winning drive against the Bills.
The Colts, playing behind backup quarterback Gardner Minshew have been scrappy this season, even while playing under rookie quarterback Anthony Richardson, who went 2-2 in the team's first four games of the season. At 4-5 Indianapolis remains on the playoff bubble and, coming off a win over Carolina, will be looking to even their season record and move closer to one of the top seven spots in the conference.
Here are the 10 key things to watch for as the old rivals meet up in a new setting.
Find the Clutch
For as badly as the Patriots got beaten in back-to-back weeks by the Cowboys and Saints, the mistakes that killed them earlier this season have been getting better of late. Start with the turnovers. After a -8 turnover differential through the first five games, they've improved to +3 over the last four games and have not had more than one turnover in any of those games. Now, there's a quality vs. quantity debate here to highlight, as the team's only turnover against Washington essentially cost the game, but the overall improvement in one of the most important areas that leads to winning games is still there. That has given the Patriots a legitimate chance to win all four of these recent games, yet they were only able to get over the hump against Buffalo because they finally found some clutch. Had they found it again vs. the Commanders they likely would've stolen a victory, same with the Raiders game. So despite all the team's warts to this point it would seem that continued ball security and forced takeaways, with a dash of the all-important clutch play down the stretch might just be enough for New England to get a W in Frankfurt.
Don't get Moss-Taylor'd
New England got an up-close look at the damage Jonathan Taylor can do two years ago when he posted 170 rushing yards in a season-changing Week 15 win over the Patriots. Taylor, along with Zach Moss, are key pieces of the Colts attack, as Indy ranks 11th in rushing attempts, 10th in rushing yards and fifth in rushing touchdowns. They've broken 100 yards rushing in six of their nine games, as well as over 160 rushing yards in two of their last three games. New England's run defense has been one of the team's bright spots, they're 11th in rushing yards allowed, but this will be one of their toughest tests yet.
Make Minshew Mess up
Minshew has done what Minshew does for the Colts this season, putting up some impressive numbers sprinkled with some frustrating mistakes. The net result has been a 2-3 record as the back-up has done enough to keep the Colts on the fringe of the playoffs. Last week against the Panthers, Minshew broke a three-game interception streak, as he was called upon to produce just 127 passing yards and a touchdown in the victory. The key stat though? Minshew has been sacked just once in his two wins, but a whopping nine times in the losses. Pass rush will be key to keeping the Colts offense grounded.
Careful of Kenny
Kenny Moore is one of those rare players who the Patriots let get away. A talented slot corner, the team had him in New England in 2017 as a undrafted rookie but were unable to retain him after cutdown day due to their existing depth. Moore has gone on to an outstanding career with the Colts and showed it against the Panthers last week when he had two pick-sixes. Moore is a problem because he'll likely be in the middle of the field where Mac Jones often targets. If Moore is on Pop Douglas it could force Mac to look elsewhere. The biggest thing however will be not letting Moore change the game with a defensive score. He has 17 career interceptions, three pick-sixes and a 2021 Pro Bowl to his name.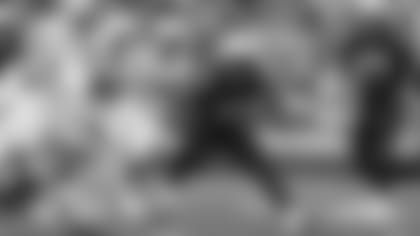 Rhamondre Running
Rhamondre Stevenson had the play of the game against the Commanders, a thrilling 64-yard touchdown scamper that gave the Patriots a first-half lead. After a slow start to the season, Stevenson is starting to come on in recent weeks and against the Colts run defense that ranks 31st in rushing attempts, 24th in rushing yards against and 31st in rushing touchdowns, he should have further opportunities to make an impact.
Get Boutte in Motion
Kayshon Boutte remains one of the few unknowns on the offensive side of the Patriots roster and after what Bill Belichick called his best week of practice last week, he remained inactive against the Commanders. At this point, it makes sense to finally give Boutte a chance to show how he's developed since we last saw him in Week 1. He might not be a game changer, but for a two-win team that should have one eye toward the future, the team should give him a look sooner than later to see if they can find a spark.
Focus on Pittman
The Colts passing attack is headlined by Michael Pittman, who has already posted 58 catches for 593 yards. In two previous meetings against the Patriots, New England has kept Pittman contained to just four total catches for 29 yards. That kind of defense is a good formula for success as the Patriots look to force Minshew away from his favorite target. Pittman has posted 16 catches for 104 yards over the last two weeks as the fourth-year player is surging even with a backup quarterback.
Don't Lose DeForest
One player certainly capable of blowing up the Patriots offensive gameplan is defensive lineman DeForest Buckner. Buckner has been a problem in his last two games against the Patriots, registering sacks in both, two tackles-for-loss and five total quarterback hits. New England's protection has been better in recent contests, however the big veteran will be a sizable challenge for second-year guard Cole Strange and the two rookies who have been at the other guard spot. Sidy Sow is an emerging bright spot, he went wire-to-wire against the Commanders, and Buckner will provide a tough new test for the rookie.
Mac n' Pop
Demario Douglas has registered at least one catch in every game he's played this season, but his production is taking a leap forward in recent weeks and he's coming off a career-high five catches for 55 yards this past week against Washington. In his last three games, he has 14 catches for 134 yards. Clearly, Pop is a bright spot this year and his contributions should continue to expand as he becomes more and more comfortable in the NFL. Getting Douglas his first NFL touchdown would be a nice next step for the rookie.
Be Special
First, credit to Bryce Baringer and Chad Ryland, as the rookie kicking duo have been surging with needed strong performances from the special teams. However, with four fourth-quarter penalties, the special teams coverage and return units are making too many game-altering mistakes in recent week. Overall, the Patriots special teams ranks 29th in DVOA. They need to get back to positively impacting the game and turning those oft-forgotten plays in the margins into
DISCLAIMER: The views and thoughts expressed in this article are those of the writer and don't necessarily reflect those of the organization. Read Full Disclaimer