The Patriots' offensive line, coached for so long by Dante Scarnecchia, weathered some turmoil, yet still managed to have another solid season.
Pro Bowl left guard Logan Mankinsheld out for the first eight weeks of the season in a contract dispute with the team, but returned in time for the Cleveland game (two weeks earlier than expected) and went on to make another all-star game.
In his stead, veteran backup Dan Connolly(pictured) did yeoman's work. That starting experience paid off, as right guard Stephen Neal [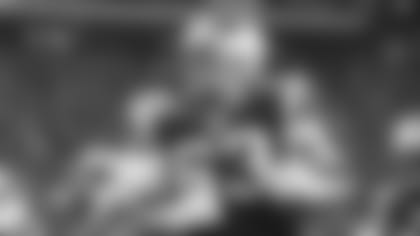 ]()aggravated his nagging shoulder injury and soon went on IR. Connolly then stepped in his place for most of the remainder of the year. He made history against the Packers, on special teams, when he returned a short kickoff 71 yards... and nearly a score.
Elsewhere along the o-line, things were fairly stable. Matt Lightand Sebastian Vollmeranchored the left and right tackle slots, respectively, while center Dan Koppenwas his usual stable self. All three started all 16 regular season games and the Divisional Playoff loss to New York. As a group, they held their quarterback, Tom Brady, to just 25 sacks all season – around average for his 11-year career.
That long-term stability could be threatened this offseason, however. The looming labor uncertainty notwithstanding, this was considered by many observers to be the last season of Light's 10-year run in New England. And while Mankins and the Patriots made up in the short-term, have the old wounds healed enough to keep him here longer? Plus, with one year remaining on his contract, will the oft-injured Neal consider hanging up his cleats for good?
This is clearly a position in transition, and one that the team could target for an upgrade or two in the draft and/or free agency, once the current labor situation is settled.
THE OFFENSIVE LINE ROSTER
(Players listed alphabetically, as of January 2011, with individual analysis below)
68 – Thomas Austin – OL
The rookie from Clemson spent most of the season on New England's practice squad. Has to count for something. He signed a futures contract with the team last week (a deal that takes effect once the new league year begins), meaning he'll likely be back at least for a shot in training camp.
63 – Dan Connolly – G/C
Cemented his role as the go-to backup/part-time starter at guard and short-yardage fullback. Plus, who can forget his record-setting 71-yard kickoff return against Green Bay? The versatile veteran will certainly be back in 2011, the final year of his current contract.
77 – Nick Kaczur – T
Was rarely seen around Gillette Stadium after the first day of training camp, when he incurred a severe back injury that ultimately forced the team to place him on injured reserve. Kaczur is inked with New England through 2012, so, assuming he's healthy, he'll return this season.
67 – Dan Koppen – C
Quietly goes about his business year after year... although '11 is the last year of his contract.
64 – Mark LeVoir – T
A healthy scratch in 10 games this year, the veteran appeared as a sub in the first four games, then the final two of the regular season. His experience will earn him another shot at a roster spot as he enters the final year of his contract.
72 – Matt Light – TNamed as an alternate to his third Pro Bowl, the former second-round draft choice is now a free agent and probably played his last game in a Patriots uniform.
65 – Steve Maneri – T
Another rookie practice squadder who made it through the entire season and was rewarded with a futures contract. He's in a similar boat with Austin.
70 – Logan Mankins – G
Earned his third Pro Bowl nod after just half a season's work, and appeared to be happy again in the Patriots locker room. While he could still become a free agent, there's hope, at least, that he may re-sign with New England after all.
61 – Stephen Neal – G
Played exactly half the season yet again because of injury. With one year left on his deal, he'll rehab, but Neal could seriously consider retirement.
60 – Rich Ohrnberger – G/C
The prematurely grey, second-year player always seems to have a grin on his face, like he knows something you don't. He must… after being elevated from the practice squad at the end of September, he was inactive for 11 games, appearing in just two. He hasn't done much in two years, but still has a job. He'll likely compete for a third this year.
69 – Quinn Ojinnaka – OLA late-summer trade with Atlanta brought this versatile reserve to New England. He contributed on and off and was under a one-year deal, but did enough that he might earn another with shot with the Patriots.
76 – Sebastian Vollmer – T
When he was drafted in '09, many considered him New England's left tackle of the future. Well, the future could arrive this year, after a solid '10 campaign on the right.
69 – Ryan Wendell – G* *Could be best described as a mini-Connolly. Though smaller in stature, he more than makes up for it with grit, versatility, and surprising athleticism. His coaches must think so, too, as he was recently granted a one-year extension on his contract to return in '11.
Up next in the Position Snapshot series: defensive line, coming Wednesday, Jan. 26. Tomorrow on patriots.com, a fresh edition of Ask PFW.