[wysifield-embeddedaudio|eid="398101"|type="embeddedaudio"|view_mode="full"]
Shortly before Patriots head coach Bill Belichick was to take part in his noontime day-after-game conference call with the New England media reports broke that the team was in the process of signing veteran free agent former Rams and Falcons running back Steven Jackson.
Jackson worked out in New England late last week and, according to ESPN and others, the former Pro Bowler reached a deal to join the Patriots on Monday less than 24 hours after the team used a new-look committee backfield approach in its win over the Titans. With Dion Lewis and LeGarrette Blount on injured reserve, the depth of the backfield has very much been tested and created the need for team to look outside the organization for some late-season help.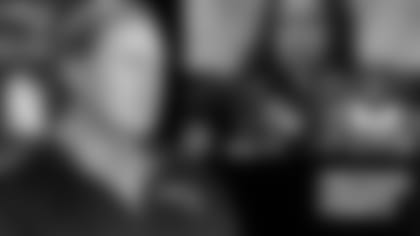 But with the transaction not yet announced by the New England PR department, Belichick would not touch the reports or questions regarding Jackson.
"I'm not going to comment on any players that aren't on our team," Belichick said.
Later in the call, he was asked if it was possible the team would be adding a player in the next 24 hours.
"This time of year, yeah, definitely possible," Belichick said to close out his conference call.
Beyond questions about Jackson joining a depleted Patriots backfield, Belichick was asked about the production his running game put forth against Tennessee, how he would handle his team's health/playing time situation now that New England has clinched a bye and the dream situation that's unfolded with the Patriots defensive end position.
1."Just do the best we can" to manage roster: The Patriots improved to 12-2 with Sunday's victory over Tennessee in the regular season home finale. When the Steelers defeated the Broncos later in the day, New England clinched a first-round bye in the fast-approaching AFC playoffs. But the only thing mounting faster than the team's wins and checked-off goals is the team's list of injuries. Sunday saw Danny Amendola (knee), Dont'a Hightower (knee) and Patrick Chung (hip) all leave to injury and fail to finish the game. Others like Rob Gronkowksi and Brandon LaFell seemed to be playing in some discomfort.
With two weeks to play, and the team still vying for the No. 1 seed and homefield advantage in the postseason, Belichick was asked how he'll balance the health of his players with trying to win games and close out the season.
"Good question. I think we just probably do the best we can to manage all those things. They are all somewhat of a consideration," Belichick said of injured players, players coming back from injury and finishing out the season. "We just have to try to balance it. Each part of that requires some thought and every decision impacts other things as well. So you can't act independently. When one thing happens there is a residual effect of it one way or another as part of the conversation. So we'll just have to do the best that we can to balance all those things out. That's something we'll have to give some thought to and get as much information as possible because there are some guys that are in various states of physical health. We'll have to work our way through all that. It's definitely a challenging situation. I wish I had cleaner answer on it. But really we're just going to have to work it out."
A related answer to a follow-up question may shed just a little bit of light on how things might be approached moving forward. Belichick said he saw the end of the game between the Broncos and Steelers that clinched the Patriots bye as he was taking advantage of the time that comes after an early afternoon game. Beyond that, though, the coach isn't exactly watching the scoreboard or worrying about potential playoff foes just yet.
"Whoever we play this time of year is going to be a good team and we're going to have to play well," Belichick said. "The most important thing is us."
2."Really good situation" at DE depth chart: When the Patriots signed free agent former Brown Jabaal Sheard last March, the team both projected and hoped that the addition would bolster the defensive end spot so New England would have three players for two jobs. The team had gotten by in recent years with Chandler Jones and Rob Ninkovich as the primary players seeing the bulk of the reps at the end spots. Even with Jones missing some time to injury last season, Belichick said it was hard to count on guys at that position being as durable as his two veterans had been.
Not only has Sheard added depth and a rotational option to the defensive end spot, but he's offered the versatility to play inside in some situations to allow all three pass rushers to be on the field at the same time. The trio is the heart of a Patriots pass rush that ranks among the best in the NFL. Jones had a pair of sacks against the Titans, reaching a new career-high with 12.5 for the season. Sheard has had three sacks in the last two games, his seven for the year approaching his career high set as a rookie in 2011.
"We've been able to get all three guys on the field at times and then other times we've been in a three-for-two rotation. All three players have been very productive. They've all been great," Belichick said. "Chandler and Rob not having to be out there every snap has benefited them. They've been productive, too. So that's been a really good situation for us. Really couldn't have…probably hoped that it would go that way, but couldn't have envisioned that it would have gone any better than what it has."
3.Backs to business: Joey Iosefa got the call up from the practice squad for Sunday's game against Tennessee and the undrafted rookie fullback tweener out of Hawaii had a game-high 51 yards on his 14 carries (3.6 avg.), including a 15-yard long. Brandon Bolden added 36 yards on his 10 attempts. As a team the Patriots ran it 26 times for 93 yards. That's not exactly elite production, but it was good enough for the victory and, according to Belichick a solid effort against a tough front.
"We had to grind it out a little bit in the running game," Belichick acknowledged. "There were a lot of situations where Tennessee had extra guys on the line of scrimmage, especially after we got ahead. That's kind of the way they play anyway with that defense. It's definitely designed to make it hard to run against. There were some tough yards. We made some tough yards; could have made a few more. But I thought it was competitive and we were able to find a couple, squeeze through a couple gaps there, and I thought the backs ran hard. I thought Brandon and Joey ran hard inside, but that's a tough defense to run against."
Second-year passing back James White had just one carry for 6 yards, but he notched a game-high seven catches for 71 yards, including a pretty screen pass that he turned into a 30-yard touchdown. Belichick said White made a huge jump this offseason and summer to earn his role with the team and that he's taken full advantage of increased chances due to injury in recent weeks. White has 21 catches in the last three games.
"He's really played well all year. When we had more depth in the backfield than we have right now he didn't get as many opportunities as he has more recently," Belichick said. "But as he's gotten more opportunities he's really taken advantage of them and shown what he can do. He's a tough guy to handle with the ball in his hands. He's very smart. He does an excellent job with his assignments and adjustments and blitz pickup and all those things. He's really done a good job for us."