Rob Gronkowski has been a Super Bowl champion. He's earned All-Pro and Pro Bowl status. Even added his name the record books, both Patriots and NFL records. Heck, he's written a book and appeared on the big screen in movies.
But one thing he'd never done until Thursday morning was step to the podium for a press conference in the media work room at Gillette Stadium.
"Wow, my first podium. I'm big time," Gronkowski said his usual infectious smile of his AFC Champion Game press conference. "It's been a dream, six years."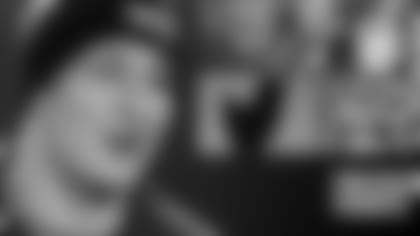 Gronkowski took to the microphone following Tom Brady, who as the Patriots quarterback does a weekly press conference all year long. The tight end preceded veteran leaders Patrick Chung and Stephen Gostkowski.
As such, one of the topics the Patriots playmaking pass-catcher was asked about was his elevation as a leader in New England. His response to that as well as his thoughts on the Broncos knee-targeting defenders and his Twitter response to those assertions filled out an entertaining first-career podium press conference for the man who's done just about everything else in his relatively short, impactful time in New England.
1. Low hits "part of the game":Broncos cornerback Chris Harris got sensitive Patriots fans worked up this week when he said that the way to tackle Gronkowski was by hitting him low, hitting him in the knees. While such a strategy is clearly a smart, legal one against a 6-6, 265-pound beast, it's not what New England fans or anyone else really wants to hear. That especially true given that a low hit from Broncos safety T.J. Ward, then with the Browns, sidelined Gronkowski with a torn ACL back in 2013. Not to mention that a hit to the tight end's knee saw him carted off the field in Denver during the regular season meeting between the teams in November with an injury that wasn't as severe as it looked at the time.
For his part, though, Gronkowski says such an approach is clearly just life on the job in the violent sport he plays.
"It's part of the game. I've been seeing it all year," Gronkowski said of low hits. "I've been seeing it my whole career. I've just got to get low, get my shoulder down, protect the ball, just protect myself in any way when I see a lot of guys coming or when I know there's not a chance to make that many yards, possibly just go down on that play, but if you can make a play then try and make a play, get more yards, but at the same time I've just got to watch it, get your pads down. It's football, so you've got to be ready for contact at all times.
"Everyone wants to see collisions, so I'm ready to give some."
2.Tweet all in fun: Rarely do Patriots players respond to the comments from opponents. Almost never does a player have the yoke to do so before a game. But that's exactly what Gronkowski did via Twitter on Tuesday night. The tight end responded to Harris' low-hit talk with the following humorous if immature and rare retort:
Asked about the Tweet, Gronkowksi downplayed it.
"I was just having a little fun with it, hoping to get a little laughs, which I think it did. It's just all fun and games with that," he said.
He did not, however, want to expand on the response without the 140-character limitations of the social media site.
3.Gronk the leader: There is no doubt Gronkowski is one of the most important Patriots. He's the best tight end in the game, maybe of all time. He's as hard a worker as you'll find at Gillette Stadium. He's battled injuries endless times and done whatever it takes to get back on the field and help the team win.
Yet, it seems that his party-boy lifestyle and propensity for having fun might distract some observers from the obvious fact that No. 87 is clearly, in his own way, one of the leaders of the football program in Foxborough.
"I feel like every time I step into the building, definitely there are younger guys, newer guys coming in I feel like definitely asking me stuff, looking up to me," Gronkowski said. "I've just got to keep on doing what I've been doing – coming in preparing as hard as possible every single day for the opponent coming up that week, going out to practice, practicing hard, and just doing the right things throughout the week and hoping that people catch on, players catch on, and everyone's doing the same thing, the chemistry's flowing right and everyone just has this same goal and that's to go out this Sunday and get the win."
He did admit, though, that being a leader is a different sort of role for him. But it's a role he's earned and grown into over the years.
"Definitely, life changes as it goes on a little bit, for sure," Gronkowski said. "When I was first here as a rookie I would've never thought in six years I would be at the stage I am now, where I am now, but as a competitor, as a football player you just want to keep on getting better as a player. Whatever it takes every single week, every single year, so definitely it feels good to be where I'm at and I just want to keep on improving, keep on doing whatever I can to help the team, and help the team win on Sunday."