For the first time since 2019, the National Football League will conduct its Annual Meeting in a normal fashion. The past two years, of course, have been disrupted because of the COVID-19 pandemic, forcing the yearly gathering of pro football's most influential people to be conducted on a limited and remote basis.
Next week, however, league officials will welcome high-level representatives from all 32 teams, along with credentialed members of the media, to Palm Beach, Florida for three days of meetings to discuss and vote on agenda items for the upcoming 2022 season. While the league conducts smaller meeting a few other times throughout the calendar year, the Annual Meeting in March is where the majority of consequential issues are debated and decided on, making this the most high-profile of league summits and a centerpiece of the NFL offseason.
Each year at the end of March, the NFL Commissioner (currently, Roger Goodell) and members of the league office host an Annual Meeting, where representatives from every club gather to review the previous season and decide on important issues for the upcoming one. In recent years, the location has alternated between Phoenix, Arizona and various places in Florida. The Breakers resort in Palm Beach, Florida will serve as the 2022 venue.
Beginning this Sunday, March 27, the primary attendees – all NFL owners, general managers, and head coaches, along with their families – will begin filtering into Palm Beach. Following a welcoming meeting on Monday morning, the entire gathering breaks into various committees to begin tackling (pun intended) the many issues on the agenda. Those meetings continue into Tuesday and conclude Wednesday with a wrap-up address by Commissioner Goodell.
Historically, the Annual Meeting has been an opportunity, from a Patriots perspective, for the media to engage with New England's Chairman and CEO Robert Kraft, as well as head coach Bill Belichick. In the past, Kraft has met with reporters during a lunchtime break in the action on Monday, while Belichick has taken questions on Tuesday morning, during an informal question-and-answer session over breakfast.
This year, that format has been altered, with AFC coaches scheduled to meet with reporters early Monday morning, prior to the official start of the Annual Meeting. Nevertheless, the anticipation is for both Belichick and Kraft to provide some sort of on-the-record comments, and patriots.com will have a crew on-site to document their remarks as they happen. These are rare and valuable offseason occasions to speak directly with the top-level decision-makers within the Patriots organization.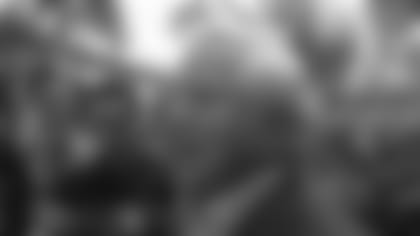 Robert Kraft, along with Patriots President Jonathan Kraft, will be busy as always conducting business on the several committees on which they serve. Robert oversees two committees as Chairman (Compensation and Media), while sitting on two others (Finance and Labor Management Council). 
By heading the Media Committee, Robert was instrumental last year in helping the league negotiate a blockbuster new broadcasting deal with television networks and streaming services that begins in 2023 and runs through 2033, providing the league with a major source of revenue. This is just one example of why serving on such committees gives Kraft and the Patriots an influential seat at the table each spring.
Jonathan, meanwhile, chairs the Fan Engagement & Major Events Committee and serves on Business Ventures, Media O&O, and Legalized Sports Betting committees.
As spelled out in a recent patriots.com post, this year's Annual Meeting features relatively few proposals to change the NFL rule book. Overtime adjustments will be the primary debate on the floor this year, based on two separate but similar proposals put forth by three clubs.
According to Competition Committee Chairman Rich McKay (Atlanta Falcons President & CEO), who addressed reporters' questions Friday morning on a conference call in advance of the Annual Meeting, "there's a lot of momentum to have a change" to the current overtime format.
"I think," McKay continued, "the discussion's going to be around … these two proposals, [which] encompass the major discussion, which is, should both teams be guaranteed a possession. Should there be consideration of only in the postseason? I think that will get discussed by some teams … There's going to be the potential for amendments on the floor if somebody wants to change either one of these."
McKay wouldn't indicate which way he was leaning, but acknowledged that it could be difficult for either proposal to win the necessary 24 votes (representing three-quarters of the league's clubs) to change the overtime rules. According to McKay, among other minor adjustments to be debated, there will also be an emphasis on sportsmanship topics, including a clarification of taunting rules in order to reduce the number of penalties called compared to 2021, when a seemingly high amount of such flags were thrown on plays that didn't appear to warrant such a penalty.
Interestingly, changes could also be coming – though perhaps not in 2022 – to punting plays, in an effort to reduce injuries to players involved in them. McKay noted that the NFL will be watching closely the changes to punting formations that will occur in the upcoming spring season of the new USFL league.
"This will give us some indication," added McKay, "of what the impact of those modifications would be from an injury standpoint. We'll probably go one more year [with the current rules] and see where the injury data is to see if we need to make a change … to lower the number of lower-extremity injuries that happen on this play."
THOUGHTS FROM KRAFT, BELICHICK
Certainly, a highlight of these meetings, as mentioned earlier, will be the expected comments from both Kraft and Belichick. It will be interesting to hear their thoughts on the league business that gets transacted in Palm Beach, but also the moves the Patriots have made thus far during the team-building period of the 2022 offseason, and what may be to come over the next several weeks leading up to the NFL Draft at the end of April.