LONDON – It started with one or two chants, but grew so loud the sound echoed across Trafalgar Square.
"SPIKE… THE … MIC! SPIKE… THE … MIC! SPIKE… THE … MIC!"
Rob Gronkowski did not disappoint.
Perched on a stage overlooking to grandest of London's gathering spots, facing the National Gallery, the Patriots All-Pro tight end had been very polite and reserved as he answered questions from the moderator. The chanting, though, became too much to ignore. Stopping mid-sentence and flashing his signature grin, Gronkowski gave the crowd what they wanted.
With a thunderous crash and reverberation, Gronk spiked the microphone he'd been speaking into, to the utter amazement of the moderator and sheer delight of his teammates. Wide receiver Wes Welker was laughing so hard, he had to wipe away tears.
Gronk ,Welker, quarterback Tom Brady, several other players, head coach Bill Belichick, and owner Robert Kraft thrilled an elbow-to-elbow crowd of NFL fans – predominantly of the Patriots variety – early this afternoon at the league-sponsored fan festival. Their visit may have been brief, but as Gronk's emphatic statement proved, it was worth it.
Right afterward, Kraft spoke for a few moments with media in attendance.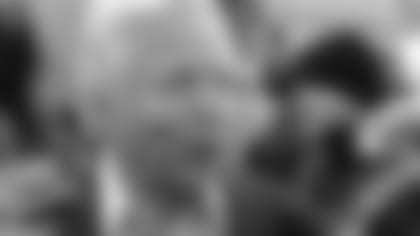 "It's great," he said of being back in London for a game for the second time. "I think about playing here, and Gillette has the best home record of any stadium in America, but … we're undefeated when we play in London. So, hopefully that stays that way tomorrow. Having been here three years ago, it was a good learning curve experience."
Though technically the designated home team, the St. Louis Rams might as well be playing at Gillette this weekend, as the fan base of Patriots fans in the United Kingdom is overwhelmingly skewed in New England's favor – a point Kraft was quick to point out.
"If we have to play a team at home in London… I sort of feel like this is a home game for us. We only look at the positive side. The way we set things up, hopefully we have a competitive advantage, week in, week out, home or away."
The Patriots owner emphasized that he believes there is a strong and growing market for American football not only in the United Kingdom, but also elsewhere overseas, and that the NFL must do more to foster its potential.
"Absolutely. We've been discussing whatever we can do to cultivate the playing of football throughout the world. I don't know that we've done as good a job as we could educating the rest of the world what a great game it is, so, we'll continue to do that.
"There are a lot of those NFL fans out there [at the rally]," added Kraft. "All the teams were represented. I'm happy to say I saw more Patriots jerseys than anyone else.
"We've seen the kind of TV ratings… the Patriots are the number one team in England. We have a great UK fan club that comes across the pond every year, and I try to meet with them. They've been really supportive of us."
Later this evening, the UK Patriots Fan Club, to which Kraft alluded, will host a part for several hundred supporters and invited guests in downtown London, and the owner is among those expected to make an appearance.
His presence will no doubt galvanize those who were fortunate enough to score tickets to the event – perhaps even more so than Gronk's gargantuan spike.
"He actually seemed very calm while he was speaking," Kraft noted, "so, I asked Bill if he feed him something, a calming influence, but Gronk showed his true colors."
With a wink and a nod, Kraft added, "Let's hope he does that during the game tomorrow."