The love of a Patriots fan knows no bounds. When it is time for Patriots Nation to turn up, they do so in epic fashion, and on the first day of training camp, it means staking out in the wee hours of the morning, through rain and humidity, to be some of the first folks inside.
While for many, Gillette Stadium is a car ride away, for others, the trip is, uh, a bit longer.
That certainly is the case for Jinjoo Song, her boyfriend Tyler Chapel and her younger sister, Jenika. The trio took a red-eye flight from San Francisco, hopped off the plane at 2:45 a.m. and came straight to Gillette Stadium.
"It wasn't even a question," Tyler said before the gates opened. "We've been counting down, and it's almost here."
Despite spending the night in airplane seats, trying to catch some sleep while they could, the crew didn't let the tiredness impact them.
"I'm feeling really, really excited," Tyler said. "Hopefully this will be the first time I have a close interaction with any of the players. We've been to a game here in 2014 against the Broncos, and then in 2016 against the 49ers in the Bay Area where we're from. We also won the Super Bowl those years, so if we win this year, I'm pretty sure that has something to do with it."
"But if we don't win, you can just forget our names," Jinjoo said with a laugh.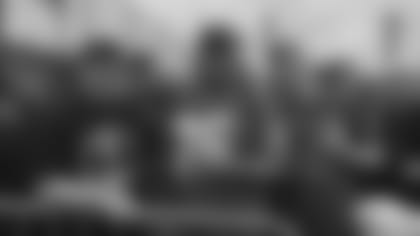 While it was the first training camp for Jinjoo, Tyler and Jenika, a couple of high school buddies from New Hampshire have it down to a science.
James Guest is originally from Hollis, N.H., but now lives in Palm Bay, Fla., but every year, he makes it a point to be in Foxborough for the first day of camp. Along with a friend from high school, James Stokes and his 18-year-old son Brendan, they set an alarm for 1 a.m. and hit the road, getting in line for training camp at 2:30 a.m.
"We went to bed at like 8:30 p.m. last night, and it's about an hour drive," James Guest said. "We were here first last year too. And the year before that and the year before that."
It's become a point of pride and a bonding tradition. Armed with ponchos, trash bags, chairs and a ton of snacks, they are training camp pros, and they have advice for those coming to camp this year.
"Don't give up if it's raining, and make sure you're here at 5 a.m. sharp," he said. "That's after us."