NFL free agency is off and running!
Well, in New England, it's off to a slow jog, perhaps. While other clubs have been busy handing out mega-money contracts to big-name free agents, the Patriots (as they so often do) reportedly kicked off the signing period at 4 p.m. Wednesday by addressing a less urgent area of need, coming to terms with backup linebacker and special teams contributor Ramon Humber (according to ESPN).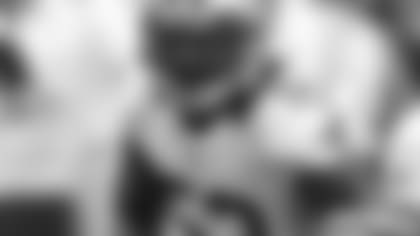 Humber is entering his eighth NFL season after being released by the New Orleans Saints last month. He began his career as an undrafted player with Indianapolis in 2009 and actually led the Colts in special teams tackles that season. He joined the Saints the following season after being released by Indy with a hand injury. Ever since, he has been primarily in a special teams role with occasional appearances on defense for New Orleans.
Undersized for his position on defense, the 5-11, 230-pound Humber appears best suited to fill a void left by Dane Fletcher. According to WEEI.com, Fletcher has chosen to retire from pro football. He was scheduled to become a free agent today after spending last season almost entirely on injured lists as he sought to recover from a knee injury (his third as a pro) that he sustained the previous season when he was with Tampa Bay.
Fletcher entered the NFL in 2010 as an undrafted player when he earned a job on the Patriots rosters. After four seasons in Foxborough, Fletcher signed a free agent deal with the Buccaneers in 2014, but spent just one season there before returning to New England last year. Fletcher was mostly a special teams contributor for the Patriots, and appeared on defense every so often. It seems the Patriots thought highly enough of that role that they wasted little time filling it with Humber.
Meanwhile, another backup defender and special teamer, Tavon Wilson, appears headed for greener pastures in Detroit, where former Patriots scout Bob Quinn is now the GM. Wilson posted the following tweet from his official account a short time ago.
New England reportedly tried to address its wide receiver position earlier in the day, but that free agent Marvin Jones chose to sign with Detroit instead. He was said to have been considering the Lions, Bengals, and Patriots. Wide receiver is widely considered one of the most important areas of need for the Patriots this offseason.
ESPN reported late Wednesday afternoon that Jones' former teammate in Cincinnati, free agent WR Mohamed Sanu, is planning to visit the Atlanta Falcons tonight, followed by the Patriots. Other media reports suggest that the Patriots are interested in Broncos free agent running back C.J. Anderson. So, as always, stay tuned... New England is just getting started in the free agent signing period.