FOXBOROUGH, Mass. - Every year since 1998, the Kraft family and the New England Patriots have been celebrating those who give their time to help others. The program was originally known as the Community Quarterback Awards, and were presented to those who exemplify leadership, dedication and a commitment to improving their communities through volunteerism.
Back in 2011, the awards were renamed in honor of the late Myra Kraft who committed her life to volunteering. As part of the New England Patriots Charitable Foundation's ongoing Celebrate Volunteerism initiative, the Kraft family hosts a special luncheon each year to show their appreciation for local volunteers.
On Thursday, June 8, 26 volunteers were recognized for their contributions at an awards ceremony at Gillette Stadium. Fifteen local volunteers received a $5,000 grant for the nonprofit organization for which they volunteer. Ten others received grants of $10,000 for their New England-based nonprofit and one grand prize winner was presented with a $25,000 grant for their charity.
"When I purchased the New England Patriots 23 years ago, not only did we set out to build a winning organization, but we also wanted to help build a spirit of giving amongst our fans," said Patriots Chairman and CEO Robert Kraft. "There are some incredible people in our local communities that have dedicated much of their lives to volunteering. In creating the Myra Kraft Community MVP Awards, we wanted to show our appreciation for these outstanding community advocates and offer our support to the causes that are so near and dear to their hearts. We admire their selflessness and thank them for their commitment to making the world a better place."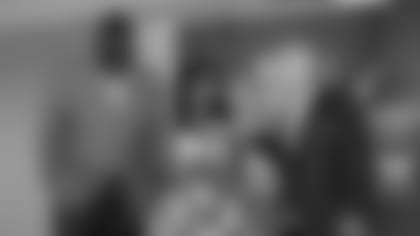 On hand to congratulate the award winners were Patriots Chairman and CEO Robert Kraft, New England Patriots Charitable Foundation President Joshua Kraftand Patriots and Pro Football Hall of Famer and Patriots Executive Director of Community Affairs Andre Tippett. Patriots players Tom Brady, Julian Edelman and Rob Gronkowski also made a surprise appearance to congratulate the winners.
Fabienne Eliacin of Dorchester, Mass. was selected as this year's $25,000 grand prize winner.
Nine years ago, Eliacin moved to Dudley Street, a historically underfunded and underserved neighborhood in Boston. The majority of residents are low-income people of color and most residents earn less than $25,000 per year. The neighborhood has a large immigrant population and unemployment rates exceed 25 percent. As a single mother, Eliacin got involved with the Dudley Street Neighborhood Initiative to make sure that the neighborhood had educational programs available to her daughter.
"Volunteering is important to me because it's a way to invest in the community and to support the people around you by giving back," said Eliacin. "I learn a lot from everyone - children, youth, the elderly and everyone around me - which also gives me strength to continue to grow in all different capacities."
Over the years, Eliacin has become more involved in a wide variety of programs. One of the programs she has been committed to is Fair Chance for Family Success, a program designed to improve the financial status of families in the neighborhood. Thanks to her volunteer work this past year, families incomes rose by an average of $2,400, family savings increased by more than 450 percent and participants decreased the use of government subsidies by 89 percent.
"We feel very proud of Fabienne, because she truly deserves this award," said Juan Leyton, Executive Director of the Dudley Street Neighborhood Initiative. "She has spent countless hours involved with our work, from our Board of Directors to our work with parents of young children. Her dedication to our community represents a model for the rest of us."
Eliacin also mobilized the Community Preservation Act that will fund affordable housing as well as parks and open space for families. In addition to her work at the Dudley Street Neighborhood Initiative, she is an active volunteer at afterschool programs in her local church and at Boston Mother's Care. Her optimism and perseverance inspires hundreds of others in the Dudley community to continue working to build the vibrant, diverse and affordable neighborhood that they envision.
"I represent the voice for the voiceless," Eliacin continued. "You never know when it will be your turn for that favor. Volunteering is the most uplifting feeling and it can never be matched by money or fame. It is the right thing to do."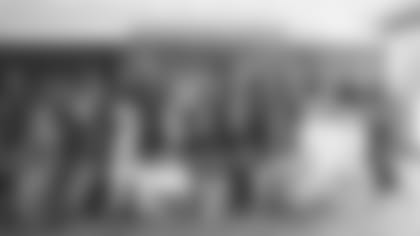 The 2017 Myra Kraft Community MVP winners range from 17 to 86 years old and represent every New England state. Winning nonprofits provide support for many causes, including education, domestic violence prevention, healthcare, homelessness, mentoring and military support. The Kraft family and New England Patriots Charitable Foundation received hundreds of applications this year from nonprofit organizations looking to recognize their outstanding volunteers. Nominations open each spring and the awards are open to all nonprofit organizations in the New England region. For more information on the Myra Kraft Community MVP Awards, please visit www.patriots.com/community.
Below is a complete list of the 2017 Myra Kraft Community MVP Award Winners:
| | | | |
| --- | --- | --- | --- |
| **Name** | **Hometown** | **Organization** | **Organization Town** |
| $25,000 Grand Prize Winner | | | |
| Fabienne Eliacin | Dorchester, Mass. | Dudley Street Neighborhood Initiative | Roxbury, Mass. |
| ​$10,000 Second Prize Winners | | | |
| Justin Doo | Walpole, Mass. | Moyamoya Disease Research Foundation | Walpole, Mass. |
| Robert Faherty | Braintree, Mass. | Cops for Kids with Cancer | Braintree, Mass. |
| Jerry Ferrera | Framingham, Mass. | St. Francis House | Boston, Mass. |
| Cherylann & Len Gengel | Worcester, Mass. | The Be Like Brit Foundation | Worcester, Mass. |
| Judy Giovangelo | West Roxbury, Mass. | Ben Speaks Louder Than Words | Holliston, Mass. |
| Tim Grover | Lowell, Mass. | The Megan House Foundation | Lowell, Mass. |
| Ryan Matthews | Plainville, Conn. | The Susie Foundation | Beacon Falls, Conn. |
| Elizabeth McLellan | Portland, Maine | Partners for World Health | Portland, Maine |
| Barbara Smith | Acton, Mass. | Household Goods | Acton, Mass. |
| Janet Ulwick-Sacca | Gloucester, Mass. | National Braille Press Foundation | Boston, Mass. |
| $5,000 Third Prize Winners | | | |
| Lori Bateman & Kylee McCumber | Leominster, Mass. | Kylee's Kare Kitz for Kidz | Leominster, Mass. |
| Maggie Bornstein | Amesbury, Mass. | Lucy's Love Bus | Boston, Mass. |
| Steve Brosnihan | Bristol, R.I. | Rhode Island Hospital | Providence, R.I. |
| Stephen Colella | Warwick, R.I. | Job Club Rhode Island | Warwick, R.I. |
| Frances Davis | Watertown, Mass. | Windrush Farm | North Andover, Mass. |
| Nicole DiPaolo | Randolph, Mass. | Paws4Survival Rescue | Randolph, Mass. |
| Louise Griffin | Hampton, N.H. | Zack's Team Foundation | Billerica, Mass. |
| Debbie Mearls | Brockton, Mass. | Soldier's Angels | Brockton, Mass. |
| Jana Planka | Narragansett, R.I. | Rhode Island Mentoring | Warwick, R.I. |
| Neil Rhein | Mansfield, Mass. | Keep Massachusetts Beautiful | Mansfield, Mass. |
| Michael Sanphy | Westbrook, Maine | My Place Teen Center | Westbrook, Maine |
| Kenneth Thompson | Rutland, Vt. | Vermont Elks Charities | Rutland, Vt. |
| Laurie Tomaszewski | Nashua, N.H. | Lil' Iguana's Children's Safety Foundation | Nashua, N.H. |
| Kathy Wood | Canton, Conn. | Friends of Canton Football | Canton, Conn. |
| Jack Zorski | East Falmouth, Mass. | Falmouth Volunteers in Public Schools | Falmouth, Mass. |