Three months ago, Bill Lyttle never would have imagined he would be sitting on the sideline of Patriots training camp, shaking hands with Patriots owner Robert Kraft alongside a group of kids from The Key Program, an organization dedicated to helping troubled youth and their families with residential and non-residential programs.
But on Aug. 9, that's exactly what Bill, the president of The Key Program, was doing.
The Ed Block Courage Award Foundation selected The Key Program as an Ed Block Courage House, which is part of a national network of facilities and programs that are dedicated to supporting abused, neglected and at-risk youth. The program supports children across Massachusetts and in Rhode Island, and the Patriots partnered up with the foundation to back The Key Program's initiatives.
Bill and children from all over the state were on hand to accept $10,000 from the Courage House. The money will be used to fund group recreational activities for the kids of The Key Program, including the annual trip for children and families to Canobie Lake Park in New Hampshire.
While Bill knew of the grant coming from the foundation, Mr. Kraft provided an extra surprise for The Key Program.
"We want to match that," Mr. Kraft said. "Thank you for good work that you do."
The group was also able to enjoy the day watching the Patriots joint practice with the New Orleans Saints, meeting Mr. Kraft and getting autographs from players, including Chris Long and Alan Branch. For many of The Key Program children, the day was a once-in-a-lifetime experience.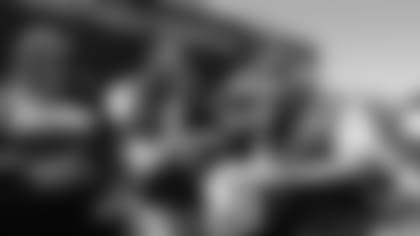 "They've never been to a sporting event like this, let alone being this close to the field where they can see the actual football players. They all like sports, particularly football," Bill said. "I think it's a really meaningful day for them, something that's exciting. It's an opportunity they wouldn't have had otherwise because of the generosity of the Ed Block Courage Award Foundation and the Patriots. They're having a blast."
The Key Program provides a residential program for children who have been abused or neglected by adults in many communities across both states. This allows children who may need to be removed from their homes a chance to stay within their communities, providing consistency in a difficult time, according to The Key Program Chief Operating Officer Wesley Cotter.
"What it does, it doesn't uproot kids and move them away. Like 30 or 40 years ago, a kid would get moved to a facility and then it would be difficult for his parents to stay in touch with him or her," Wesley said. "They would miss a lot of continuous education and school. They can keep things in place that are working well for them."
In addition to residential programs, the organization also offers outreach, has two mental health clinics and refers families to services within their community. The goal, he said, is to support children and parents, keep students on track in school and give them tools for positive life experiences.
This type of overarching support was what made The Key Program a great fit as a Courage House, said Brett Dickinson of the Ed Block Courage Award Foundation.
"It was very unique compared to a lot of the Courage Houses we have across the country. We have loose criteria with what we look for," Brett said. "We just look for the facilities that are willing to give back and help victims of child abuse and at-risk youth, and The Key Program is so broad in that it covers so much of Massachusetts that I thought it was such a perfect fit for the Patriots. They want to give back so much and this is an opportunity for the kids to get a real opportunity to meet the players and get involved with the Patriots. It's a wonderful day."
RELATED LINKS