ATLANTA — Musings, observations and the occasional insight as we wrap up the 2018 NFL season with a strange and ultra-low-scoring Super Bowl LIII in Mercedes-Benz Stadium….
* It had the perfect symmetry of being against the same opponent, on the same day, 17 years apart. With the same result, too. The New England Patriots won another Super Bowl Sunday night — beating the Los Angeles Rams 13-3 — and that means it's the same old, same old in the NFL. With one huge caveat: This time, New England did it a different way.
A mere 6,209 days after the Patriots beat the then-St. Louis Rams in the Super Bowl to launch their epic dynasty in February 2002, they did it again, this time in a defensive struggle for the ages. We thought the Patriots and Rams would be trading points, not punts, all game long. This was the Year of the Offense, right?
But maybe it was fitting it came via defense. Because like the Patriots season itself in many ways, this game didn't follow the anticipated script. Which makes sense in a way, since this is the easily the most unexpected of Super Bowl-winning seasons for New England, at least since that 2001 Patriots team shocked the heavily-favored Rams in one of the game's biggest most memorable upsets.
And the Patriots won this time in the most unexpected of ways, flexing game-long defensive muscle to totally shut down a Los Angeles offense was supposed to be one of the cutting-edge attacks in the NFL.
The Rams punted a whopping nine times, amassed only 14 first downs, and produced a measly 260 yards of offense, with third-year quarterback Jared Goff wearing a deer-in-the-headlights look for most of the game. L.A.'s three points tied for the fewest in Super Bowl history, matching Miami's total in a 24-3 loss to Dallas in Super Bowl VI in January 1972.
In becoming the first NFL team to lose a Super Bowl, then return to win one the following season, since the historic 1971-72 Miami Dolphins, the Patriots earned a record-tying sixth Super Bowl, matching Pittsburgh's total. That was a scenario that didn't look likely after two December losses led many to minimize their chances and write them off as a flawed team that had too many holes to compete for a championship.
The Patriots were just 3-5 on the road this season, and their losses came against five non-playoff teams. That made doubters of many, but the Patriots disregarded the critics and keep insisting they were close to being a club that could go all the way. In the end, they did just that, winning their third ring in the past five seasons, to fairly well match the three Super Bowl titles they won in the first four years of the dynasty from 2001-2004.
"It was an unbelievable year,'' Patriots quarterback Tom Brady said in a post-game on-field CBS interview. "We fought through it more than anything. (The Rams) made it tough on every play. We just kept fighting, and finally got a touchdown, and the defense played their best game of the year.
"We've been this far and lost, which is really tough. But we had a lot of resolve the last few weeks. This is a dream come true for all of us.''
* There were so many heroes on defense for New England in a game that seemed to take forever to find its mojo. The Patriots made it seem like we were watching the anemic 2016 Rams offense, not the Sean McVay-version that finished second in the league in scoring, behind the pace-setting Chiefs.
Los Angeles punted on nine of its first 10 drives, and then threw an interception and missed a field goal on its final two possessions. At one point, the Rams were 0-for-8 on third downs, had no drives longer than five plays, and held just 10:08 of possession time in the first half.
This was a repeat performance of the defense that held Kansas City scoreless in the first half in the AFC Championship game, despite the Chiefs never having been shut out in the first half under quarterback Patrick Mahomes before. Before Sunday night, the same held true for the Rams in the McVay era, with Los Angeles not shut out in the first half of any game until New England held a 3-0 lead at the break.
"How about our defense, man?'' Brady asked. "How about our defense? They played unbelievable. Challenged all these plays and we finally had a touchdown drive there in the fourth quarter. Took us a while, but you've got to grind it out and find a way. We did that against KC (Kansas City), we did it against L.A. (Chargers) and then obviously again tonight. All different teams, all different styles, but world champs, man. It's pretty unreal.''
All-Pro cornerback Stephon Gilmore was one of New England's biggest stars, helping ice the game with that red zone-interception of Jared Goff with 4:17 remaining and the Patriots leading 10-3. He finished with five tackles, the interception, with three passes defensed and a forced fumble.
"It was clutch,'' Gilmore said of his pick, quite accurately. "I knew he was going to throw it up and I knew I had to make a play. I knew he was going to force it up there. Our defensive line put a lot of great pressure on him, and he chucked it up and I was able to make a play.''
* The win over the Rams gave the Patriots a rare distinction. They might have struggled against lesser teams at times in 2018, but New England played its best against the best. In beating Los Angeles, they prevailed against the team with the Defensive Player of the Year in Aaron Donald, to go with a pair of wins this year over the current MVP (Kansas City's Mahomes), and victories against the Comeback Player of the Year (the Colts' Andrew Luck) and Defensive Rookie of the Year (the Colts' Darius Leonard) and the Coach of the Year (Chicago's Matt Nagy).
There was nothing fluky about this latest Patriots championship. They went through the Chargers, Chiefs and Rams in the postseason, and those three teams combined to go 37-11 in the regular season, and won four more games in the postseason.
* If that was the end of Rob Gronkowski's NFL career we just watched — and I don't know if he's ready to walk away or not — Gronk went out in a blaze of glory, making the biggest play of the game. It was his clutch 29-yard catch with just under eight minutes remaining in the fourth quarter that set up the Patriots' only touchdown, a 2-yard Sony Michel run at the 7:00 mark. That score put New England up 10-3 and proved to the game-winning points.
"Tom put it up there for me to grab it and it was my turn to go make a play,'' Gronkowski said. "You relish these moments, we relish them all. To win three times in the last five years, guys stuck together and we did a great job. When it comes to crunch time, I always find a way.''
Gronkowski was great all night, catching six passes for 87 yards, for a team-high 14.5-yard average, and consistently creating matchup problems for the Rams defense. He had four catches for 40 yards in the first half, including a 19-yard reception. Gronkowski got better and healthier as the postseason went on, and two of his catches came on the Patriots' second-quarter field-goal drive.
If he's done, Gronkowski will be remembered as one of the most unstoppable tight ends in the game's history, and certainly its most entertaining.
* My call of Julian Edelman as the Super Bowl MVP turned out to be prescient, but I don't think anybody played harder or more determined throughout the entire postseason than Edelman. He was clearly driven after missing last year's Super Bowl due to his season-ending knee injury, and then to have to sit out the season's first month due to a four-game league suspension for a positive drug test.
Edelman was easily the best player on the field in Super Bowl LIII, catching 10 passes for a game-high 141 yards, consistently running great pass patterns and giving Brady his most reliable target. Eight of his catches produced first downs, and he had a role in the first two New England scoring drives.
"I wasn't focused on (putting up MVP numbers),'' Edelman said. "I was just trying to go out and have a good week of practice and do my job. Sometimes the cookie crumbles that way.''
The MVP honor took an obvious backseat for Edelman, who now owns three Super Bowl rings. "It just matters than we won, man,'' he said. "It was a crazy year. We had a resilient bunch of guys. It was unreal. I mean, it was like a home game here. It was awesome.''
* Jared Goff is going to wear this one for a while. The Rams' third-year starter was mostly abysmal in his first turn on the Super Bowl stage, and even though his statistics improved somewhat in the fourth quarter, the game appeared to be too big and too fast for him.
Goff finished 19 of 38 for 228 yards, but he threw that costly and essentially game-icing interception to Gilmore, and finished with a passer rating of 57.9. He took four sacks, often seemed skittish in the pocket and averaged just six yards per attempt. Known for staying calm and cool in stressful situations, Goff didn't remotely get the job done against the Patriots, only underlining his relatively slow end to the regular season.
"It kills. It hurts,'' Goff said. "It hurts me knowing how well our defense played, against that team, against Tom, and us not holding up our end of the bargain.''
* McVay didn't exactly bath himself in glory either. This was his quarterback and his offense that largely pulled a no-show in the Super Bowl, and one of the game's brightest young coaches got schooled by Bill Belichick and his resourceful New England defense.
Afterward, McVay seemed to comprehend that this type of loss in his first Super Bowl would leave a lasting scar.
"I'm pretty numb right now, but definitely I got out-coached,'' McVay said. "I didn't do nearly good enough for our football team. The thing that is so tough about all of this is the finality to it….. This one is going to stick with you and it just stings in your gut.''
McVay again said his ineffective star running back Todd Gurley is healthy and it was just a matter of not finding a way to use him productively. But with just 10 carries for a team-high 35 yards, Gurley was again a puzzling non-factor, just as he had been in the NFC title game.
"Yes, he is (healthy),'' McVay said, somewhat unconvincingly. "Really, I never enabled us to get into a rhythm offensively. We didn't have any third-down conversions really the whole first half (the Rams had two to be accurate). Todd is healthy and we just didn't really get a chance to get anybody going today offensively and that starts with me."
McVay has great coaching talent and leadership capability and he'll be back on the Super Bowl stage at some point. It's almost a given. But it's also hard to imagine how his first taste of the Super Bowl could have gone much worse than Sunday's dismal showing.
* It's crazy to think how different this Super Bowl was compared to last year's Eagles-Patriots slugfest in Minneapolis. There were 74 points scored in Philadelphia's 41-33 win, and just 16 points in this year's defensive face-off. The Patriots scored 33 points and lost to the Eagles, but somehow won against the Rams with only 13 points on the board.
Brady threw for 505 yards and three touchdowns in a losing effort last year, then followed up with only 262 yards, no touchdowns and one interception against Los Angeles in the win. Go figure football.
Brady's first pass of the night was his worst. It was an ill-advised throw in the direction of Chris Hogan, but it was tipped by Rams cornerback Nickell Robey-Coleman and picked off on the deflection by linebacker Cory Littleton. It ended a promising first drive for New England, and set the tone of offensive frustration that would continue for most of the game. Brady was the first Super Bowl quarterback to throw an interception on his first pass since Buffalo's Jim Kelly did it against Washington in Super Bowl XXVI in Minneapolis. It was the first time all season Brady had thrown an opening-drive interception.
The Patriots in the first half drove into Rams' territory five times, but came away with only three points for all that real estate gained.
* Southern Super Bowls continue to be great news for New England in the Belichick-Brady era. The Patriots can now add their win in Atlanta to the rings they have won in New Orleans, Jacksonville and Houston (twice). Their six Super Bowl win was in Arizona, where they also have one of their three losses. They've also lost in Indianapolis and Minneapolis, so staying south has worked to near-perfection.
* The relocated Rams were a 4-12 disaster in 2016, their first season back in Los Angeles, but they made the Super Bowl in year three. Believe it or not, that's not even the fastest track for a relocated team to have reached a Super Bowl. That distinction belongs to another onetime Los Angeles NFL franchise, the Raiders. After leaving Oakland for L.A. after the 1981 season, the Raiders won it all in their second season in SoCal, blowing out Washington 38-9 in Super Bowl XVIII in January 1984.
It took the Titans just three years to reach the Super Bowl after leaving Houston for Tennessee in 1997, but they lost to the St. Louis Rams in early 2000. Baltimore won a Super Bowl in their fifth season in Maryland, the 2000 Ravens, after forsaking Cleveland in 1996. That's the same timetable it took the Rams to win a ring, in their fifth season in St. Louis after leaving Los Angeles in 1995.
* Both the Rams and Patriots lost back-to-back December games in Weeks 14 and 15, and yet still made the Super Bowl, with New England winning it all. And believe it or not, it's that's not that rare to see a team struggle through a late mini-slump and still get the job done.
In the last 13 seasons, the 2006 Colts, 2007 Giants, 2009 Saints, 2010 Packers, 2011 Giants, 2012 Ravens, 2013 Seahawks and 2015 Broncos all had at least two December losses, and still won the Super Bowl. So when the Patriots were 9-5 and coming off losses at Miami and Pittsburgh, it turns out they had the rest of the NFL right where they wanted them.
* It's a strong eight-man 2019 class of Pro Football Hall of Fame inductees, and I'm happiest for Gil Brandt, the longtime Cowboys personnel executive and ubiquitous NFL presence who has given so much to the game in so many different ways over the course of his long, six-decade pro football career. I don't have a Hall of Fame vote, but I can't quibble with any of the men who will be inducted next August in Canton. I likely would have voted differently in some cases, but there were no undeserving elections made in my opinion
Watch the video clip of Brandt getting the happy news via the knock on his hotel room door from Pro Football Hall of Fame president David Baker was the best thing I saw on Saturday, because if you know Gil, you know how much the honor means to him and how much he has meant to so many. I was also pleasantly surprised that the voters saw fit to elect both ex-Patriots cornerback Ty Law and ex-Jets-Titans-Seahawks center Kevin Mawae, whose consistent excellence could have easily continued to be overshadowed by others. Now that Mawae is Canton-bound, here's hoping ex-Jaguars offensive tackle Tony Boselli's turn is coming one of these years.
* For the record, I was one of the 50 voters who got a say in naming the Associated Press NFL award winners again this season. With the major hardware handed out Saturday night at the NFL Honors program here in Atlanta, here was the awards ballot I turned in on Jan. 2. Five of my eight selections were the eventual winner, and I don't think there were any controversial selections made by the panel.
Most Valuable Player — Patrick Mahomes, QB, Kansas City (Mahomes won the award).
Coach of the Year — Pete Carroll, Seattle (Chicago's Matt Nagy won the award).
Assistant Coach of the Year — Vic Fangio, Defensive coordinator, Chicago (Fangio won the award).
Comeback Player — Andrew Luck, QB, Indianapolis (Luck won the award).
Defensive Rookie — Derwin James, S, L.A. Chargers (Indianapolis linebacker Darius Leonard won the award).
Offensive Rookie — Baker Mayfield, QB, Cleveland (New York Giants running back Saquon Barkley won the award).
Defensive Player — Aaron Donald, DT, Los Angeles Rams (Donald won the award).
Offensive Player — Patrick Mahomes, QB, Kansas City (Mahomes won the award).
* One last thought on the league's premier awards: Naming Eagles defensive end Chris Long the Walter Payton NFL Man of the Year award winner was a no-brainer and a superb choice. Long has distinguished himself with his charitable work in all three NFL markets in which he has played, St. Louis, New England and Philadelphia, and his inspiring acceptance speech in challenging everyone to guard against apathy to society's problems was pitch perfect.
* Speaking of Nagy, something I pointed out last month unfortunately came true: He became the ninth Coach of the Year winner in the past 11 seasons to see his team lose their playoff opener. Nagy's No. 3-seeded Bears fell at home to the surging sixth-seeded Eagles in the first round of the NFC playoffs, continuing a trend experienced by the Rams' Sean McVay in 2017, the Cowboys' Jason Garrett in 2016, the Cardinals' Bruce Arians in 2014, the Panthers' Ron Rivera in 2013, Arians again in 2012, this time with the Colts as an interim coach while Chuck Pagano fought his battle with leukemia, the Patriots' Bill Belichick in 2010, the Bengals' Marvin Lewis in 2009 and the Falcons' Mike Smith in 2008.
Only the 49ers' Jim Harbaugh in 2011, whose team made the NFC title game, and Carolina's Rivera in 2015, whose Panthers lost in the Super Bowl, were Coach of the Year recipients who didn't suffer the one-and-done playoff experience. The last Coach of the Year to win a Super Bowl in the same season was Belichick in 2003, whose dynasty-in-the-making Patriots that year earned their second Lombardi Trophy by beating Carolina by three points in Houston. Belichick is the only coach this century to earn both the award and a ring in the same year, although Dick Vermeil and the 1999 St. Louis Rams accomplished it as well over the course of the past two decades.
Ridiculously Cool Football Card of the Week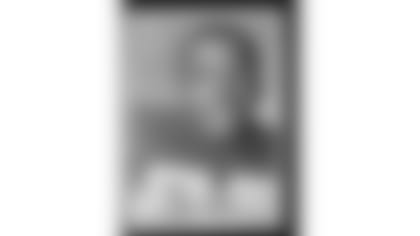 There have been so many great Los Angeles Rams over the 52 seasons the team has played in Southern California (1946-94 and 2016-2018), but for me none were as memorable as Deacon Jones, identified here on his 1967 Philadelphia Gum Co. card as "Dave,'' which sounds positively foreign to the ears. Credited with coining the term "sacking the quarterback'' in the mid-60s, Jones was a devastating pass rusher from his left defensive end spot, and wore out offensive linemen with his speed, edge burst and a little maneuver he created and developed called the head slap.
In his classic No. 75 jersey, Jones was an intimidating force on the Rams' famed "Fearsome Foursome'' defensive line in the '60s, and from 1967-69, the George Allen-coached Rams went a superb 32-7-3, but twice lost on the road in their playoff opener, depriving Jones and so many of his great Los Angeles teammates the chance to ever play for a championship. They didn't count sacks as an official statistic when he played, but Jones likely led the NFL in sacks in multiple seasons, unofficially finishing with 22 in 14 games in 1964, 21.5 in 1967 and 22 again in 1968. It has been reported that he produced 173.5 sacks in his 14-year career, averaging an astounding 12-plus per season.